Even the Super-rich want free Wi-Fi in hotels according to  a survey
In an age where everything is done online, internet is a must, wherein Wi-Fi is the most preferred network. So, what happens when you travel and you need Wi-Fi. How about checking into a hotel that has free Wi-Fi?
Yes, most of the hotels these days provide free Wi-Fi as a complimentary service. There may be good chances of free Wi-Fi connection when you check into any average US hotel. But what about those lavish hotels that charges you for internet connection and presents you with a huge bill.
This disconnect has been noticed by the wealthiest group of people, and they are not happy.
Complimentary Wi- Fi is the top "desirable amenity" for more than half this demographic based on the habits and preferences of the wealthiest 1 percent and 5 percent of travellers says reports. While fifty-one percent called it "extremely important," 66 percent said it was at least "very important" to have at a hotel.
Resonance Consultancy came to the figures after doing a survey of 2,391 travelers. The top 1 percent was defined as those with annual income of US$400,000 or more or a net worth above US$8 million. The 5 percent were classified as earning at least US$200,000 per year or having US$2 million or more. (The former group represented 724 of those surveyed.)
Henry Harteveldt, a travel consultant with Atmosphere Research Group in San Francisco said that many of the costliest hotels charge extra for the Wi-Fi just because the guests are traveling for business and expensing the cost or are wealthy clients who have no problems in paying a bit more.
"It's a glaring inconsistency in the hotel business, and frankly it's just a flat-out stupid approach to doing business," he said.
The issue is likely to continue stirring many upscale lodging chains that are weighing where and how to offer Wi-Fi and whether it will need to become complimentary. Currently, many luxury brands offer free Internet access to guests who join their loyalty programs including Kimpton Hotels & Restaurants Group and Fairmont Hotels & Resorts.
For instance, if you book rooms in Starwood Hotels & Resorts Worldwide through its hotel's website or mobile app, it offers free Wi-Fi to members of its loyalty program and in public spaces. Booking through the hotel's site or mobile app helps decrease the company's distribution costs. Its lower-cost chains-Aloft, Element, and Four Points-offer free in-room access, while guests at its luxury St. Regis properties have complimentary Wi-Fi period. However, in the midst of Starwood's hotel-room price pack, the W and Westin brands charge guests additional fees to access Wi-Fi in their rooms.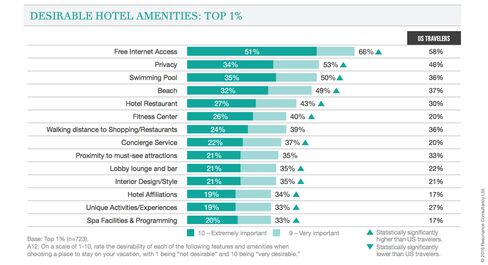 All members of loyalty program of InterContinental Hotels & Resorts are offered free Wi-Fi. Even if you are not a member of the program, Internet is free at seven of the company's midscale brands, including Holiday Inn and Crowne Plaza. However, there is no offer provided at the luxury Intercontinental chain.
There is no clarity as to why no free internet service is provided at a US$500 (or more) hotel room when Starbucks, airports, and coffee shops on the other hand have thought out the finances for doing so. It could be that most hotels look at the way to free Wi-Fi easy enough and see it as a serious way to drive greater involvement in direct bookings and loyalty programs.
Others have surrendered to demand. Hyatt Hotels nearly a year ago had made Wi-Fi free in rooms and public spaces at its more than 500 properties throughout the world on Valentine's Day. (Meeting rooms are not covered by the policy.)
Hyatt Hotels spokeswoman Stephanie Sheppard via e-mail said, "Wi-Fi had quickly become a basic expectation for travelers, as essential as a comfortable bed or clean room."
Hotel operators such as Hilton Worldwide Holdings offer free basic Internet access but impose fees for greater bandwidth use, including video streaming. This development partially reflects the growing inventory of Wi-Fi gadgets basically packed by travellers these days such as a laptop, tablet, and smartphone per person, said Harteveldt. The bandwidth increases rapidly when you have a couple staying with two teens in a hotel.
Still, the obvious gap between room prices and free Wi-Fi is not lost on many travelers. It also helps clarify as to why so many popular hotel lobbies are congested with guests looking at their phones and laptops.
"It's just a jarring inconsistency and a black mark on what is otherwise a wonderful guest experience," said Harteveldt.
According to the report, privacy was the second-most requested hotel facility for wealthy travelers after free Wi-Fi. Just below kids' programs, the least attractive hotel option was Tennis.