Facebook Employees Asked Mark Zuckerberg If They Should Try to Stop a Donald Trump Presidency
Facebook employees have asked their boss whether they should try and halt Donald Trump's presidential bid. The Facebook staff posed this question as part of a internal poll which allows employees to vote on what to ask CEO Mark Zuckerberg in a weekly Q&A, Gizmodo reports.
According to Gizmodo, for the March 4 session, the fifth most popular question with 61 votes was; 'What responsibility does Facebook have to help prevent President Trump in 2017?'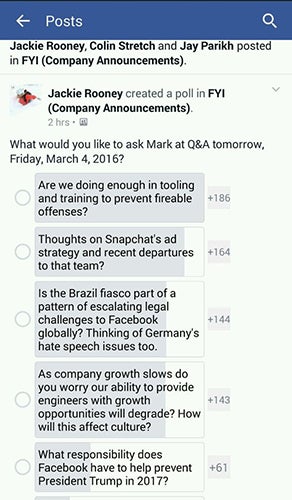 While Facebook employees may want an answer from Mark but Facebook insists that it does not try and influence the way people vote.
Gizmodo points out that such questioning shows that Facebook can and will influence the future presidency in United States. "But what's exceedingly important about this question being raised—and Zuckerberg's answer, if there is one—is how Facebook now treats the powerful place it holds in the world. It's unprecedented. More than 1.04 billion people use Facebook. It's where we get our news, share our political views, and interact with politicians. It's also where those politicians are spending a greater share of their budgets," Gizmodo's Michael Nunez reports.
This is not the first time Facebook had a brush with politics. In 2010 the social networking firm conducted a 61-million-person experiment to discover if Facebook could affect American's voting behaviors. They posted an 'I voted' button on 98 per cent of users' Facebook walls which also allowed them to see how many of their friends had voted, and the location of local polling station. The Facebook team managing the experiment found that it had resulted in a 0.14 per cent increase in voter turnout – at total of 340,000 people.
A similar 2012 experiment, found that by promoting hard news posts on Facebook users' walls, resulted in an increased voter turnout.
However this is that first time Facebook is debating about voting for a particular person, Donald Trump. It is well known that Mark is fiercely anti-Trump. He spoke out against the Republican front runner during the company's annual F8 developer conference.
'I hear fearful voices calling for building walls and distancing people they label as 'others,' said the CEO, who did not mention Trump by name. I hear them calling for blocking free expression, for slowing immigration, for reducing trade, and in some cases, even for cutting access to the internet."
It doesnt matter whether Mark and his Facebook team votes against Trump, those few votes would hardly matter to Trump's campaign. But it does matter if Facebook decides to work against Trump, it could have a devastating effect on The Donald which has run a hugely effective publicity campaign.
Legally, Facebook are not required to stay neutral in the 2016 presidential race. The company would be in its right, under the First Amendment, to remove all pro-Trump stories from its site – and would not have to inform its users it was doing so.