US Customs Agents seek travellers' Facebook, Twitter and other social media details
Next time you are thinking of visiting United States, you are supposed to keep your Facebook, Twitter, LinkedIn and other social media accounts details ready for inspection by the U.S. Customs and Border Protection (CBP) agency.
Travellers seeking visa waiver entry to the US may soon be asked to list their social media profiles – if a Department of Homeland Security (DHS) proposal is enacted. Visiting to land of dreams may very well depend on your social media standing, one wrong post and you may say goodbye to your dreams of visiting U.S.A. again.
Under new proposals by DHS, each visitor to U.S.A.,  filling out an I-94 travel form or applying for an Electronic System for Travel Authorization (ESTA) visa will be asked for "information associated with your online presence/social media identifier."
In other words, you'll be asked to hand over your Facebook, Twitter, LinkedIn and Instagram accounts to the US customs authorities.
The proposal was added to the Federal Register by Customs and Border Protection (CBP), part of the DHS, last Thursday.
Any data travellers choose to share will be used "for vetting purposes, as well as applicant contact information", the proposal states. "Collecting social media data will enhance the existing investigative process and provide DHS [Department of Homeland Security] greater clarity and visibility to possible nefarious activity and connections by providing an additional tool set which analysts and investigators may use to better analyze and investigate the case."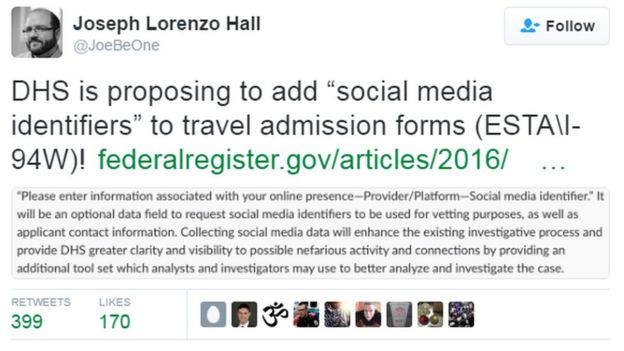 The DHS has also invited comments from citizens to this proposal, which must be submitted by post – will be sought for 60 days before the CBP considers it further.