Want to learn Linux? Start with HandyLinux, the best lightweight Linux distro for newbies
Since Windows 10 was released, many Windows 7/8.1 users were thinking about the switch to Linux but were afraid to do so for lack of knowledge about Linux architecture. If you are a Linux newbie and want to switch over to Linux, HandyLinux is the best distro for you.
HandyLinux  offers a simplified approach for those who are new to the Linux desktop operating system. The developers make it easy to peal off the "Handy" layers to reveal a more standard Linux environment as users learn the system. Those who no longer need the IT tools included with the initial installation can remove them easily using the Handy2Debian application from the main menu.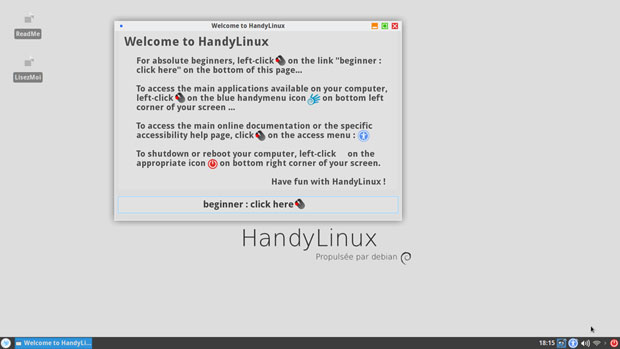 HandyLinux is a Debian-based Linux distribution which is lightweight and has slightly remixed Xfce desktop environment. The remixed desktop is the distinguishing feature of this distro. It is built around HandyMenu, a custom start menu with applications and Internet bookmarks grouped in tabs.
When Linux newbies will find themselves comfortable working on a HandyLinux PC/laptop, it is easy to switch to more standard Linux menus. Meanwhile, the Xfce software remains the same so the Linux newbie easily transitions into a more standard Linux environment.
As is typical for the Xfce desktop, HandyLinux lacks eye candy and graphics effects, but the Xfce settings tools make it easy to "remix" the desktop's appearance and functionality for more convenient options as the user gets more familiar with what Linux offers.
Getting the ISO
Visit HandyLinux to download the ISO. The download page displays in French. You must click the English icon at the top of the page to see the English language display and access the mostly English version of HandyLinux.
Be careful when you select the option to download. HandyLinux comes in two flavors: 586 and 686-pae.
The 586 version is for pre-2005 computers with processors that do not support the PAE memory-paging option. The 686 version is for all modern computers (32 bits or 64 bits) designed after 2005. The download comes with simplified directions for burning the ISO to a bootable DVD or USB drive.