How to Unlock your Samsung Screen Lock with Dr.Fone – Android Lock Screen Removal
Screen locks have become a relatively important thing for most of the Android smartphones, as the screen lock not only provides privacy to customers but also prevent others from checking their private data on their device when they are not around. Screen locks prevent the smartphone from opening applications on its own or dialing itself to some random number because of the super sensitive touch screens we get on smartphones today. It also keeps the smartphone safe when it is between the sheets or in your pocket.
In spite of the above advantages, screen locks have their drawbacks too. The biggest disadvantage of putting a screen lock on your smartphone is to unlock it. Whether it is a pattern or a numeric code or anything else, being unable to memorize the combination can be real  bad because as long as the lock screen of the smartphone does not open, you will be unable to do anything with your precious device.
When such situation arises, the common method used to unlock Android smartphones would be root the device, which is also suggested by Android phone service providers.
Rooting the device might be the right and preferred method, as you could lose all the data on your smartphone, especially the one that you did not back up, as well as affect the guarantee or warranty of your smartphone. The best way is to take help from some reliable application that can effectively deal with the issue without damaging anything.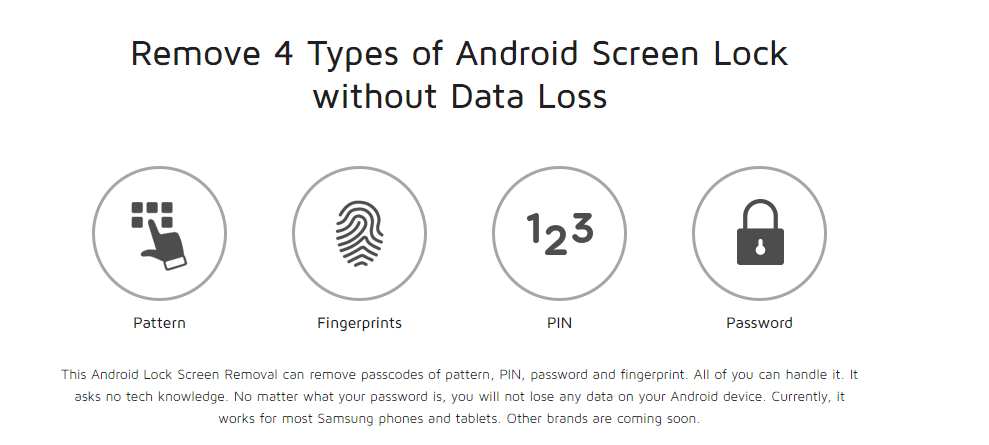 Dr.Fone by Wondershare
Wondershare Dr. Fone is a superb software application that will efficiently and effectively unlock samsung screen lock without compromising with the device and the information stored in it. Wondershare Dr.Fone works with all four kinds of screen locks, i.e. patterns, fingerprint, passcode and PIN. Whether you have forgotten your Android lock screen's password or bought a second-hand Android device with an already locked screen, with Dr. Fone you can easily and quickly remove Android lock screen. It can remove all four kinds of screen lock, i.e. password, patterns, fingerprint, and PIN within few minutes.
Even though the Dr. Fone software is quite old and popular, the 'Android Lock Screen Removal' feature in it is a new one. It can be used on your Android device, Windows computer, and Mac computer (Coming Soon). It is so simple and easy to operate that no extra technological wisdom is required to handle it. It is completely secure and 100% effective.
Currently, it works for Samsung Galaxy S, Note, and Tab series. It is also fully compatible with Windows 10.
How to use Dr. Fone for Android software
The procedure to handle the software and retrieve back your device is pretty simple. The step by step guide below will help you to use Dr.Fone, so that you can successfully remove the Android lock screen within 5 minutes.
Step 1: Choose 'Android Lock Screen Removal'
To get started with Dr. Fone, launch Wondershare's Dr.Fone for Android software. Once done, go to the 'More Tools' section in the software. From here, choose the option of 'Android Lock Screen Removal' from the three options provided under 'More Tools.' This will allow you to remove passcode, PIN, fingerprint and pattern from your Samsung phone.
As said above, Wondershare Dr.Fone can remove all types of Android smartphone screen locks, including password, PIN, pattern, and fingerprint. Then, connect the Android mobile device and click on the 'Start' button to begin.
Step 2: Enter the download mode on your Android device
In order to get to the download mode in your Android device, follow the instructions below, which are also provided in the program.
1. Turn off your Android smartphone.
2. Hold the power button, the home button, and the volume down button simultaneously.
3. Press the button of the "Volume Up."
Step 3: Download the recovery package
After you have entered into the download mode on your Android device, your smartphone will start downloading the recovery package subsequently. Wait until the download completes.
Step 4: Remove Android lock screen without losing your data
Once the download is complete, the Android lock screen removal process will start. While the Dr. Fone software works, none of your data on your Android smartphone will be affected. After the whole process is over, you can access your Android mobile device without entering any passcode/pin/pattern and access all your smartphone data without any problem.
Congratulations, if you have followed these procedures, you have successfully unlocked your Samsung Galaxy Android smartphone effectively without having to go through any of the phone lock mechanisms. As you can see,  Wondershare Dr. Fone is an awesome piece of software which helps you get your Samsung smartphones up and running with passcodes/pin. s