More Than 1 Million Users Are Still Using Samsung Galaxy Note 7 Devices After Recall
Samsung had to officially recall Galaxy Note 7 smartphones twice after multiple incidents of the device exploding due to defective batteries were reported. Galaxy Note 7 owners were also asked by Samsung Electronics to stop using the smartphone and were encouraged to get a refund or change the device with other models. Even many airlines worldwide have starting applying ban to devices being carried onto the aircraft, in carry-on baggage as well as check-in luggage over fire risk.
However, a new data from mobile analytics firm Apteligent shows that there are more Galaxy Note 7 devices in use now than when initial reports of device malfunctions first began doing the rounds at the start of September. That's after Samsung issued a recall on September 15 and offered replacement phones—and 23 devices have overheated since then.
Shortly after the device returned on sale from all four major US carriers and in some places around the world, there was an increased usage of the device last Monday. However, the usage of the smartphone dropped last Tuesday when Samsung made the announcement that it had shut down production of the Galaxy Note 7 line and asked all owners to power down the devices. As of last Wednesday, the worldwide usage of the device was still 7% higher than the first recall.
"Samsung has received 96 reports of batteries in Galaxy Note 7 phones overheating in the US, including 23 new reports since the September 15 recall announcement," reads a recall notice that was posted last Thursday. "Samsung has received 13 reports of burns and 47 reports of property damage associated with Note 7 phones."
Check the graph below where you can see how Note 7 usage has trended over the past two months. Apteligent said over a million Note 7 smartphones were still in use worldwide as of last Wednesday night.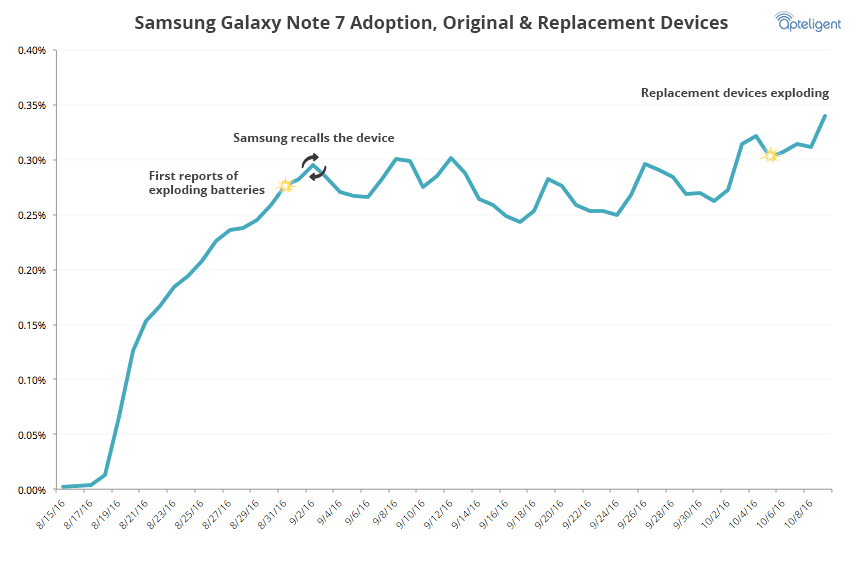 In other words, about 40% of all Note 7 users haven't followed Samsung's plea to immediately power down the smartphone. It appears that ardent fans of the Samsung Galaxy Note 7 are consciously making an effort not to pay any attention to the notice of recall.
While it is good to be loyal to the brand that you use, it is also advisable to pay heed to Samsung's recall announcement of Galaxy Note 7 to avoid any further problems. For those who still have the Note 7 handset, Samsung is offering up to $100 in credit to return your smartphone.