Google To Bring Machine Learning Technology RAISR To Google+
Last year,Google Research introduced a new technology named RAISR (Rapid and Accurate Image Super-Resolution) to try and harness the power of machine learning to produce high-quality versions of low-resolution images. It is now being utilized by Google+ images on Android devices. The aim of this technology is to save your valuable data and fetch HD images with low file size and high resolution.
For those unfamiliar, RAISR is a new method for image processing that takes a low-res upload of a photo and uses machine learning technology to fill in the gaps between the pixels, so that the end-user gets the full resolution of the photo while using a fraction of the bandwidth and download time.
According to Google, this new technology is now ready for mobile use also:
"RAISR produces results that are comparable to or better than the currently available super-resolution methods, and does so roughly 10 to 100 times faster, allowing it to be run on a typical mobile device in real-time."
The Mountain View-based company has been testing and refining this technology on its own social media platform, Google+. After its initial demo on Google+, it appears that Google may be getting ready to bring the full potential power of this image processing across more of its online services and devices.
RAISR upsampling takes a thumbnail of an image and uses machine-learning algorithms to try and identify what detail went into the original, larger version. This in turn allows Google to serve upsampled images that use up to 75% less bandwidth of the original, while still retaining most the visual detail.
Explaining the RAISR technology further, Google mentioned in a recent blog post, "Doing so reduces the data cost of each image by up to 75 percent. The technique is currently being applied to more than a billion images a week, and the company says doing so has reduced users' total bandwidth by about a third."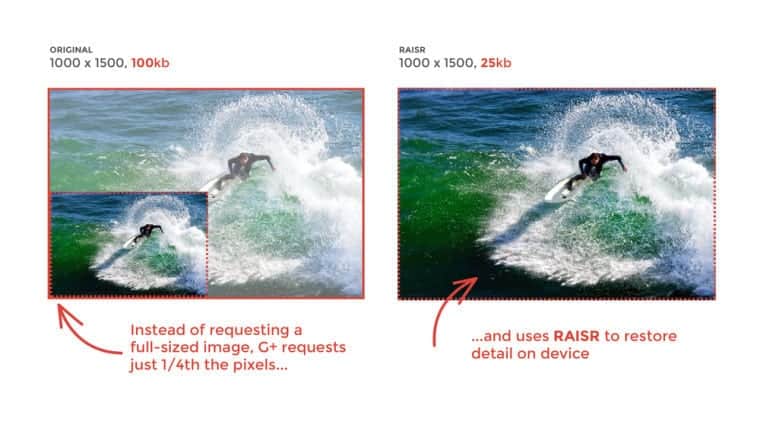 Currently, Google is only applying the technology to its Google+ service, and even then only to a subset of the images on the service. However, Google has hinted that it will roll out the technology more broadly in the coming weeks. Further, at this time, it is still not clear when the RAISR technology will be made available to Google+ users on iOS-powered devices. Similarly, it is not yet clear whether Google will implement the technology in Chrome browser too for those users who explicitly depend on mobile data.