Learn how to recover data from USB flash drive free of cost in this guide. We have come up with a review and a stepwise tutorial to use a data recovery tool
We all use USB flash drives to transfer data from one source to another on a daily basis. While USB flash drives are quite reliable and can be used for a hassle-free data transfer, they can sometimes be corrupted. Losing your important data from a USB flash drive is certainly an unwanted situation. The good news is that by taking the assistance of the right tools, you can retrieve your lost or deleted content. Read on and learn how to recover data from USB flash drive free of cost.
Common USB flash drive data loss scenarios
Before we proceed and teach you how to recover data from USB flash drive, it is important to cover the basics. It has been noticed that users can suffer from an unexpected data loss under different scenarios. Following are some common data loss scenarios related to a USB flash drive.
A physical damage to the USB drive can destroy it and your data.
If the USB drive has been dropped in water, then it might cause evident harm to it.
If the USB drive has been connected to a computer that is already affected by a malware, then it can cause an unexpected data loss.
Ejecting the USB drive unexpectedly while it is being used by the computer can also result in data loss.
Not removing the USB drive before shutting down the computer
Accidentally deleting the data from the USB drive
Overwriting the data on the USB drive
Formatting the USB drive by mistake
Specific malware attack on the USB drive
These are only a handful of reasons for losing your data from a USB flash drive. While it is relatively easier to recover data from a corrupt USB drive, restoring data from a physically damaged hardware is pretty uncommon.
Wondershare Recoverit: Best free USB data recovery software
If you wish to recover lost or deleted data from a USB flash drive without facing any unwanted complication, then try any reliable and free data recovery software like Wondershare Recoverit. One of the most secure and effective recovery tools, it comes with numerous advanced features. Not only is the tool easy to use, it is known to produce reliable results as well.  You can perform an extensive USB recovery in different scenarios to get your data back. From photos to videos and music files to important documents, you can retrieve it all using Recoverit.
Recoverit is developed by Wondershare, which is known to have a reputed presence of over a decade worldwide. The software is known to yield one of the highest data recovery results as well. Here are some of its major features:
Recover data on your system's hard disk, USB flash drive, external hard disk, SD card, and other data storage units.
It can recover photos, videos, music, documents, compressed files, etc. of different formats.
The tool supports data recovery under different scenarios like a malware attack, system crash, lost partition, accidental deletion, and more.
It can also recover raw files to the system as well.
Recoverit supports the recovery of data from different file systems like NTFS, FAT16, FAT32, and exFAT.
You can also create a bootable media to recover data from a crashed system.
Available for Windows and Mac
Extremely easy to use
Freely available, it comes with a dedicated customer support.
How to recover data from USB flash drive?
With Wondershare Recoverit, you never have to worry about an unexpected data loss. To perform a USB flash drive recovery using this remarkable tool, you don't need to have any prior technical experience as well. By following a simple click-through process, you can easily retrieve your lost or deleted content. You can follow these steps to perform USB flash drive data recovery for free using Wondershare Recoverit.
Step 1: Select a recovery mode
To start with, launch Wondershare Recoverit on your system and connect your USB flash drive to it. From the welcome screen, select the "External Device Recovery" mode.
The interface will ask you to connect an external device to the system. Once the USB drive has been detected by the system, click on the "Next" button.
Step 2: Select the drive location
Recoverit will automatically detect all the external storage units connected to your system. Select the connected USB flash drive and click on the "Start" button to initiate the recovery process.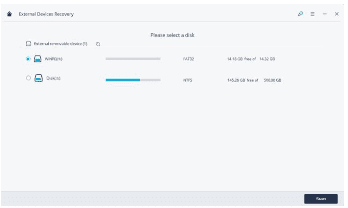 Step 3: Preview and recover your data
Wait for a while as the application would recover the deleted or lost content from the USB drive. Make sure that the USB flash drive is connected to the system till the process is completed successfully.
Once the recovery process is completed, you will be notified. All the recovered data will be segregated into different categories. You can simply visit these categories and preview your data. Select the data that you wish to retrieve and click on the "Recover" button.
Ideally, you should not save your data back to the USB flash drive. This is because you might end up losing this data again if the USB storage is corrupted. Also, if you wish to perform a more comprehensive scan, then you can perform an "All-around Recovery" as well. While it might take more time to scan the USB drive, the results would also be better.
Now when you know how to recover data from USB flash drive free of cost, you can easily retrieve your lost and deleted content. Wondershare Recoverit is available for free and comes with tons of sophisticated features. Though, if you wish to explore its advanced features, then you can always buy its premium version. Easy to use, it is certainly a must-have free data recovery tool that every individual should have.