PUBG Mobile Season 3: Royale Pass, Weapons, Features, What's new?
PUBG Mobile season 3 is finally live for both Android and iOS which is of 193MB and 235MB respectively in size hasn't brought much except for a new Royale Pass season.
The same has also been confirmed by PUBG Mobile official twitter account.
Season 3 is here! pic.twitter.com/t90a6XClM4

— PUBG MOBILE (@PUBGMOBILE) August 22, 2018
The Royale pass from season 2 will not be valid for season 3 and players have to buy a new one again for elite pass. However, the items earned in the previous season will be pre available in this season. Similarly, season ranking will be reset and start fresh in season3.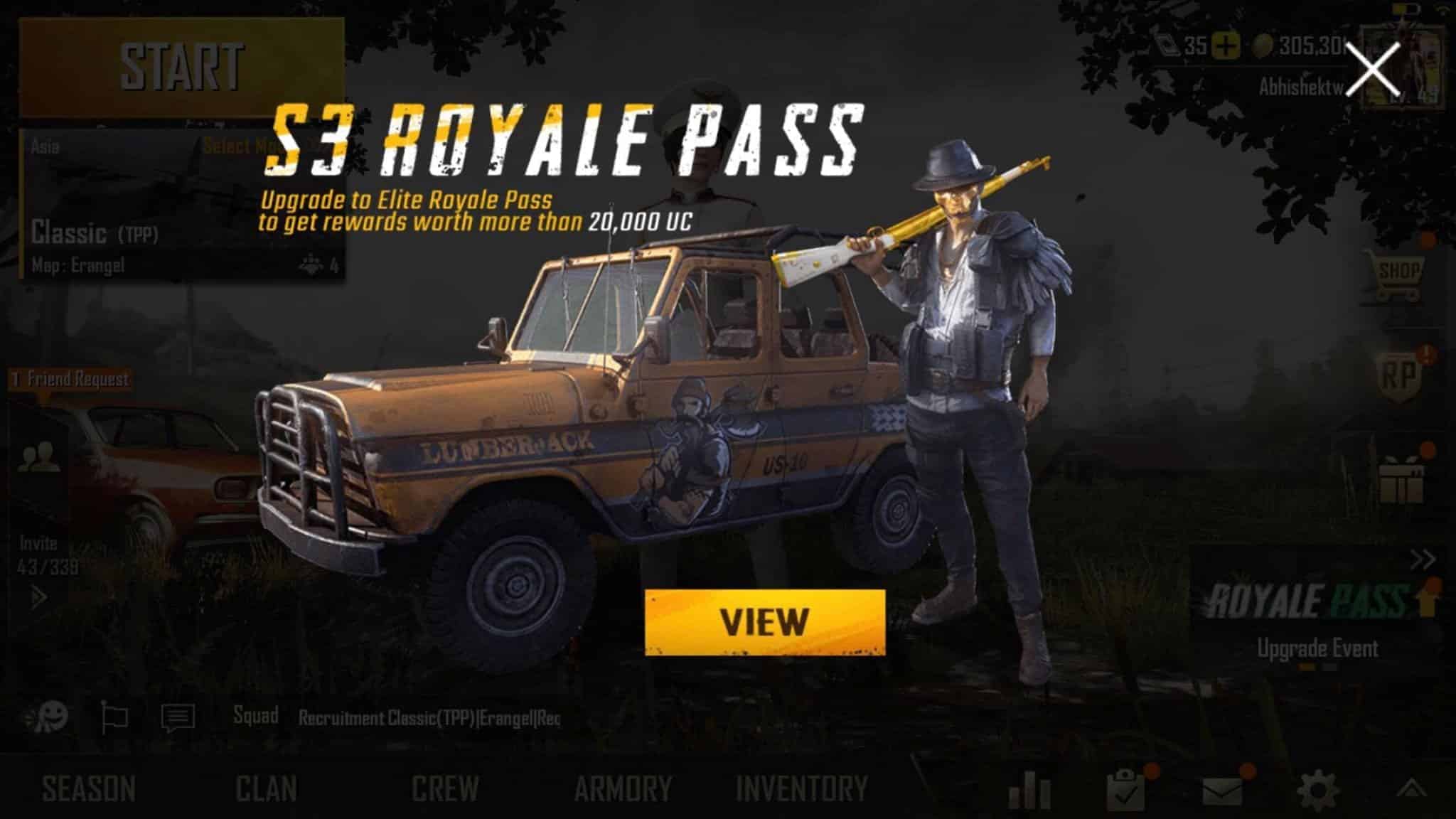 The season 3 update has also brought new emotes, weapon skins, new outfits, rare crates, and new missions.
Reddit user Szpartan has listed the point and rewards for both free end elite royale pass holders.
FREE USERS(SILVER PASS/SHIELD):
175 – Daily Missions (25/day, 7/week)
70 – Daily login points (10/day, 7/week)
240 – Weekly Normal Missions (6/week valued at 30 per mission)
100 – Free for completing 10 missions a week (do NOT forget to grab it as it will not carry over)
TOTAL RP THAT CAN BE EARNED FOR FREE WITH THE 12 WEEKS MINUS THE 2 DAYS MISSING FROM DAILY AND LOGIN: 6,950 RP / 69.5 RP LEVELS
ELITE ROYAL PASS USERS(GOLD SHIELD):
Everything is the same except this:
320 – Elite Missions (4/week valued at 80 per mission)
TOTAL RP THAT CAN BE EARNED FOR ELITE ROYAL PASS MEMBERS (600 UC VERSION) WITH THE 12 WEEKS MINUS THE 2 DAYS MISSING FROM DAILY AND LOGIN: 10,790 RP / 107.9 RP LEVELS
Free 500 points from last season! Make sure to add that to the final total:
11,290 RP / 112.9 levels for Elite members.
Free users if you had the 500 for this season:
7,450 RP / 74.5 levels
This means that if you complete every mission, daily and login for 45 seconds every day to just collect the free 10 RP everyone is able to max out their respected pass. It should be noted that each daily mission has 72 hours time to be completed before it expires so plan accordingly.
Players are also shown up with a discounted price for both elite upgrade and elite upgrade plus at this time.
No new maps have been added in the season 3 and the most awaited sanhok map is still to come and expected to be released in version 0.8.0 of the update.
Season 3 will end on November 18th, 2018, so try to level up and collect as much RP as possible.
ALSO READ: PUBG Download: Android, iOS, Windows, Mac, Xbox, And PlayStation

-Winner Winner Chicken Dinner!!