The Internet has transformed every aspect of human life. We now rely on Internet for entertainment, gathering knowledge, communication and endless other activities. In-fact with the help of internet, we can browse through some of the humongous online stores and their online shopping apps in the comfort of our homes.
Well, if you are a person who purchases everything ranging from groceries to vehicles online. Then the question "which is the best online shopping app" might have stuck your mind. So these are the ten best online shopping apps that will impress you.
1. Amazon
Amazon is possibly the most popular online shopping app that boasts separate websites for around fifteen countries. Apart from e-commerce services Amazon also has its dedicated music, movies, and TV shows streaming services.
Amazon's popularity and an extensive selection of more than 562 million products forced us to place Amazon in the first position of this online shopping apps list. Detailed reviews and ratings on Amazon may help you to make purchase decisions. You can blindly trust Amazon for the quality and reliability of products.
2. Flipkart
Next equally popular app for online shopping on the list is Flipkart. This Indian e-commerce website has a humungous collection of products. Flipkart also boasts popular books and eyewear subsidiaries.
Searching and exploring tools on this online shopping application make finding the right product reasonably simple. Flipkart also hosts many monthly and yearly sales that offer massive discounts on selected products. In addition to that, many smartphones and popular products are exclusively launched on Flipkart.
3. Paytm Mall
Paytm is one of the most popular e-wallet services in India that also has a full-fledged online shopping application Paytm Mall. This is one of the best app for online shopping that has gained immense popularity and exponential growth in recent years due to the massive cashback offers across a wide variety of products.
Paytm wallet also makes the process of paying for orders relatively straightforward and secure. While ordering, keep an eye on coupon codes for discounts and cashback offers. Similar to other shopping apps Paytm Mall also has millions of products in its catalog.
4. Snapdeal
The next popular online shopping application on the list is Snapdeal. Though Snapdeal isn't as popular Amazon and Flipkart it still has a massive selection of more than 65 million products. Snapdeal offers some of the best deals during festive seasons. Apart from heavy discounts, there are many products that are exclusively available on Snapdeal.
Secure payments, an extensive collection of products, and reliable delivery speeds helped  Snapdeal to be added to the best online shopping apps list.
5. Tata CLiQ
Tata CLiQ is the best online shopping application for purchasing products available in different Tata subsidiaries like Croma, Voltas, Tanishq, Fastrack, Westside, and many more. This e-commerce website also offers impressive discounts and cashback offers. The overall UI of this shopping app makes searching and exploring content a breeze.
The product listing on Tata CLiQ is very well sorted and focused on consumer electronics and consumer segment. Lastly, the Now Trending section shows the best deals with massive discounts that are selling like hot cakes.
6. Myntra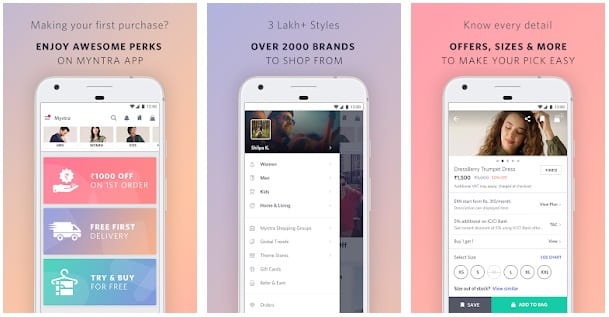 The next  on the list is Myntra. Well, Myntra was India's first fashion-based online shopping app. You can find all sort of clothing and fashion accessories on Myntra. In addition to that, Myntra also has a decent collection of clothing from popular international brands.
Monthly sales on Myntra offer impressive discounts over a wide selection of products. Similar to many other online shopping apps Myntra also has clear return policies. Myntra has grown exponentially in the past few years, and users reviews helped this app to be a part of this best online shopping apps list.
7. Jabong
Jabong is another fashion online shopping application that directly competes with Myntra. This popular online shopping application boasts more than 1200 brands and over 30,000+ products to pick from. Similar to Myntra, Jabong has also tied up with many national as well as international brands.
Jabong also suggests personalized content based on users activities and interests. You can expect massive discounts during festive sales and Jabong's delivery speeds are also reliable.
8. OLX
OLX helps users to buy and sell used or new products. You can find impressive deals on OLX with products ranging from a smartphone to an SUV car. OLX also provides a well developed messaging feature for communicating with potential buyers. Furthermore, OLX displays content based on your location.
This is one of the best online shopping apps both for selling and purchasing stuff. If you have any unused product in your home selling it might help you earn some extra cash and the person in need will be helped at the same time.
9. 2GUD
2GUD is a relatively new e-commerce service that is owned and operated by Flipkart. This online shopping application is dedicated to selling refurbished smartphones and consumer electronics products. You can find refurbished content available in various quality ratings.
So if you want a secondary smartphone or just want to use a premium smartphone at not so premium price point, then 2GUD will definitely impress you.
10. Google App
Google search app is possibly one of the best pre-installed online shopping apps. Whenever you search for a product on Google, you will be presented by a number of different stores. Moreover, Google makes it relatively simple to compare the pricing of that product on different online shopping apps.
Once you compare the pricing, you can easily choose the best shopping apps and directly purchase your product from that particular online shopping application. In addition to that, Google also suggests you several products while browsing the internet based on your online activity.
CONCLUSION
So these were some of the best online shopping applications that will help you to purchase all sort of products online. We do suggest comparing prices on different websites and using the promo code to get some additional discounts and cashback offers.
Do share any other impressive e-commerce application that you use in the comments section below.