One of the most advantageous features of using Windows OS is the number of customization options that the OS offers.
Rainmeter is an application which helps users to customize their desktop and make it look more vibrant and visually appealing.
So these are some of the best rainmeter skins that will definitely help increase productivity and improve the overall appearance of your windows 10 desktop.
---
What Are Rainmeter Skins?
Rainmeter Skins are a free and open-source desktop customization software for Windows. Using Rainmeter Skins you can completely customize your PC as per your preference. These skins generally transform the appearance of your desktop widgets, icons, toolbar, and wallpapers.
---
How To Install RainMeter Skins?
To use the best rainmeter skins, it's necessary to install the actual RainMeter application first. This customization tool can be installed on any Windows, from Windows XP to Windows 10.
Once rainmeter is installed on your computer, you can easily install some of the best rainmeter skins from the list provided below.
ALSO READ: Best Windows 10 Themes/Skins To Improve Your Windows Look
14 Best RainMeter Skins For Windows 10,8,7 PC
1. Enigma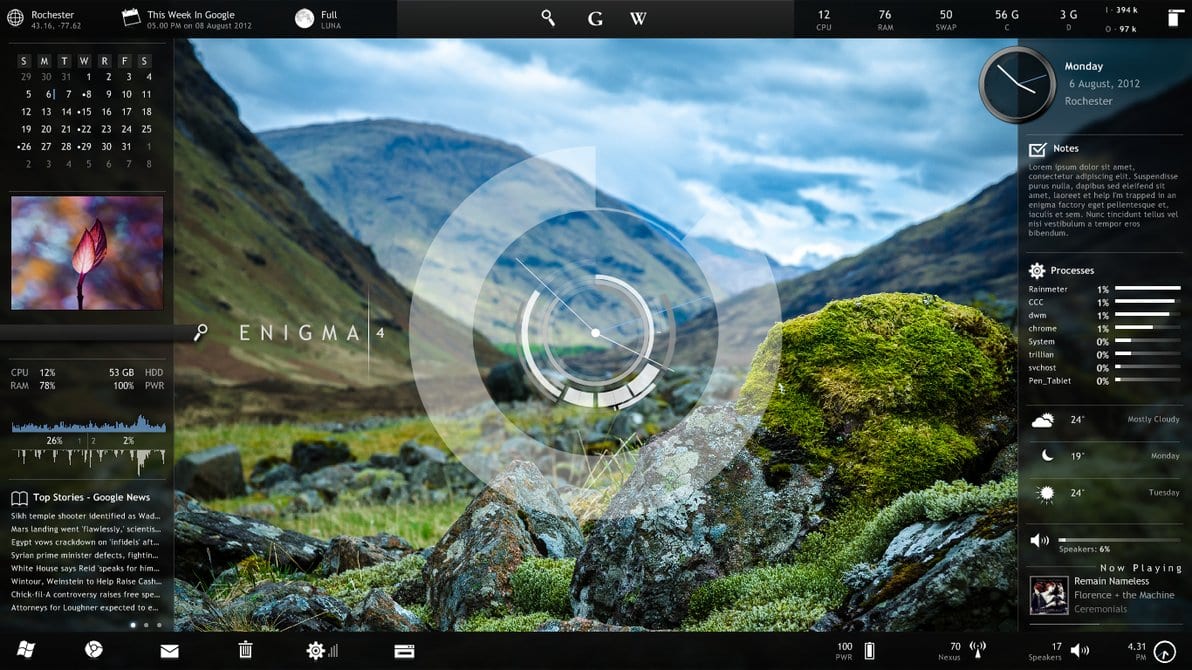 The first and one of the most customizable rainmeter skin on the list is Enigma. This popular rainmeter skin offers 100 customization options in a user-friendly panel. Users can customize and personalize anything available on this skin.
Widgets on Enigma display World time, Weather, Media playback status/control, multiple RSS feeds, Quick notes, CPU and RAM usage, Real-time active processes, and much more.
---
2. Hardware
Hardware is the next impressive rainmeter skin that replicates the color-scheme and hardware inside your computer cabinet. This skin will definitely improve the visual appearance of your gaming setup. If you spare some time customizing this skin and finding a matching wallpaper, then your setup will definitely stand-out.
---
3. TECH-A
TECH-A is a minimal rainmeter skin that offers a futuristic look and feels to your desktop. If you want to control your computer from your desktop alone then TECH-A will definitely impress you.
This minimal skin displays date and time, RAM utilization, CPU usage, and disk partitions. Furthermore, you can customize this skin to directly access important files and folders.
---
4. MNML UI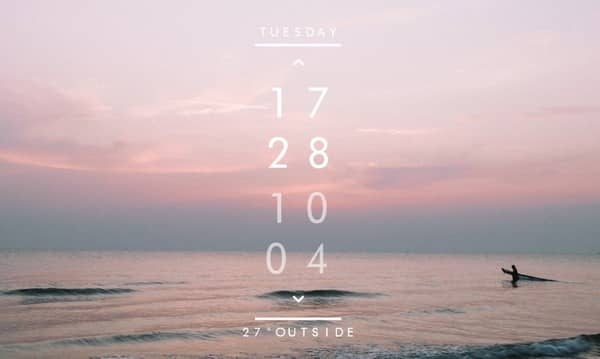 The name of this skin says it all, MNML UI makes your desktop look clean and productive. This rainmeter skin does so by removing the clutter and the simple widgets of this skin display time, date, and temperature.
Do check out this skin if you were looking for minimal skin.
---
5. Razor
Razor is one of the best rainmeter skins that offers translucent widgets and has a glass-like UI. Based on the customization and wallpaper selection you can either make the Razor rainmeter skin minimal or convert it into a complex feature-rich skin.
Widgets on Razor display power and network strength status, weather, date & time, customizable dock and much more.
---
6. ABP
ABP is a very versatile and minimal rainmeter skin that helps customize your desktop and increase productivity. Widgets on this popular rainmeter skin offer customizable RSS feeds, notes, shortcuts, weather forecast, clock/date, image slideshow, CPU load, drive-usage, media player control, and much more.
Wallpaper and customizability definitely play an important role in the overall look and feel of ABP.
---
7. Simple Media
Simple Media is possibly the most minimal rainmeter skin that only displays the most essential features. This minimal skin has an impressive font and a very clean UI. Similar to other rain meter skins Simple Media also displays date & time, recycle bin status, and temperature.
A good wallpaper paired with this skin will definitely help your desktop to stand-out from the crowd.
---
8. Elegance 2
The next best minimal rainmeter skin on the list is Elegance 2. This popular rainmeter skins very well adapt to different wallpapers. In addition to the minimal UI, the fonts on Elegance 2 are also elegant. Elegance 2 displays the CPU & RAM usage stats, recycle bin status, time & date, and Media playback information and controls.
---
9. Neon Space
The next interesting rainmeter skin on the list is neon space. As the name of this skin suggests it converts your desktop into a spaceship cockpit. The UI of neon space looks fairly complex and neon colour scheme enhances the visual appearance of this skin.
What may appear as spaceship controls display time & date, weather forecast, CPU & RAM usage, and there's a dedicated music playback controller.
---
10. ALIENS
The next rainmeter skin resembles its name in terms of the overall look and feels. ALIENS displays all of your computer details on your desktop in the form of an alien ship control centre.
This unique rainmeter skin display Disk partition shortcuts and Power status, to Network upload/download speeds, and much more. This skin is fully customizable and users can configure the modules as per their preferences.
---
11. Greenzo
If you prefer green colour over any other colour then Greenzo will definitely impress you. Every widget, icon, or any other skin element on Greenzo resembles different shades of green colour. This unique rainmeter skin has a dedicated web browser widget that helps you to visit any webpage without leaving the desktop.
In addition to that, other widgets on this skin include RSS reader, notes, slideshow, date, time, mail, Winamp interface, and much more.
---
12. Battlefield 3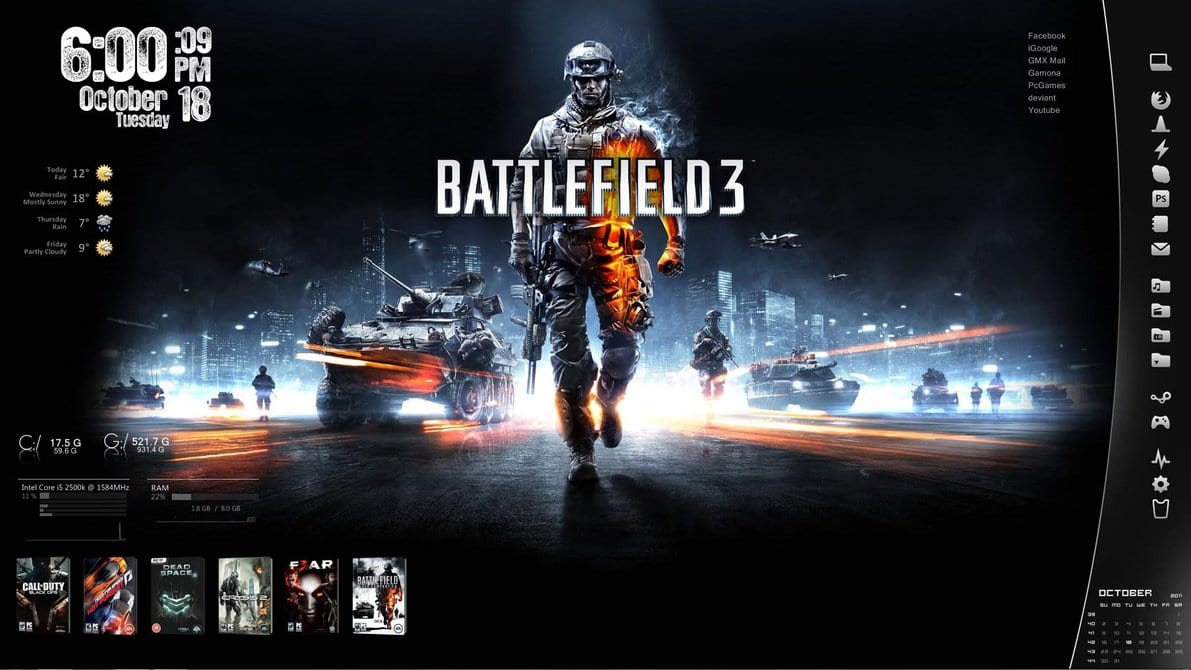 The name says it all, Battlefield 3 is one of the best rainmeter skin for gamers. The theme elements resemble different parts of one of the most popular game franchise "battlefield". Using this skin you can customize and personalize your desktop as per your preference.
Widgets on this skin display weather, network strength, CPU & RAM usage, and users can even create shortcuts for their favourite apps and games.
---
13. LIM!T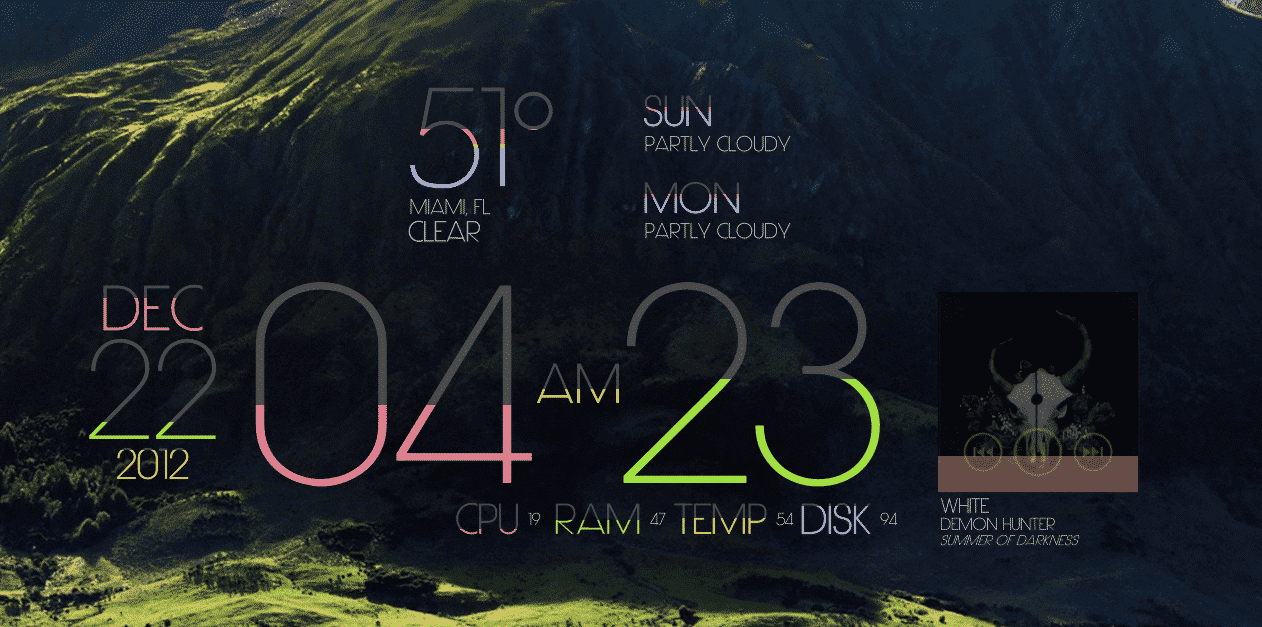 LIM!T is a minimal rainmeter skin that hardly has any graphical element. This clean and simple skin is completely clutter-free and only displays what's important. Furthermore, every skin element on LIM!T is in the form of text. LIM!T displays CPU and RAM usage, media playback, date & time, and weather information.
---
14. Taboo
Taboo is another impressive rainmeter skin that offers a complete black and white colour scheme. This rainmeter skin uses the default Windows icons and displays important system information in a clean and well-organized way. You can personalize this skin by using a matching wallpaper.
---
15. Senja Suite
The last best rainmeter skin for Windows 10 on the list is Senja Suite. This minimalistic skin displays the essentials like time, user profile button, media player with controls, and other useful shortcuts on the desktop. Lastly, the wallpapers and colour scheme of this rainmeter skin also look visually impressive.
---
Is Rainmeter safe?
Yes, rainmeter is completely safe to use and it won't harm your computer. This application is meant for customizing the overall look and feel of your PC. In fact, the official Rainmeter software for Windows 10 is free of harmful viruses.
---
How To Uninstall Rainmeter Skins?
Deleting or uninstalling a rainmeter skin is a fairly simple process. To do this simply open the Add or Remove Programs section in settings of Windows 10. Select the Rainmeter app and uninstall it.
To completely remove Rainmeter from your computer delete the program, skin files, settings, layouts, and 3rd-party plugins folders from your PC.
C:\Program Files\Rainmeter
C:\Users\YourName\Documents\Rainmeter
C:\Users\YourName\Appdata\Roaming\Rainmeter
Lastly, restart your PC once.
---
CONCLUSION
So these were some of the best rainmeter skins that are worth checking out. The overall visual appearance using these rainmeter skins heavily relies on the wallpaper.
So spare some time searching a decent wallpaper. Do share other impressive rainmeter skins in the comments section below.