One of the most advantageous features of using Windows OS is the number of customization options that the OS offers.
While you can easily make visual customization like changing the wallpapers, screensavers, or installing the third-party themes. That might not seem like enough!
Luckily, you can use Rainmeter Skins to tweak the appearance of the windows to the fullest according to your requirements and make them look more vibrant and visually appealing.
---
What Are Rainmeter Skins?
Rainmeter Skins are a free and open-source desktop customization software for Windows.
Using Rainmeter Skins you can completely customize the visual appearance of your PC as per your preference.
You can easily add desktop widgets (network statistics, clock, processor usage), icons, toolbar, and wallpapers.
---
ALSO READ: Best Windows 10 Themes/Skins To Improve Your Windows Look
Best RainMeter Skins
1. Enigma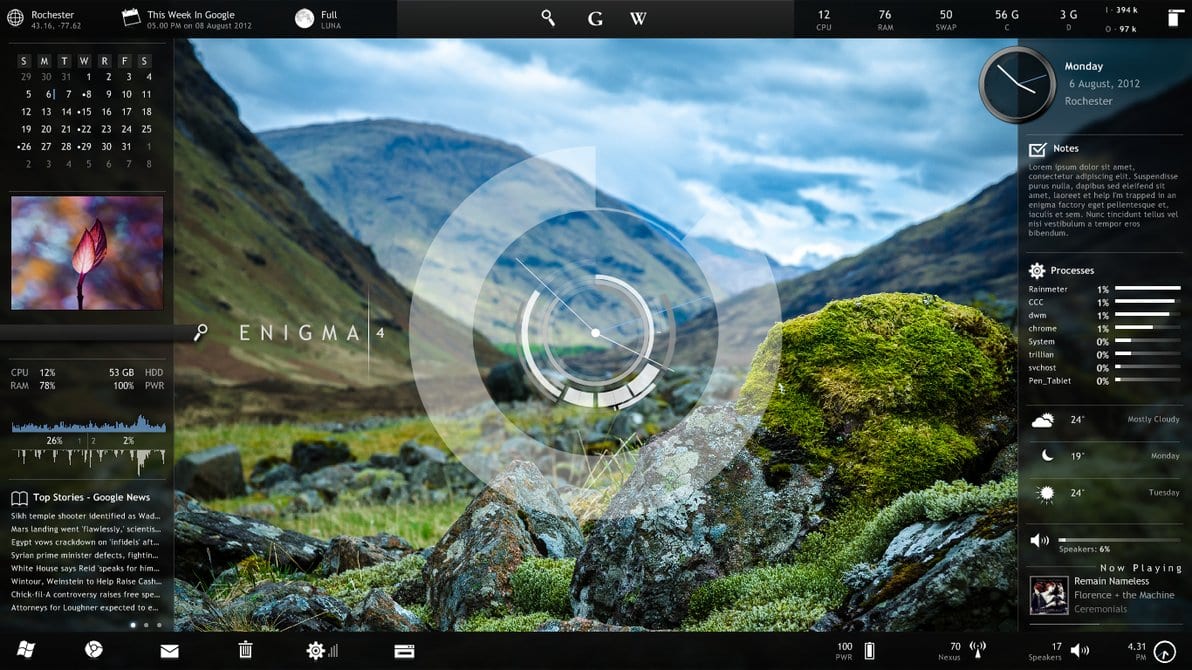 The first and one of the most customizable rainmeter skin on the list is Enigma. This popular rainmeter skin offers 100 customization options in a user-friendly panel. Users can customize and personalize anything available on this skin.
Widgets on Enigma display World time, Weather, Media playback status/control, multiple RSS feeds, Quick notes, CPU and RAM usage, Real-time active processes, and much more.
---
2. Mond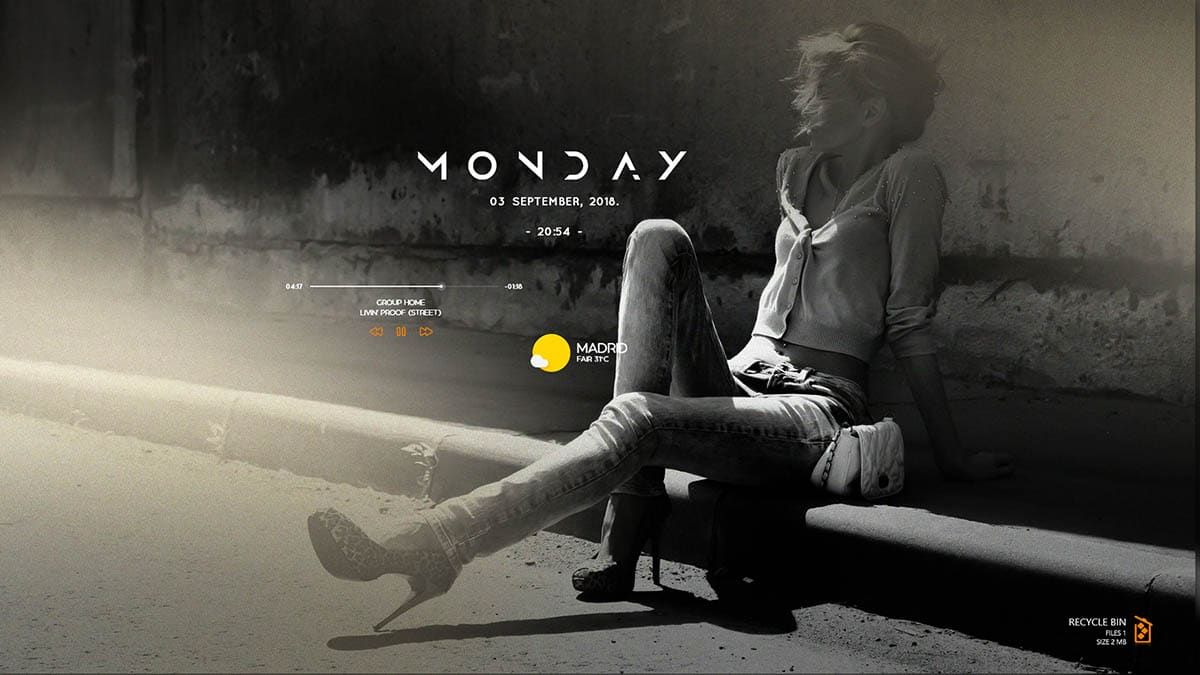 Mond is the next impressive desktop rainmeter skin that is ideal for anyone who is a fan of minimal aesthetics. After installing the skin you will also get access to a minimalistic weather widget and a rainmeter audio player. If you spare some time customizing this skin and finding a matching wallpaper, then your setup will definitely stand out.
---
3. IronMan-Jarvis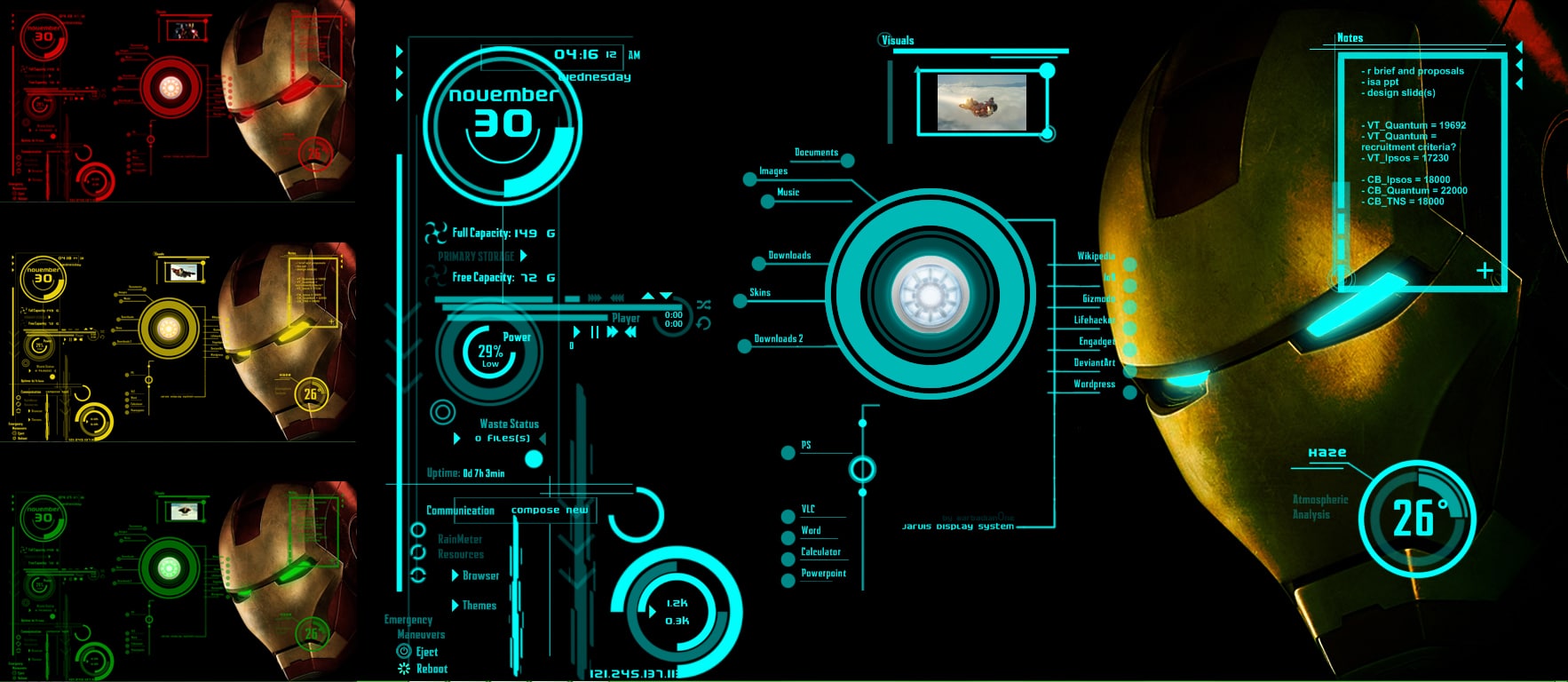 The name says it all, IronMan-Jarvis is a rainmeter theme that is heavily inspired by the virtual assistant Jarvis.
The rainmeter skin offers fully customizable decks for apps, folders, and weblinks. Furthermore, the theme is available in blue, red, yellow, and green color variants.
---
4. MNML UI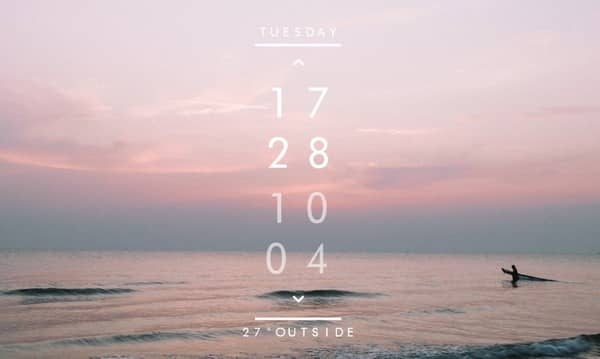 Next on the list, we have MNML UI. This skin makes your desktop look clean and helps improve productivity. The rainmeter skin does so by removing the clutter and the simple widgets of this skin display the essentials like time, date, and temperature.
Do check out this skin if you were looking for minimal skin.
---
5. Avengers SHIELD OS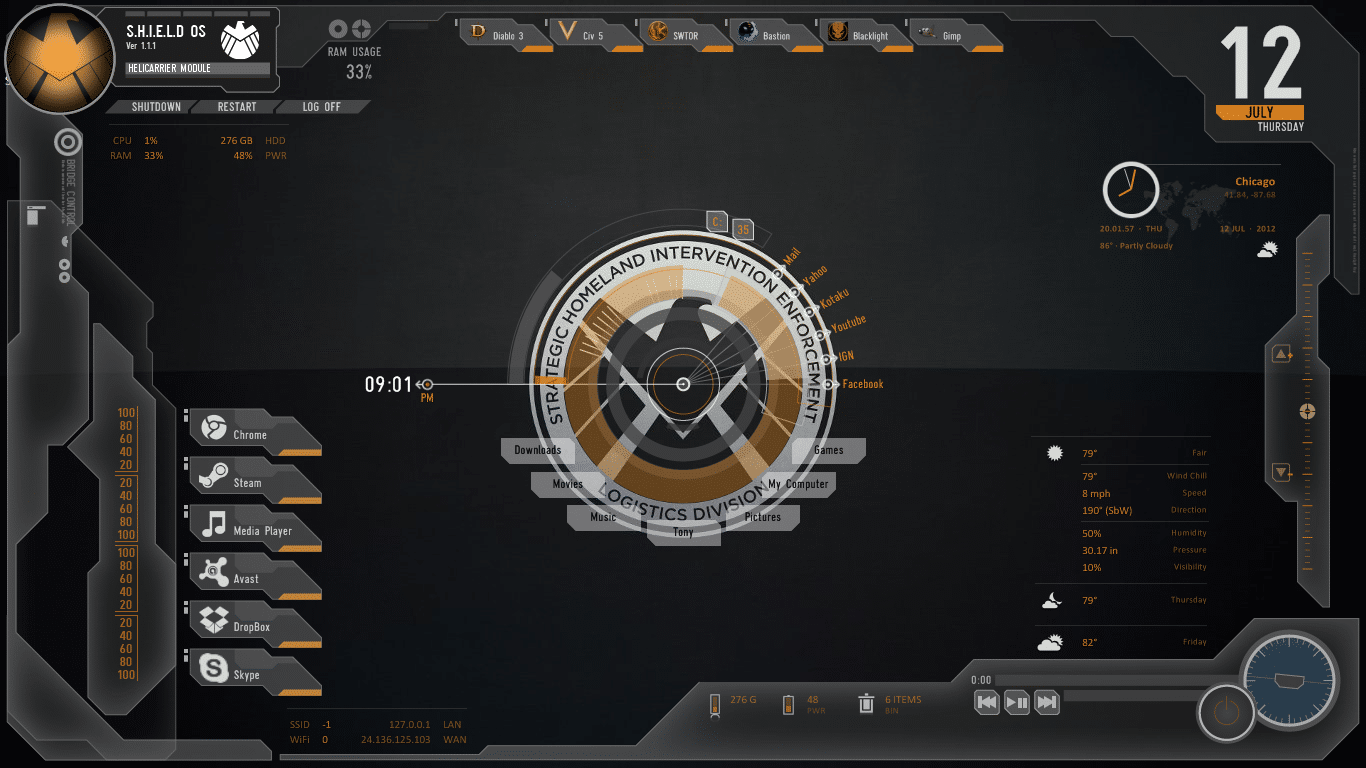 Avengers SHIELD OS is another great skin for all the Marvel fans out there. Depending on the time you spend on customization and wallpaper selection you can convert the Avengers SHIELD OS rainmeter skin into a complex feature-rich skin.
Widgets on Avengers SHIELD OS display power and network strength status, weather, music player, task manager, date & time, customizable dock, and much more.
---
6. Big Sur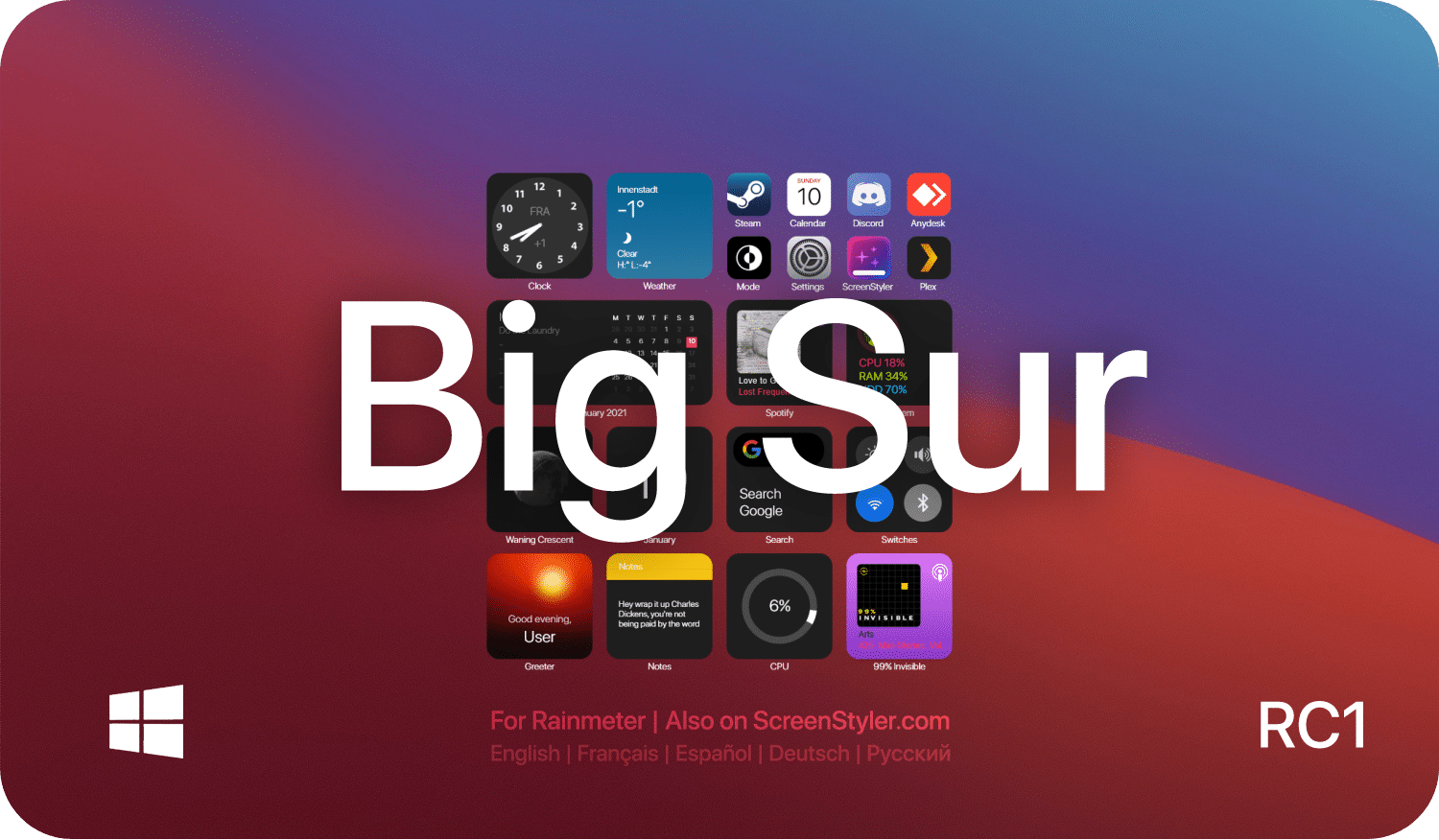 Big Sur Rainmeter skin is ideal for anyone who wants to experience the look and feel of macOS Big Sur on a Windows 10 PC. The developers have invested a considerable amount of time and resources to make this skin almost similar to macOS.
Furthermore, small things like font, animations, layout, icon sizes, and many others have been designed taking macOS into consideration. In addition to Big Sur rainmeter skin, you can also install macOS BigSur For RocketDock to get a macOS-like dock on your PC.
---
7. Spiderman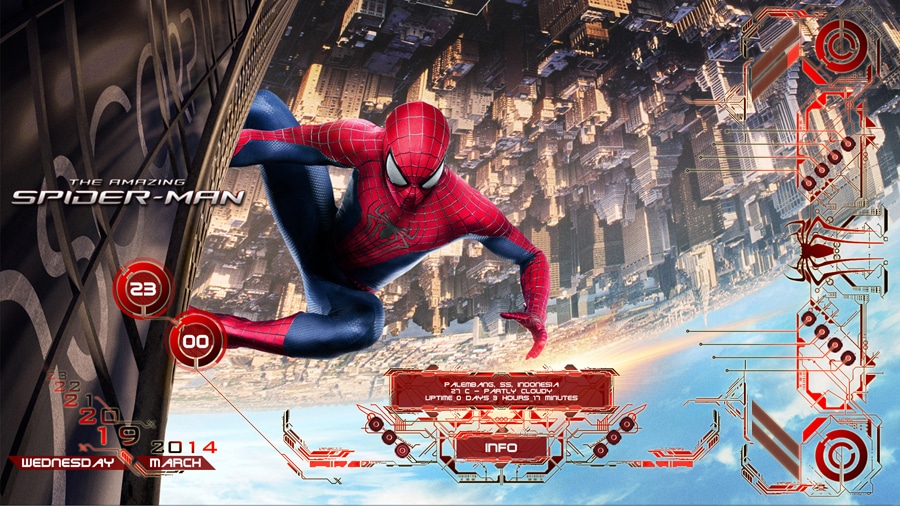 Yes, you read it right there's an amazing Spiderman Rainmeter skin out there. This animated theme for windows has all the essentials things like current time/date information, CPU information, power buttons, and much more.
The skin also offers highly customizable shortcuts. According to the developer, the Spiderman Skin is ideal for people having display resolutions of 1366×768 and 1920×1080.
---
8. Cyberpunk 2077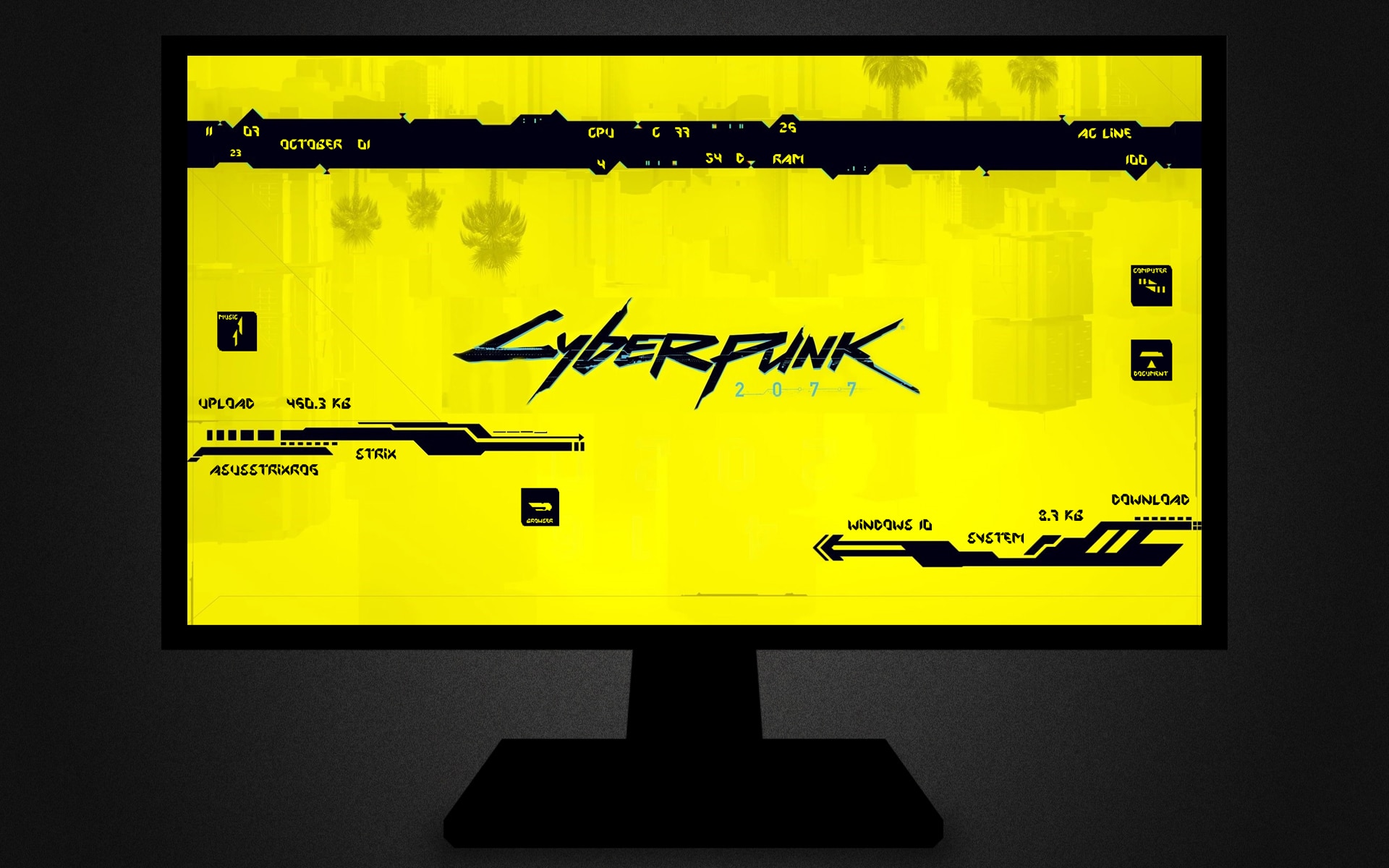 The next best gaming rainmeter skin on the list is Cyberpunk 2077. Inspired by the most anticipated title of 2020, Cyberpunk 2077 skin is designed for 1920×1080 screen size. Following some basic instructions, you can customize this theme and the dock icons as per your preference.
---
9. Neon Space
The next interesting rainmeter skin on the list is neon space. As the name of this skin suggests it converts your desktop into a spaceship cockpit. The UI of the neon space looks fairly complex and the neon color scheme enhances the visual appearance of this skin.
What may appear as spaceship controls display time & date, weather forecast, CPU & RAM usage, and there's a dedicated music playback controller.
---
10. UI White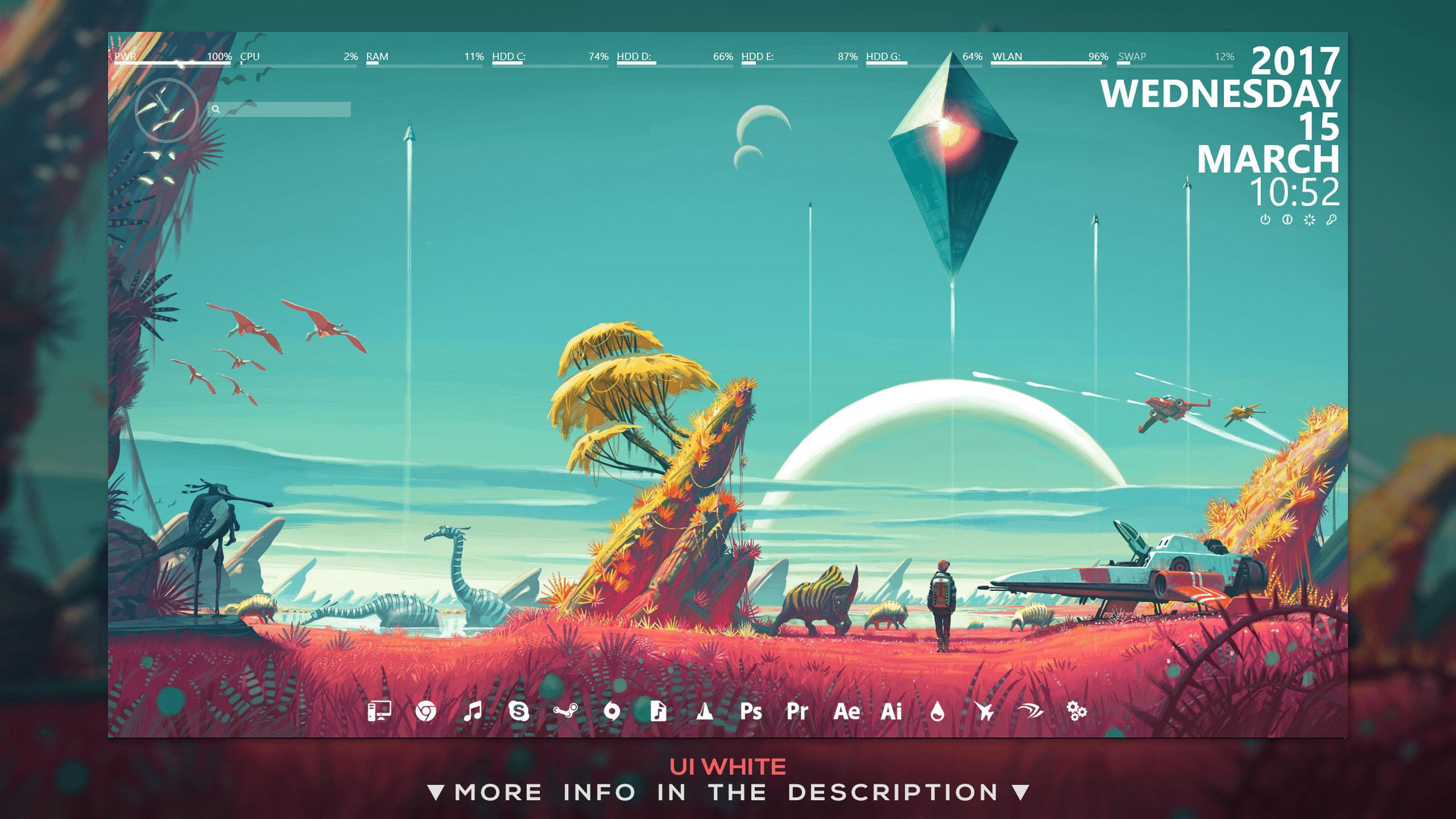 The next rainmeter skin resembles its name in terms of the overall look and feels. UI White displays all of your computer details on your desktop in the form of clean white icons.
This unique rainmeter skin displays your hardware resource usage coupled with power controls. Lastly, UI White is fully customizable and users can configure the modules as per their preferences.
---
11. Desktop Music Visualizer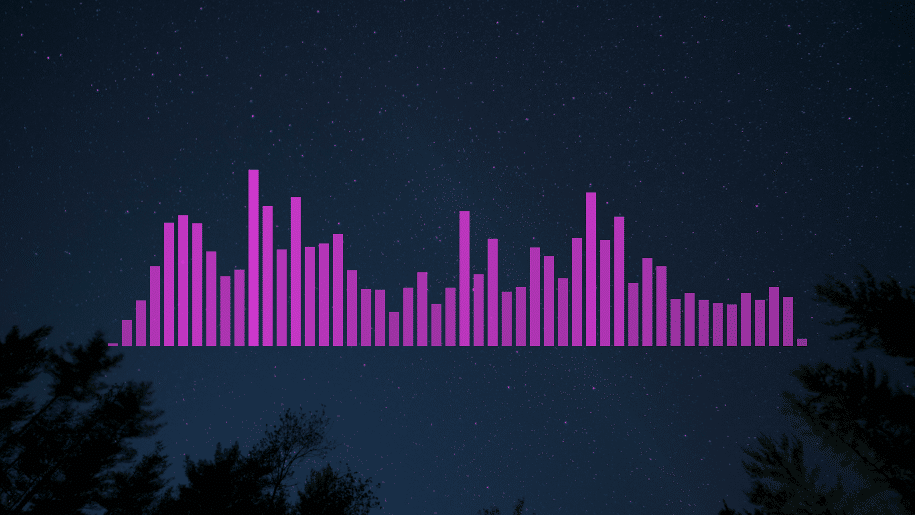 Ideal for audiophiles, Desktop Music Visualizer does exactly as its name suggests. The rainmeter skin showcases the audio levels while playing music. To increase the precision and performance of this skin you can decrease your audio device's sampling rate.
DOWNLOAD DESKTOP MUSIC VISUALIZER
---
12. Battlefield 3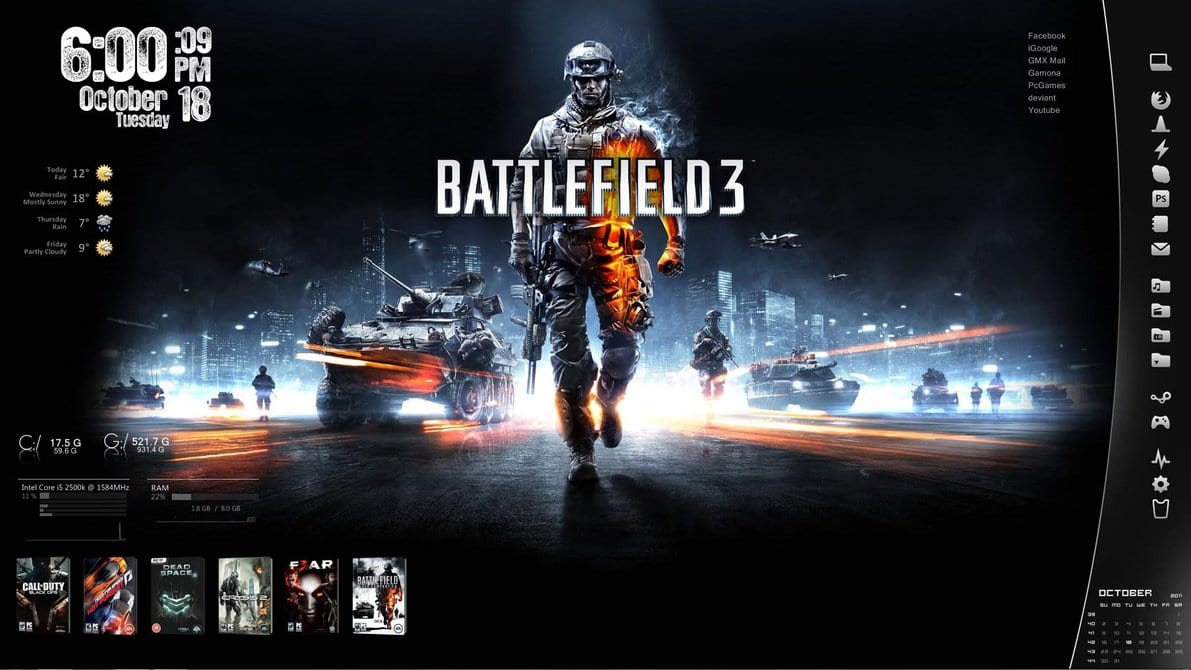 The name says it all, Battlefield 3 is one of the best rainmeter skin for gamers. The theme elements resemble different parts of one of the most popular game franchise "battlefield". Using this skin you can customize and personalize your desktop as per your preference.
Widgets on this skin display weather, network strength, CPU & RAM usage, and users can even create shortcuts for their favorite apps and games.
---
13. LIM!T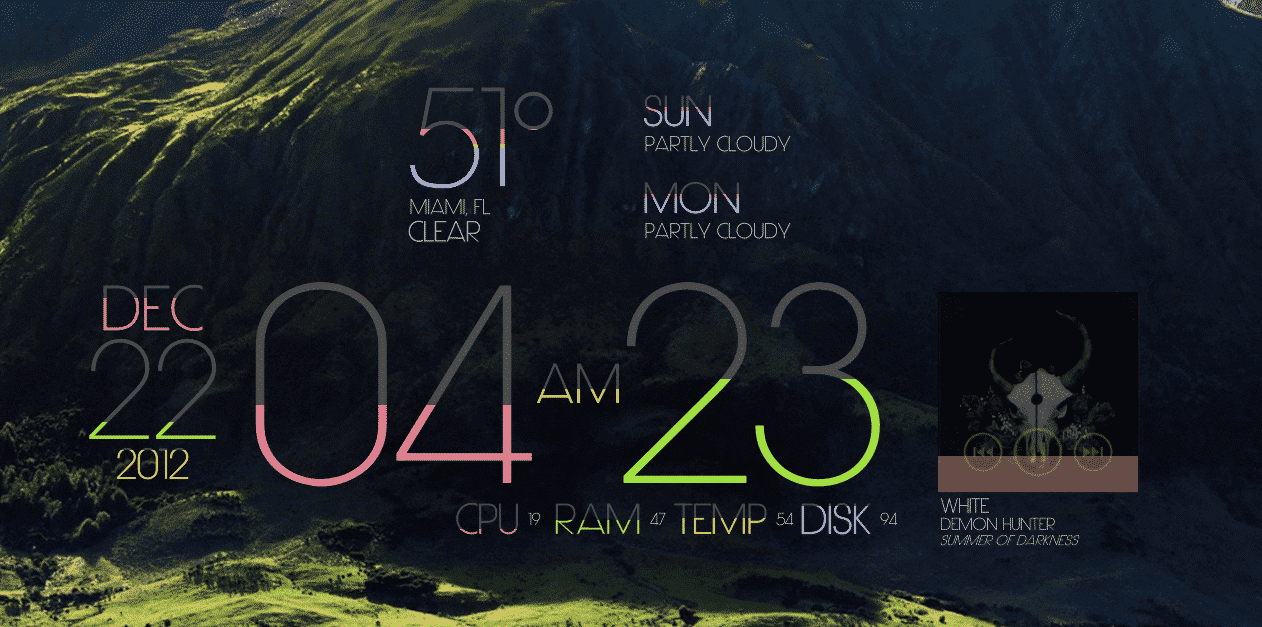 LIM!T is a minimal rainmeter skin that hardly has any graphical element. This clean and simple skin is completely clutter-free and only displays what's important. Furthermore, every skin element on LIM!T is in the form of text. LIM!T displays CPU and RAM usage, media playback, date & time, and weather information.
---
14. Zelda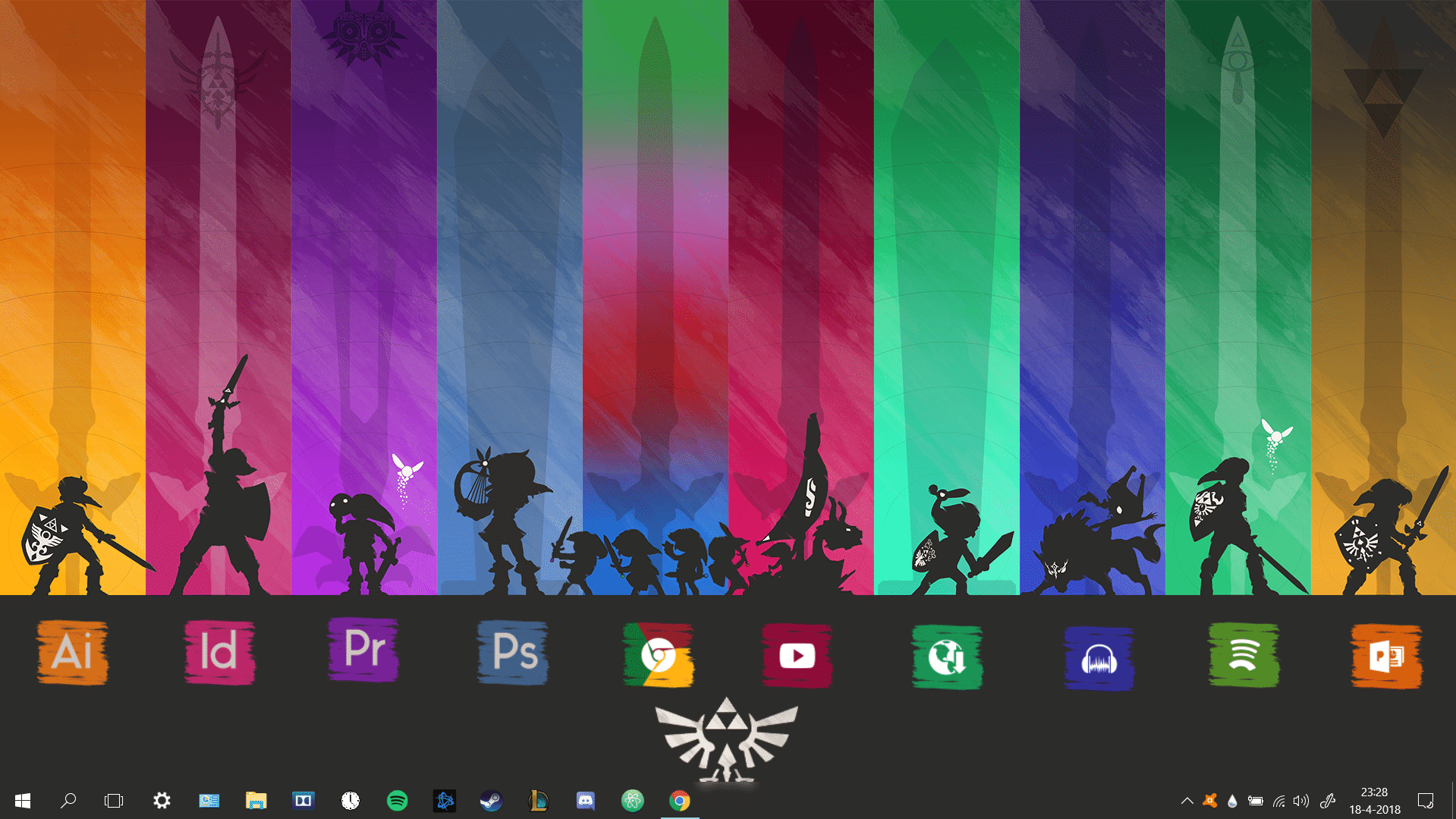 Another great gaming skin on the list is Zelda. The skin offers a dedicated setup window that makes it easier to install it. The skin has 4 modes, you can change mode by clicking on the zelda icon parts. Sadly, the wallpapers are not included in the Rainmeter skin but you can manually apply them using the provided .PNG files.
---
15. Senja Suite
The last best rainmeter skin for Windows 10 on the list is Senja Suite. This minimalistic skin displays the essentials like time, user profile button, media player with controls, and other useful shortcuts on the desktop. Lastly, the wallpapers and colour scheme of this rainmeter skin also look visually impressive.
---
Is Rainmeter safe?
Yes, rainmeter is completely safe to use and it won't harm your computer. This application is meant for customizing the overall look and feel of your PC.
In fact, the official Rainmeter software for Windows 10 is free of harmful viruses.
---
Does Rainmeter affect PC performance?
It does affect the performance of your Windows PC a bit. It all depends upon how many skins you are using and how heavy they are.
---
CONCLUSION
So these were some of the best rainmeter skins that are worth checking out. The overall visual appearance using these rainmeter skins heavily relies on the wallpaper.
So spare some time searching a decent wallpaper. Do share other impressive rainmeter skins in the comments section below.