Since its advent in 2003, Skype has become an industry standard when it comes to video calling on Windows PC. In addition to video calls, Skype is also a full-fledged messaging and voice calling application that is available for smartphones as well.
Even after its immense popularity, Skype is still not the most feature-rich and secure video calling application.
So these are some of the best alternatives to Skype that will definitely enhance your video calling experience.
Best Free Skype Alternatives
---
1. WhatsApp
The first Skype alternative for PC that you are probably already using is WhatsApp. This immensely popular messaging application also doubles up as a reliable video-calling application. WhatsApp is available for both smartphones and computers.
A majority of your friends and family members are already using WhatsApp, which eliminates the need for signing up for new services.
WhatsApp now supports group video calls, using which you can communicate with up to four friends at once. Overall WhatsApp is a reliable Skype alternative.
---
2. Google Hangouts
Google Hangouts is another popular video calling service that is mainly used by various organizations to interact with co-workers. Similar to WhatsApp Google Hangouts is also available for smartphones and computers.
Using Google Hangouts you can hold a video call with up to 25 participants. So as to invite and connect with different users you only need their email address or phone number.
During calls, Google Hangouts offers impressive audio and video quality and the connection is secure as well.
---
3. LINE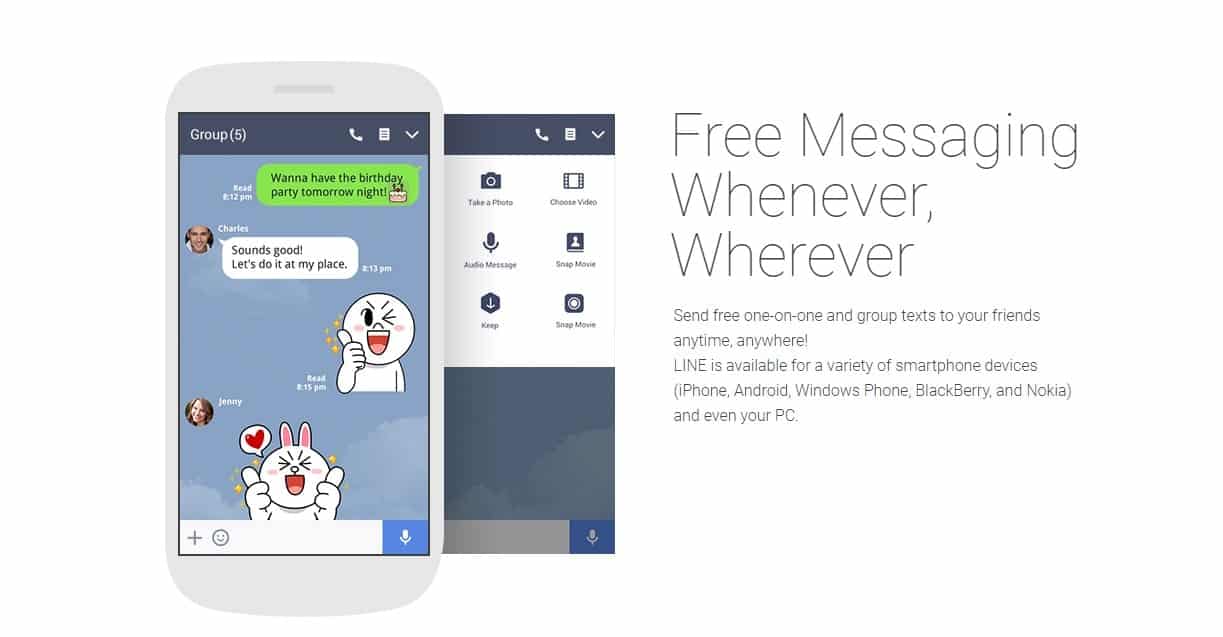 The next feature-rich Skype alternative is LINE. This alternative to Skype has a very well developed UI and cross-platform support offers a seamless messaging experience.
Similar to other Skype alternatives on the list, LINE can also be used for video calls, voice calls, and text messaging. Nifty features like Keep, Animated Stickers, LINE Today, Face Play, Stories, and Live help LINE to stand out from the crowd.
Lastly, using LINE you can also share all sort of media and document files with your contacts.
---
4. Facebook Messenger
The next best Skype alternative that you are possibly already using is Facebook Messenger. Using Messenger you can communicate with any of your Facebook friends and the quality of video calls is impressive as well.
In addition to video calls, Messenger also allows users to have voice calls with their friends. Messenger is available as a full-fledged application for Windows, iOS, Android, and MacOS.
---
5. Tox
Tox is one of the most secure Skype alternative that has gained popularity in recent years. Well, if security and privacy is your major concern then Tox is the best Skype alternative for you. Since Tox is open-source it is completely advertisement free.
Similar to other Skype alternatives, Tox also offers messaging, file sharing, and voice calling features.
Using the Screen Sharing feature you can even share your desktop with your friends. Lastly, Tox is available for both Windows and MacOS.
---
6. WeChat
The next smartphone oriented Skype alternative is WeChat. Similar to other Skype alternatives WeChat offers voice calls, text messaging, video calls and group chats.
As mentioned earlier, WeChat is a smartphone-oriented application but its still available for Windows and MacOS in their respective App Store. It is worth noting that, a smartphone is required for logging-in to WeChat Web version.
WeChat allows a maximum of four participants in a group video call. To sum it all, WeChat is a reliable Skype alternative that simply gets the job done.
---
7. ooVoo
The next capable Skype alternative on the list is ooVoo. This instant messaging application offers a great messaging experience and supports emoji, stickers, and GIFs. ooVoo supports HD video calling with up to 8 people simultaneously.
The SuperClear technology helps ooVoo to optimize the quality of video calls based on your internet speed. ooVoo is available for Android, iOS, Windows, and MacOS.
This feature-rich Skype alternative also doubles up as a reliable file transfer tool.
---
8. Viber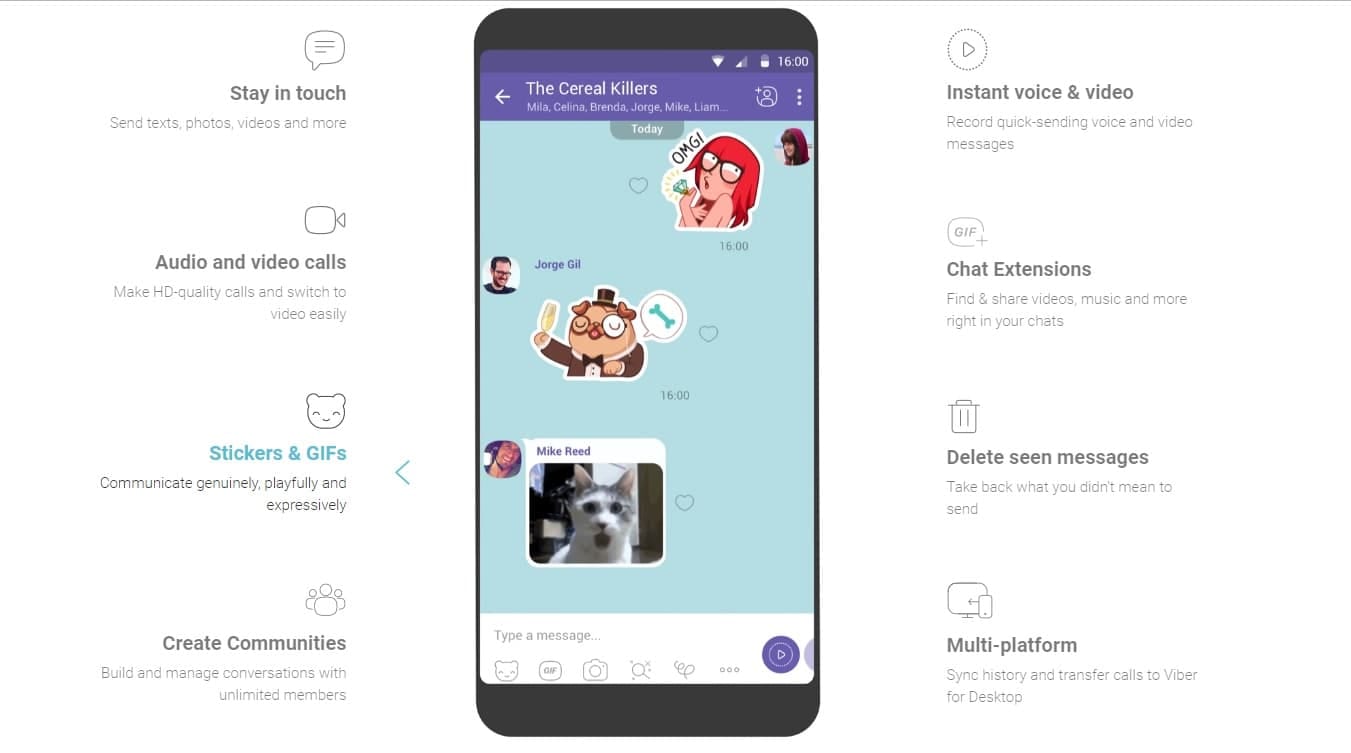 Viber is another impressive Skype alternative for secure video calls and messaging. Unlike other Skype alternatives, Viber allows users to play built-in games and interact with popular websites when no one is present at the moment.
If you worried about privacy and security then end-to-end encryption on Viber will definitely impress you. Viber even allows users to delete seen messages. In addition to Windows, Viber is also available for MacOS and Linux.
Viber is one among very few instant messaging applications that allow users to customize application's theme and overall UI based on their preferences.
---
9. Wire
If security and privacy are on top of your priority list then Wire will definitely impress you. Wire is an ideal Skype alternative for business or organization based communication needs. This application offers end-to-end encrypted audio conference call with up to 10 people.
In addition to messaging and video calls, Wire also doubles up as a secure file and screen sharing tool. Since Wire is an open-source application its completely ad-free and there are no in-app purchases.
Overall, Wire is a professional alternative to Skype that is used by many big companies.
---
10. Riot
The last Skype alternative on the list is Riot. Nifty features like voice and video conferencing, file sharing, notifications, and project reminders definitely help Riot to stand out from the crowd.
Riot can be used on any web-browser and its available for smartphones and computers as well. Chats and calls on Riot are also end-to-end encrypted.
Overall Riot is a reliable Skype alternative that simply gets the job done.
---
CONCLUSION
So these were some of the best Skype alternatives that are more secure and feature-rich as compared to Skype. Do share your favorite Skype alternatives in the comments section below.