Foldable smartphones gained immense hype in 2019. Every major smartphone manufacturer took a different approach and showcased its variant of a foldable phone.
In fact, a few companies like Samsung and Motorola have already started selling the first-generation foldable smartphones.
LG has recently introduced the V60 ThinQ 5G, the successor of last year's V50 ThinQ 5G. Unlike any other foldable device in existence, LG took a slightly different approach and made the secondary display of V60 ThinQ 5G as an accessory that can be added or removed whenever a user wants to.
So here's everything you need to know about the LG V60 ThinQ 5G.
RELATED: Xiaomi Mi 10 Pro Outperforms Apple iPhone 11 Pro Max [Full Comparison]
---
LG V60 ThinQ 5G: Specifications & Features
As you might know, LG's ThinQ smartphone lineup is a flagship smartphone series. Consequently, LG offers the best in class hardware coupled with reliable software support on this series, and the latest LG V60 ThinQ 5G is no exception.
In reality, the LG V60 ThinQ 5G is not a truly foldable phone. However, this 5G capable smartphone relies on a new dual-screen accessory to function as a foldable device. The dual-screen accessory acts as a case to the V60 ThinQ, and it packs a 6.8-inch OLED FHD+ display with a resolution of 2460 x 1080 pixels.
Additionally, there's a small 2.05-inch (256?64 pixels) PMOLED Mono cover display. This cover display comes in handy when the smartphone is completely folded, and it displays vital information for easy access at a glance.
The dual-screen accessory connects to the smartphone via the USB Type-C port, and it even draws power from the V60 ThinQ 5G. Luckily, there's a 360° Freestop Hinge on this accessory, which makes it easier to adjust the folding angle of this smartphone for different tasks like multitasking, gaming, and media consumption.
LG V60 ThinQ 5G Specifications
6.8-inch FHD+ FullVision P-OLED Display with a resolution of 2460 x 1080 pixels and an aspect ratio of 20.5:9, HDR10+
Octa-Core Qualcomm Snapdragon 865 7nm Processor with Snapdragon X55 5G Modem
Adreno 650 GPU
8GB LPDDR4x RAM
128GB / 256GB storage, expandable memory up to 2TB with microSD
Android 10
64MP rear camera with f/1.8 aperture, 0.8µm pixel size, 78° lens, 13MP super-wide camera with f/1.9 aperture, 1.0µm pixel size, 117° lens, Z Camera (ToF Receiver / Emitter)
10MP front camera, f/1.9 aperture, 1.22?m pixel size, 72.5° lens
 In-Display Fingerprint Sensor
Water, dust resistant (IP68), MIL-STD 810G certified
3.5mm audio jack, 32-bit Hi-Fi Quad DAC, Stereo Speaker, 4Ch Microphones, LG 3D Sound Engine, FM Radio
5G, 4G VoLTE, Wi-Fi 802.11 ax, Bluetooth 5.1 LE, GPS, NFC, USB Type-C (3.1 compatible)
5,000mAh battery with Qualcomm Quick Charge 4+
The P-OLED display of the LG V60 ThinQ 5G is ideal for media consumption and the flagship Qualcomm Snapdragon 865 processor that powers this smartphone can easily handle heavy multitasking, long gaming sessions, and all sorts of resource-intensive tasks that you throw at it.
Similar to the recently launched Samsung Galaxy S20+ Ultra, the LG V60 ThinQ 5G can record 8K videos and the dual-camera setup coupled with a time of flight (ToF) sensor on this smartphone offers great versatility to the shooter.
LG is among the many few smartphone makers that still care about the audiophiles. The V60 ThinQ 5G comes with a 3.5mm audio jack with 32-bit Hi-Fi Quad DAC. You can use this dedicated to power proffessional headphones and it drastically improves the overall audio quality of this smartphone.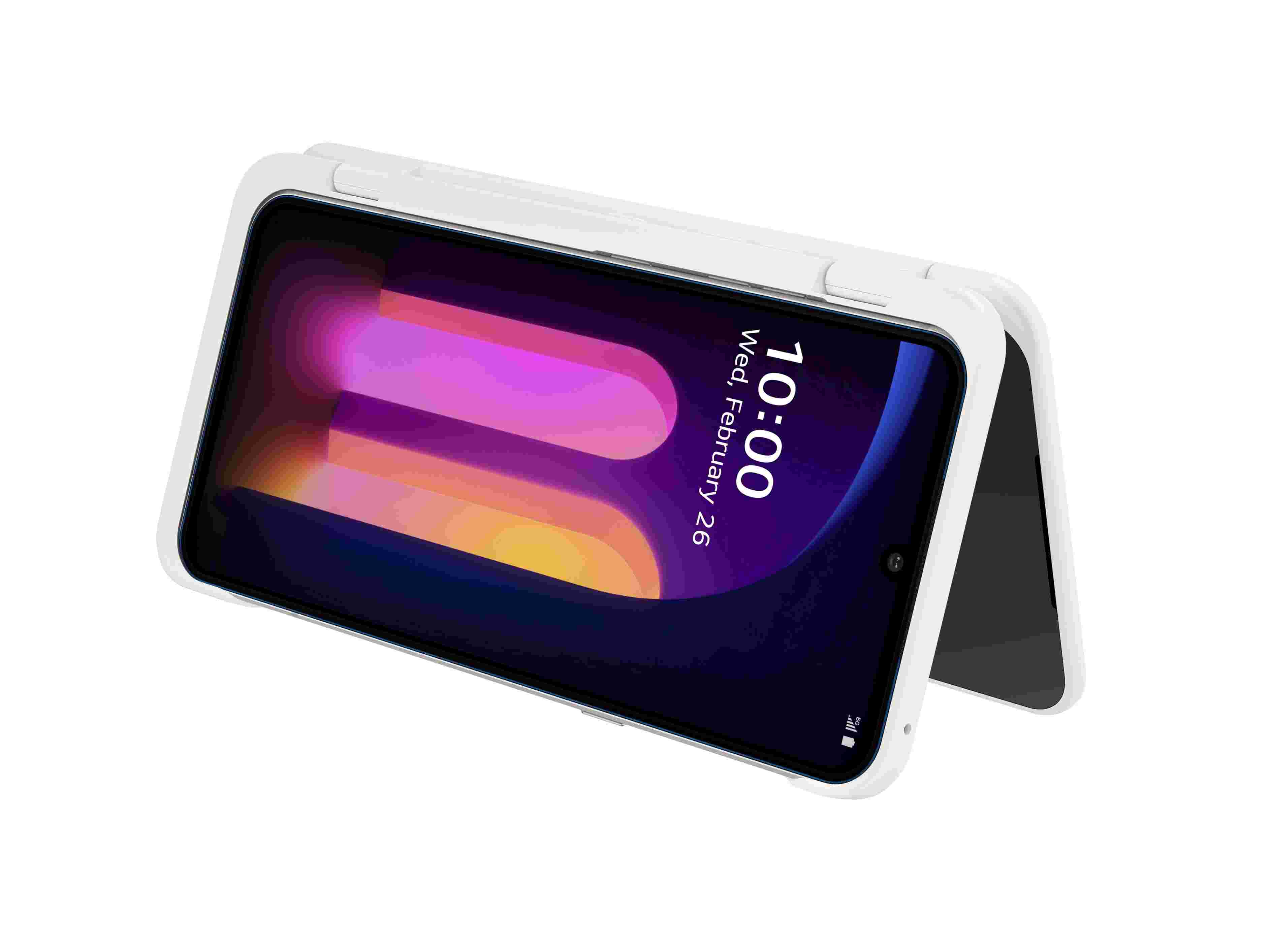 Lastly, LG took a wise decision to pack a 5000mAh battery. This battery can effortlessly power the V60 ThinQ 5G coupled with the dual-screen accessory for a day with heavy to moderate usage.
---
Pricing And Availability
As of now, LG hasn't unveiled the official pricing of the LG V60 ThinQ 5G. That said, we can expect this flagship smartphone to launch in the $900 to $1000 price range. The LG V60 ThinQ will be available in Classy Blue and Classy White color variants and will roll out in North America, Europe, and Asia starting next month.
---
LG V60 ThinQ 5G Vs Microsoft Surface Duo: Who Did It Better? 
A few months ago, Microsoft announced it's first foldable Android smartphone namely the Microsoft Surface Duo. This productivity-focused smartphone sports dual-screen with a 360° hinge to manage the folding angle as per users' preference.
Microsoft Surface Duo boasts dual 5.6-inch screens, but once you unfold it this can be used as an 8.3-inch tablet-like device. This foldable smartphone from Microsoft will run on a custom skin that will be based on Android. We can expect Microsoft to tweak the software of this smartphone to take advantage of the secondary display.
The Microsoft Surface Duo will be launched in Q4 2020.
As you might have guessed, the approach taken by LG and Microsoft towards foldable smartphones is somewhat similar. That said, the secondary display of Surface Duo is permanently attached. On the other hand, the one on LG can be removed or attached.
Both these Android devices are productivity-focused and they are perfect for most users. However, as per the 2020 standards, the LG V60 ThinQ 5G is a more practical device.
---
Should You Buy A Foldable Smartphone In 2020?
A Foldable smartphone can be considered as a device that boasts powerful internals and comes with the ability to customize its form-factor as per users' preference. This new technology is still in its initial stages.
Consequently, the first-generation foldable phones are not the perfect devices and if you are planning to become an early adopter of this modern technology it would be a wise decision to wait for the second-generation devices.
Another major reason why foldable phones won't have many early adopters is the high price tag that these devices are sold. That said, the technology might become mainstream in the upcoming years and the price tag could also come down.
Also Read- Best 5G Smartphones
Do share your thoughts and opinions on Foldable smartphone in the comments section below.