Waste has become a major problem for many supply chains. For enterprises, issues involving logistics can result in significant losses and disruption. Shipments in industries like food and pharmaceuticals typically contain perishable, sensitive, and volatile goods. Strict safety laws require certain goods to be transported within controlled conditions.
For example, the USDA's transportation guidelines require that poultry products labeled "fresh" must be transported at temperatures between 26°F and 32°F. When handled poorly, these goods may go bad, making them unsafe or even dangerous to use. They may even have to be discarded or destroyed.
Collectively, waste due to supply chain problems runs up to billions of dollars every year. It's estimated that 14 percent of the world's food is lost through the supply chain. The biopharma sector also reports annual losses of about $35 billion due to faults in their climate-controlled supply chains or "cold chains." Clearly, improvements in existing supply chain management practices must be made.
If you happen to have such problems, then it's quite fortunate that technology-driven solutions are now available. Logmore, for example, looks to help companies improve their supply chain management through better shipping condition monitoring. The startup leverages sensor, logging, mobile, and cloud technologies to give companies better visibility of the status of goods moving through their respective supply chains.
In this review, we take a look at Logmore's offering and how it addresses the needs of supply companies.
What Logmore Offers
Logmore essentially provides a subscription-based data logging service with the following components:
Loggers
Key to Logmore's service are its loggers. These are dynamic Quick Response (QR) tags equipped with sensors capable of measuring temperature, humidity, ambient light, tilt, shocks, and scanning location – information crucial to monitoring the condition of sensitive and fragile shipments.
Once enabled, you can simply attach these tags to any of parcel and they will start logging measurements. Unlike other beacons and sensors, the loggers don't rely on connectivity for data to be retrieved. The information can be readily read using a mobile device camera or QR reader through the tag's dynamic QR code. The QR code simply changes for every new information that gets logged.
This is particularly useful in air freight for which there may be restrictions concerning the use of certain devices and connectivity. Conventional RFID tags, in contrast, often require special dedicated devices to be read.
Web Interface
Once a tag is scanned, the logging data is sent to Logmore's cloud service. You can access all scanned information from your loggers through the web interface.
The dashboard provides a summary of all logging activity and conveniently displays information from the latest five active loggers.
From there, you can check specific data for each logger that you have. Each QR Logger has a unique ID and can be assigned descriptive names and notes. This way, you can conveniently search using any term that can help you identify a specific tag.
Measurements over time are presented in a timeline, allowing you to readily make sense of the package's journey. You can even select from custom ranges to see logging data within a very specific timeframe.
A map showing all scanning points also provides a visualization of the logger's movement across locations.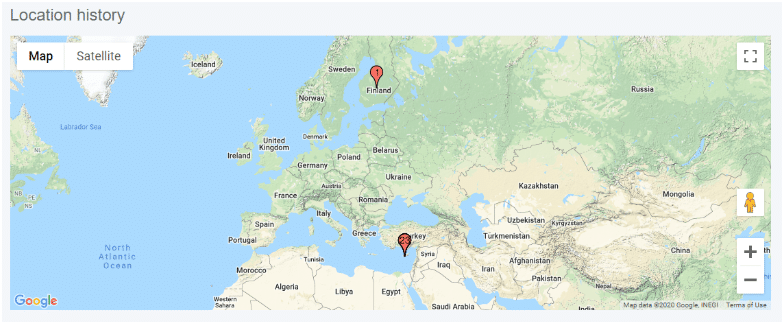 The logging data can be viewed as tables or downloaded as Excel spreadsheets or in CSV file format. This makes the data usable for other analytics, business intelligence, or big data efforts.
Missions and Administration
Aside from letting you go over logging information, the web interface, has powerful management and administration features that give you more value from your subscription.
You can create "missions" which allow you to assign tags to a specific order or shipment. You can set alerts for each mission, so that you will be immediately notified should the package be inadvertently exposed to certain conditions.
You can also assign multiple tags to a single mission. This way, you can get a more comprehensive view of how products for a specific order are handled even if the shipment involves several packages or containers. If you routinely have similar shipments, you can use templates to quickly define mission conditions. 
If you are setting up multiple QR tags, you can mass scan them using a QR scanner mobile app or a PC equipped with a 2D code scanner. The interface lets you assign automatic actions after scanning the tag such as starting a mission or ending all missions.
The account management option lets you create additional user accounts and manage them especially if you have various staff members that need access to the logging information. You can create teams and assign them specific roles and permissions.
How This Benefits Companies
Logmore provides your company with accurate information regarding any shipment. Knowing the conditions to which packages are exposed can help you anticipate the quality of goods as they arrive at their destination in real time. This also helps guarantee compliance to health and safety laws. In addition, the logging data can serve as evidence for insurance claims in cases where your shipping provider damages your goods.
Timely information enables you to quickly intervene at any point of your supply chain. You can readily recall potentially problematic shipments before they go far. You can also readily notify your customers for any issues concerning their orders.
By reviewing historical information, you would be able to identify areas for improvement and work on making your processes more efficient. Cutting down on waste leads to better margins for your business. Improvements in your supply chain ultimately result in better product quality and more satisfied customers.
Pricing
Logmore offers three QR tag models that are available through subscriptions.
Model 1 is capable of monitoring temperatures and logging scan locations. The device's battery lasts for 3 months under normal conditions and is good for 12,000 measurements. It costs €12 per year per device.

Model 2 is a ruggedized version can monitor temperature and ambient light. Its extended battery lasts for 48 months. It costs €24 per year per device.

Model 3 is the full-feature device capable of monitoring temperature, humidity, light, shocks, and tilt. It is capable of over 20,000 measurements and can last for 48 months. Each device is priced at €36 annually.
All subscriptions include access to the web interface and are provided with unlimited data and users.
Conclusion
Logmore should come as a welcome service for businesses and industries that deal with logistics and supply chains. It provides simple and practical means to monitor the conditions of the products and materials moving throughout your supply chains. Implementing it in your operations should be fairly quick, easy, and affordable. It works with existing technologies and doesn't require any additional major investment.
The potential benefits that you can get from Logmore's service and all the data that you can collect would be quite valuable in making your processes more efficient and effective. Given how competitive the business landscape is today, any improvement that you can make to your operations should help your business achieve more positive results.