Whether you are commuting to work or taking a break from a study session, you always need a dose of entertainment. It helps you unwind and relax from the daily grind of life.
Thanks to the growth of OTTs and the internet getting cheaper, you don't have to visit a theatre to watch a movie.
Even downloading a film to watch it now is a thing of the past. Stream them directly with some of the best Hindi movie apps that let you watch the latest Bollywood releases in HD.
Now you can legally watch Hindi movies from anywhere on your Android or iOS device.
Download any of these Hindi movies apps to watch Bollywood movies for free or by paying a small subscription fee.
Some even provide a free trial that works for up to a month.
Best Hindi Movies apps
Here are some of the best Hindi movie apps that let you stream films. All of them can be downloaded from the app store for Android and iOS.
1. MXPlayer
MXPlayer has gone from a simple media player for phones to amongst one of the best Hindi movie app for entertainment. Launch the app and head to the video tab which is given at the bottom.
You can watch shows, movies, and even radio which are categorized by tabs. In terms of content, we have MXPlayer originals along with some popular movies and shows. There are few Korean shows as well which might appeal to K-Drama fans.
The most popular movies and shows are in MX Gold section. It is for premium members who pay to get access to the exclusive content along with other perks such as ads-free watching and the ability to download the content.
2. SheemaroME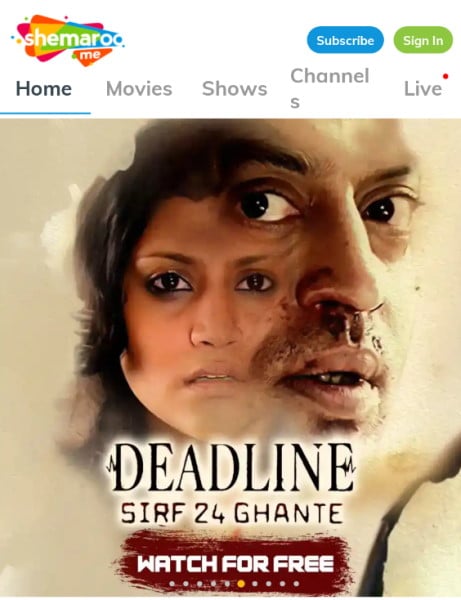 Shemaaro has produced dozens of animation and Bollywood movies over the year. Now they offer over 6,700 movies, shows, web series, and Nataks. Half of the content is for paid premium plan users. Rest can be watched for free through the app and the website.
You can watch Hindi movies for free on the ShermaroME app by downloading it on your smartphone or tablet. Their website platform lets you stream movies for free if you don't want to install the app. All the free content has ads as you would find on any of the Hindi movies app.
And when you get bored with the regular content, watch some free news channels in Hindi and Gujarati. On top of that, there are live channels of Shayari, Bollywood movies, and religious ceremonies.
3. SonyLIV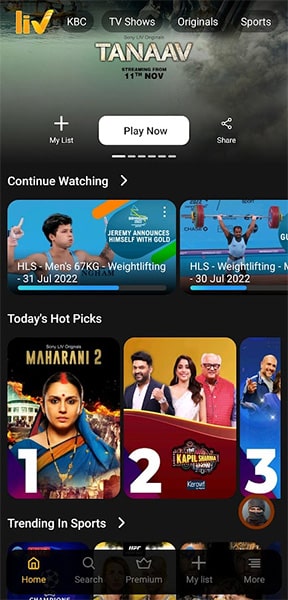 SonyLIV does not disappoint as a Hindi movie app. You have the entire library of films and shows which are produced by Sony. There is a free section consisting of movies and shows which you can watch without having a subscription or logging in.
Watch the latest Hindi movies by subscribing to any of the four plans with different video qualities. Along with that, there are many English TV shows which also include the ones which are currently being aired. Their latest episode is available within hours of being aired on TV.
When you get bored of watching movies and shows, you can watch live sports which includes golf, football, cricket, hockey, tennis, etc.
4. Hotstar
Just like SonyLIV, Hotstar has solidified its foothold in the Hindi movie space of the Indian OTT segment. A lot of the Bollywood and Tollywood movies have made their way directly to the app with the Multiplex release on this Hindi movies app.
You will find different dubs of Hindi movies, primarily in Telugu, Tamil, and Marathi. All the South Indian movies are also dubbed in different languages, along with subtitles for non-native viewers.
Their lone premium plan lets you watch Hindi movies in 4K with surround sound for specific titles. It allows four concurrent screens, so splitting the cost with friends and family would make it a value for money.
5. Netflix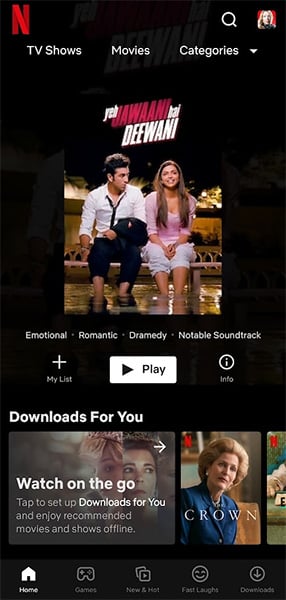 The American streaming giant has caught up with the regional players and is one of the best Hindi movie apps. Digital streaming rights of movies Ponniyin Selvan, along with upcoming flicks like Pathaan, Jawan and Adipurush, have been bought by Netflix. This means that they will be available on the OTT platform soon after their theatrical release.
Netflix movie recommendations get better as you watch more Hindi movies. There is content is 7 different languages along with subtitles in a couple of them.
The film watching experience goes better with the preview option, which shows the detail without loading the new page. You can even calibrate the brightness without leaving the player.
This comes in handy with dark undertones, especially in Hindi horror movies. Netflix also lets you create watchlists to add movies and other content that you want to watch later.
Also Read – Best Sites to Watch Hindi Movies for Free
6. Voot
Voot is another Hindi movie app which offers a large content library in its free plan. You will find free to watch movies in every genre and includes flicks from different langauges.
They offer three different premium plans – mobile, gold and platinum. The first plan offers up to 720p video quality. You get FULL HD on the other two plans along with more number of concurrent screens.
If you don't know what to watch then head straight to Cineplex Superhits channel. It keeps on streaming Bollywood and South Indian movies all the time.
7. YouTube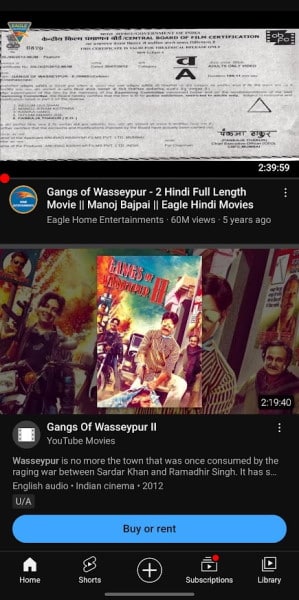 You consider YouTube as a video platform where content creator put their videos. The social media giant has full length Hindi movies which can be streamed for free. They are generally uploaded by film production's official channels.
Find Hindi movies from Tseries, Venus Movies, Eagles Home, Goldmines Bollywood, Goldmines amongst several regional uploaders. You will encounter the standard YouTube ads while watching Hindi movies and that will be the end of it.
YouTube is available across virtually all platforms with the internet. You can watch movies on different devices without worrying about compatibility. This is one of the reasons that makes it one of the best Hindi movies app to stream content.
8. ErosNow
Another B-town production house dived into the OTT space and made a good Bollywood movies app. ErosNow has the latest Hindi movies which you want to watch right now.
They have one the largest collection with over 13,000 movies and shows to watch. You will never run out of content to watch while paying a fraction of Netflix's monthly charges. ErosNow offers a free plan that needs to be subscribed to from their plans page. It lets you watch a lot of Hindi movies for free with ads appearing in the stream.
9. Zee5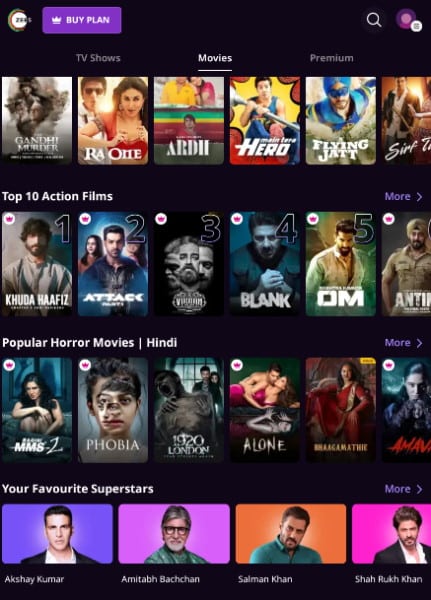 Zee5 is a popular Hindi movie app that is raking in all the right reviews. You can stream films without logging in or requiring an account. Watch all the popular titles in 11 different languages, dubbed with subtitles. You can also watch English movies in Hindi dubs which has its exclusive category.
All the movies are available in 720p and above video quality. You can watch on up to 3 screens together with the premium plan. Zee5 offers over 500 free Hindis to watch before subscribing to a plan.
10. JioCinema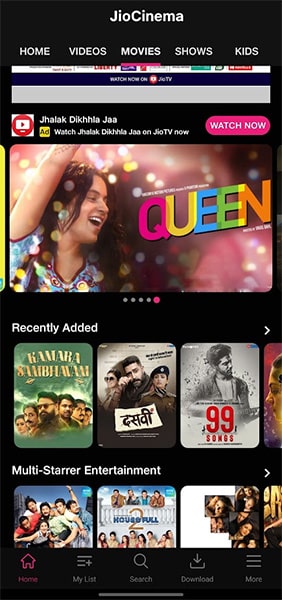 You might not me familiar with this underrated yet free Hindi movies app. JioCinema is a free movie app for Jio SIM users. You login through your JIO number with the OTP. Their login with SIM feature doesn't seem to work even after following the instructions.
JioCinema has many popular Hindi films in its library. You can stream and download movies to watch later on the app. It doesn't require JIO mobile internet to view the content.
The stream quality is quite refined with HD taking up to 1 GB per hour. And if you are running low on data, then use the low quality to watch movies by spending 150 MB per hour.
11. Airtel Xstream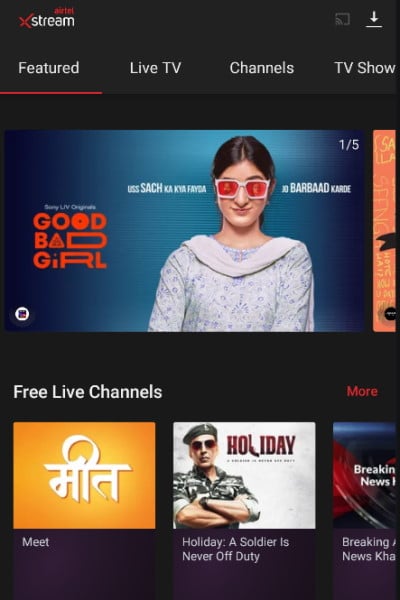 Just like JioCinema, Airtel Xstream is also SIM provider specific. Airtel SIM users can watch Hindi movies on their app. The only difference is that there is a premium plan for watching all the films on the app.
While you may not get the latest movie releases here, there are a lot of popular Hindi films on the app. Some of them are dubbed in up to 6 different languages.
Xstream's premium plan lets you stream hundreds of Hindi movies, but it hits the ceiling soon. You will need a subscription to ErosNow, Hungama Play, etc. to watch all the available films.
---
Frequently Asked Questions
Which is the best free Hindi movie app?
As a JIO Sim user, you can use JioCinema for all your Hindi movie streaming needs. Other viewers can start with Hotstar and MXPlayer to explore their content. You can also get full length Hindi movies for free on YouTube from official channels.


Which app is best for Hindi dubbed movies?
Hotstar and Netflix have the largest collection of Hindi dubbed movies from the Telugu and Tamil movies industry. Zee5 has few underrated movies dubbed movies from several regions of India.
Over to You
These were the best Hindi movie apps to watch them online for free. There are many regional apps that short Hindi films which you can also use for entertainment.