"Hi my phone has gone to the Black screen with the spinning wheel like it does before the battery goes off, however, it wasn't low on battery and I've plugged it in and it's still there. Can't turn it off or on it doesn't respond to anything anyone knows what's happened or how I can fix it please." a quote from the Apple community.
Generally, this issue arises when the user update their iPhone iOS version to the latest one.
Although, you might find your iPhone is stuck on a black screen with loading symbol due to many other reasons too.
But worry no more, we are certainly going to help you to fix this nightmare. For your convenience, we have mentioned the top 4 easiest methods that will guide you through this journey.
So, without wasting another moment, let's start with the discussion.
Method 1: Fix iPhone Stuck on Black Screen with Loading Symbol by a Professional Tool
iPhone being stuck on black screen with loading symbol is very frustrating and confusing as you have no clue how to fix this problem.
You can't even use your phone for your work or personal use. Well, to help you rescue from any such situation we would like to introduce, iMyFone Fixppo.
Using this professional and simple to use iOS system recovery program, you can easily and effectively fix almost all iOS related problems on your iPhone in a matter of time.
Moreover, this tool offers highest results in the market and is completely safe & secure. Let's have a look at its features.
Key Features:
With iMyFone Fixppo you enter or exit recovery mode in just one click and that too, for free.
This tool provides you highest results in fixing your iOS device using Standard mode and Advance mode for more serious issue. 
It also has a Reset iPhone mode which can be used to reset your iPhone without any hassles even when you've forgotten your password.
You can easily downgrade the previous iOS version without the risk of jailbreaking your device.
Step-by-step Tutorial
Here, is the step-by-step guide on how you can fix the issue of iPhone stuck on black screen with loading symbol:
Step 1. Connect your iPhone to a computer
Install the software from the official iMyFone Fixppo website. Then, launch it and select the "Advanced Mode" box from the home page then link your iPhone to your computer and hit the "Next" button.
In case, your computer failed to detect the iPhone, you need to put your iPhone in DFU or Recovery mode.
Step 2. Downloading Firmware
Next, download the firmware from the available versions shown on the screen. Then, choose the firmware version you want to download.
After that, press the "Download" button and watch the automatic verification of your downloaded firmware.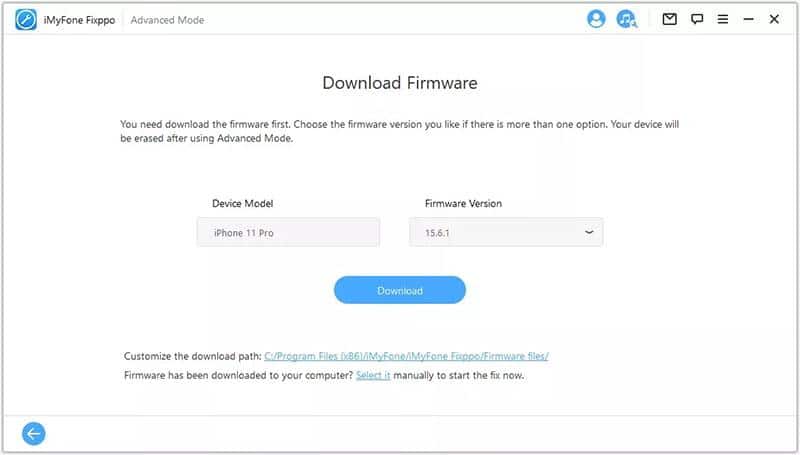 Step 3.  Fixation of the iOS issue
In the last step, check the iPhone and firmware details and ensure that is to be correct. After this, press the "Start" button. Now, this software will start to find and fix your iPhone's black screen with loading symbol issue.
During the process, don't use your device, and don't disconnect from your PC either. You will notice that the process gets completed in a few minutes. After that, you can use your phone.
Pros:
iMyFone Fixppo is an all-rounder and is capable of fixing any kind of iOS issue.

Its "Standard Mode" feature can help you fix iOS system problems without the risk of data loss.

Offers you an easy-to-use interface that makes it very easy to operate even for those who do not have any tech knowledge.

It works with all iOS devices and iOS versions (including the newest iPhone 13/12 and iOS 15/14).
Cons
This tool is not available in free to use version. You have to pay to use the repair services for your iPhone.
Method 2: Fix iPhone Stuck on Black Screen with Spinning Wheel by Charging iPhone
A simple thing you can also do if your iPhone is stuck on black screen with loading symbol is to charge your iPhone properly.
This is because your device might not have enough charge available in the battery to fully boot up your iPhone. And therefore, you need to charge your device first. Ensure to do this in the correct way. 
For instance, if your phone screen is showing the battery sign then your iPhone is charging in the correct way.
But, if there is a lightning cable sign appears on the black screen on your device, it means the phone is not charging properly. In that case, check the charging cable or the power switch.
Pros
It's easy to check and required fewer efforts.
Cons
Only solve power-related issues.

No surety about the resolution in the current situation
Method 3: Fix iPhone Stuck on Black Screen with Loading Symbol by Finder
You can also try Finder to solve the issue of the iPhone stuck on black screen with loading symbol.
But, using this method will delete your data and settings permanently. So, you must ensure that you have backed up your data before using the Finder.
MacOS Finder:
Step 1. Begin by connecting your iPhone to the computer through a lightning cable.
Step 2. Now, hit the iPhone icon in the left-side column in Finder. Then, go to "General", hit "Check for Update" and go on with the on-screen guide. 
Step 3.  At last, press "Restore iPhone" and proceed with on screen instructions.
Now let's talk about the pros and cons of this method:
Pros
This method can help to refresh and update the iOS 

There is a good possibility of success
Cons
You need a Mac computer to do the task.

Restore process involves high risk of data loss.
Method 4: Fix iPhone Stuck on Black Screen with Loading Symbol by DFU Mode
Device Firmware Update, also called DFU mode is an advanced recovery mode version. It helps to solve serious problems like the black screen of the iPhone or stuck in recovery mode.
This method is effective in solving several serious iOS issues as it skips the bootloader stage of the iPhone. But remember, this method will delete all the data (with settings) from your phone. 
Step 1. First, connect your iPhone to a computer, launch iTunes and set the iPhone into DFU mode.
Step 2. To put your iPhone 8 or above in DFU mode, quickly press "Volume Up" and then "Volume down" button then hold down the "Power" button until the screen is black. Then, hold down both "Power" and "Volume Down" button for 5-6 seconds, afterwards let go of the "Power" button but continue to hold the "Volume Down" button. 
Doing so will allow iTunes to detect the device automatically and your iPhone screen will be completely black.
Step 3. Now, keep going with the on-screen instructions and then press the "Restore" button to repair your iPhone.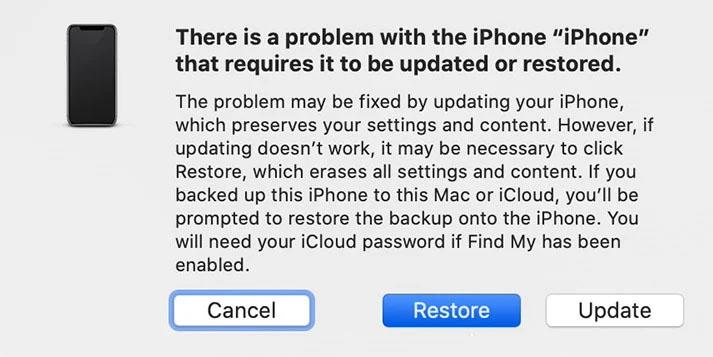 Pros
DFU Mode helps to restore an iPhone with a corrupt bootloader.

The other plus point of DFU is that it can downgrade to an older version of iOS.
Cons
First, you will lose all of your data from the device while performing this method.

And second, if you downgrade the iOS or jailbreak with the help of DFU Mode, you might breach your device's warranty.
Conclusion   
Here in this article, we have tried to provide you with the four best solutions if you are dealing with the iPhone stuck on black screen with loading symbol problem.
We do hope that you must have been able to resolve your iPhone stuck on black screen with loading symbol problem with the help of aforementioned methods.