If you want to Activate Windows 10 Pro For Free without any additional software then this article will guide you.
As in this article, we have shared multiple methods to Activate Windows 10 For Free Permanently.
For all of the Free Windows 10 Activation methods shared, we won't be using any third-party Windows 10 Activation Tools, txt keys, Licenses, or Cracks.
Despite the Windows 11 Upgrade push by Microsoft, Windows 10 still has a massive market share of well over 68.75% making it the most popular version of Windows in existence.
What if you installed or reinstalled Windows 10 on Your laptop or desktop PC and then it is showing on the lower right side of the screen to "Activate Windows", "Go To Settings To Activate Windows"?
Well even though Windows 10 is installed now it is not activated and thus you will only get limited functionality and will not be able to change many settings like themes, personalizations, etc.
So here is How To Activate Windows 10 For Free with a key or without a key.
ALSO READ: How To Find Windows 10 Product Key
---
Activate Windows 10 For Free Using CMD
Windows 10 can be manually activated using Command Prompt.
Here is how you can Activate Windows 10 For Free With CMD,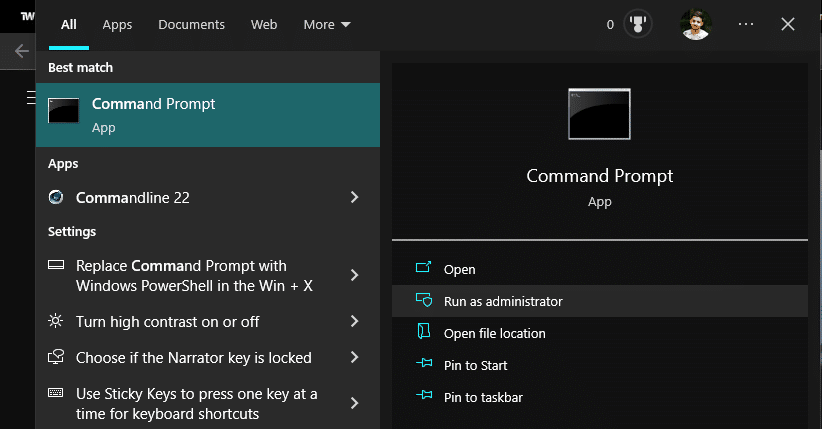 STEP 1: In Start Search type Command Prompt, after Command Prompt pops up right-click and select Run as administrator.

STEP 2: Once you're in Windows 10 Command Prompt, type, slmgr.vbs /upk and hit enter to execute the command.

STEP 3: Copy and paste the next command, slmgr /ipk <Windows 10 activation key>, and once again hit enter to execute the command.
Kindly replace the Windows 10 Activation Key with the actual Windows 10 Activation Key that you can access, which can be acquired from third-party sellers.

STEP 4: The next command you have to type is slmgr /skms zh.us.to and as usual hit enter after typing the command.

STEP 5: Lastly, enter the command slmgr /ato and hit enter to activate Windows 10 for free with CMD.
Using the aforementioned method you can activate any mainstream version of Windows 10 like Windows 10 Home, Windows 10 Home Single Language, Windows 10 Professional, etc.
---
Permanently Activate Windows 10 For Free Using Batch File
For this method to permanently activate Windows 10 for free we will be using a Batch File.
The name of this TXT batch file 1click.cmd and you can Download This TXT File on your PC.
Once downloaded simply right-click and Run the batch file as administrator.
The entire process takes a few minutes so please wait patiently.
Once the entire process is completed you will be greeted by the message Product Activated Successfully.
---
How To Check If Windows 10 Is Activated?

To check whether Windows 10 is activated on your PC or not open settings using the keyboard shortcut Windows + I.
Next, open the Update & Security section and click on Activation. Your Windows 10 activation status will be listed next to Activation.
---
Windows 10 Activation Keys
Below is a list of Windows 10 Volume license keys.
Home: TX9XD-98N7V-6WMQ6-BX7FG-H8Q99
Home N: 3KHY7-WNT83-DGQKR-F7HPR-844BM
Home Single Language: 7HNRX-D7KGG-3K4RQ-4WPJ4-YTDFH
Home Country Specific: PVMJN-6DFY6-9CCP6-7BKTT-D3WVR
Professional: W269N-WFGWX-YVC9B-4J6C9-T83GX
Professional N: MH37W-N47XK-V7XM9-C7227-GCQG9
Education: NW6C2-QMPVW-D7KKK-3GKT6-VCFB2
Education N: 2WH4N-8QGBV-H22JP-CT43Q-MDWWJ
Enterprise: NPPR9-FWDCX-D2C8J-H872K-2YT43
Enterprise N: DPH2V-TTNVB-4X9Q3-TJR4H-KHJW4
---
Activate Windows 10 For Free FAQs
To activate Windows 10 without a product key you can either use a free batch file or get the Windows 10 free upgrade if you have an older PC running Windows 7.
Is Activating Windows 10 For Free Legal?
Downloading and Installing Windows 10 using an official ISO from Microsoft is completely legal. Additionally, if you activate Windows 10 For Free using Command Prompt or a Batch File then it's completely legal too.
Furthermore, you can even use keys acquired from third-party sellers to activate Windows 10. Lastly, activating Windows 10 with keys you haven't purchased is illegal.
Can I Get Windows 10 For Free Without a Product Key?
Yes, you can get Windows 10 for free without a product key.
To get Windows 10 For Free simply download the Windows 10 ISO file from the Official Microsoft Website.
Next, create a bootable drive and install Windows 10 on your PC.
---
CONCLUSION 
So these were some of the Best Methods To Activate Windows 10 For Free.
If you have any recommendations on ways to activate Windows 10 for free without additional software, feel free to let us know on our socials.