We use sound equalizers to get the best audio experience on our devices. These programs work by adjusting the volume of various audio frequencies, or "bands," in a sound to help eliminate unwanted noises and improve audio quality.
Although a built-in tool in Windows 10 can be used as a sound equalizer, its features are limited, making it less likely to help enhance computer sound output.
Therefore, you will probably need a better sound equalizer for Windows 10 PC and Laptops if you are an audiophile listening to jazz songs, POP music, Rock, heavy metal, instrument, a gamer, or just someone who enjoys fiddling with the sound output of their computer to get fine-tuned audio instead of a flat or muffled one.
For this reason, we have compiled ten of the top sound equalizers for Windows 10 computers in this article and will be reviewing them in the next section to assist with the decision-making process, as there are many audio equalizers for Windows PC online.
Best Sound Equalizers for Windows 10 PC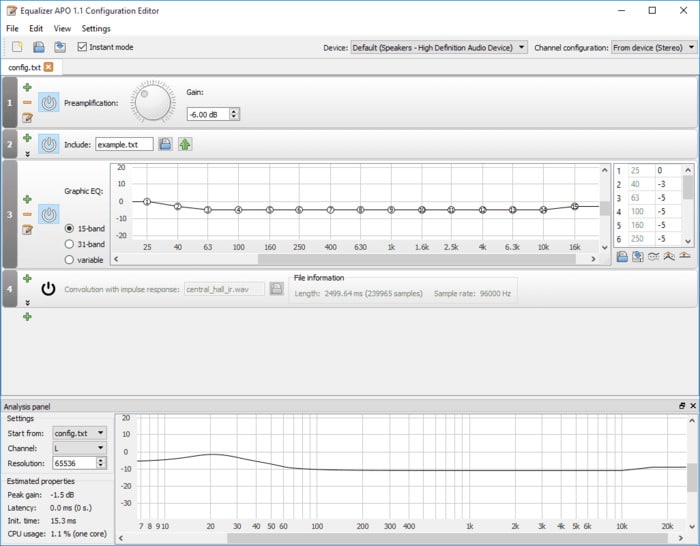 Topping our list is Equalizer APO, an open-source Windows 10 sound equalizer that is developed as an Audio Processing Object (APO) for the system effect infrastructure first introduced with Windows Vista.
Since Equalizer APO is an open-source program, it is completely free. This sound equalizer uses both graphical and parametric layout, giving you better control of your audio output.
It has a lot of other features, but one of the most appealing is the zero delay to audio latency it provides, which makes it perfect for producing high-quality audio while gaming and other functions
In addition to having a GUI setup editor, Equalizer APO lets you save and load audio as .txt files. Also, this program uses little memory, allowing it to run even on older PCs.
You should try this audio equalizer for your Windows 10 PCs because it's one of the best. However, you should be aware that it sort of has an unappealing interface.
Noteworthy Features
It is open-source, and it is free
It lets you load audio as a .txt file
Zero delays to audio latency
2. Bongiovi DPS
Bongiovi DPS is a choice to consider if you're looking for a sound equalizer to control sound output on your Windows 10 PC. It is actually a paid program but gives a trial period with which you can try it to see if it fits your needs.
It uses Digital Power Station (DPS), which will make you experience added clarity, depth, definition, presence, and incredible stereo field imaging just by implementing it into your audio device or system, as stated on its official site.
It is an easy-to-use program that provides the best audio experience while playing sound through speakers, headphones, and other audio devices from video games, media apps, VOIP apps, and other programs that produce audio.
Furthermore, it features a user-friendly UI and a number of options to enhance your audio output. One of our top audio equalizers for Windows 10 is Bongiovi DPS since there is a noticeable difference between the audio it produces and the audio that isn't because the audio generated by this equalizer is always much better.
Noteworthy Features
It has a virtual subwoofer that allows you to boost bass for gaming and media
It has a user-friendly UI
It gives the best audio experience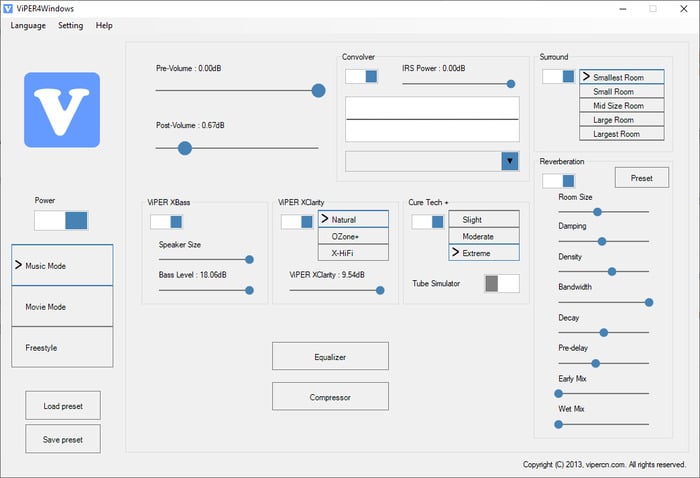 If your sound driver or Windows 10 computer audio doesn't offer an efficient sound management tool, Viper4Windows is one of the best audio equalizers you can use to turn the PC into a mini home theatre.
Thanks to Viper4Windows's straightforward, minimalist UI, you can easily access audio controls from this program on your computer. Also, the program offers a simple installation process and is completely free.
Given that it includes audio post-processing and has choices that can be used to improve any type of audio signal, this sound equalizer tool will be very helpful for people who use laptops with subpar speakers.
One of its most significant features is its ability to improve sound output when using audio chat apps. This implies that you can use this program to create presets for use with VOIP applications like Zoom and Skype.
It also has a ton of audio effects and increases your computer's audio level past its maximum. Furthermore, the Viper4Windows program is lightweight and can work almost on any computer.
Noteworthy Features
It is lightweight
It is easy to use and free
It comes with tons of effects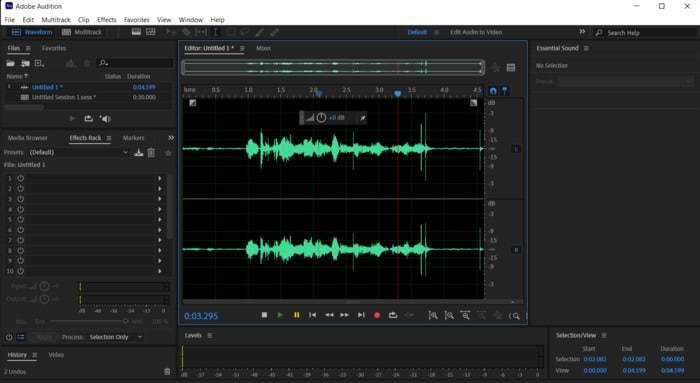 Adobe is renowned for its proficiency in creating software solutions, and one of its captivating products is Adobe Audition. Adobe Audition is a digital audio workstation that is mostly used for audio post-production operations like mixing, editing, and creating recordings with the finest possible sound.
It is a sophisticated tool that can be used by amateur users who simply want to tinker with their Windows 10 computer's audio quality and audio professionals who need to edit and do other activities on their audio files.
Multitrack mixing support, which enables you to mix multiple audio files to create a final mix while providing you full control over the volume and effects of the tracks, is one of the features you can expect from this sound equalizer.
Additionally, you may modify audio using this powerful audio equalization for Windows 10 and choose from various effect processing options to get the audio output you desire.
Adobe Audition supports various audio file formats, including WAV, AIFF, MP3, and many others. Also, because of integrations and other amazing features, it often provides a flexible workflow.
However, since it is a subscription-based app, you must pay a fee to use it.
Noteworthy Features
It has multitracking mixing
It has a smooth user interface
It allows audio editing
Boom 3D should be your go-to software if you listen to audio from games, movies, and music through headphones and want to enjoy an immersive 3D audio experience on your Windows 10 computer.
This professional audio enhancement tool uses patented 3D audio technology to boost sound quality on Windows PCs. Meanwhile, Boom 3D is also compatible with Mac computers, Android and iOS smartphones.
You may adjust the volume of the frequency bands and make a personalized audio profile with the Boom 3D audio equalizer tool.
Boom 3D includes a number of presets for different audio formats in addition to a custom preset option that enables manual equalizer adjustment.
This audio equalizer for Windows 10 contains a volume booster that boosts your audio output volume over the maximum, just like some other audio equalizers for Windows 10 we cover in this article.
Boom 3D is the most advanced sound equalizer on this list but costs $39.99, which may seem pricey, but considering its capabilities, it is well worth it. On the other hand, you will be given a 30-day free trial which you can use to test the program out before paying.
Noteworthy Features
It supports Surround sound simulator for creating an immersive 3D audio experience
It has a night mode option for regulating audio output at night.
Spatial audio
6. Equalizer Pro
Equalizer Pro is another popular sound equalizer for Windows 10 that allows you to adjust sound frequency levels, enhance bass and reduce the noise level in audio.
The sound equalizer features a very clean and easy-to-use UI. It uses a 10-band graphic equalizer, giving you more options to control your audio tone pitch to suit your preference.
Equalizer Pro comes with more than 20 presets created for popular listening modes and allows you to create custom presets. Also, it has a built-in audio player which supports several audio formats, including WMA, AAC, MP3, and many more.
Unfortunately, it is not free and comes with a fee of $29.95, which must be paid after the trial period if you want to keep enjoying the services.
Noteworthy Features
It has support for audio restoration
It has a volume normalization feature
It comes with presets and allows one to create custom ones
It supports several audio formats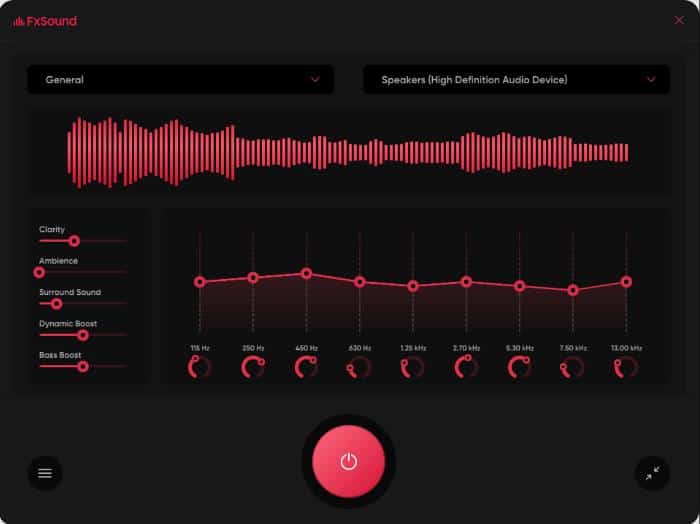 FX Sound is an application designed to help improve the clarity, bass, volume, and overall quality of your Windows 10 audio, making it one of the top sound equalizers we'll recommend in this article.
It is a free program, however, it has 10 bands, just like Equalizer Pro. As previously discussed, FX Sound can be used to improve sound quality/output by increasing loudness and bass.
With the program's audio smoothening feature, you may eliminate audio defects, including breakup and other forms of faults. Additionally, it has preset configurations for all conceivable acoustic conditions.
If you're an audiophile who uses a computer with subpar audio hardware, FX Sound is the perfect option for you because it will improve the sound quality of your PC when you're playing games, watching movies, or listening to music.
Noteworthy Features
It eliminates audio deficiencies
It can be used to create virtual surround sound
It is easy to use
It can be used with different applications
Realtek is a popular name when it comes to audio management systems. The Realtek HD Audio Manager comes pre-installed with computers that are built with Realtek sound cards.
It is among the best audio equalizers available for Windows systems, compatible with those running the Realtek audio codec, and may be used free of charge. In addition to having a clear and well-designed user interface, it is also quite simple to use.
You have total control over your computer's audio output with Realtek HD Audio Manager, and you can adjust it to your preferred quality.
Moreover, you may use this program to get rid of audio reverberation, thereby making the audio much clearer and more enjoyable.
The Realtek HD Audio Manager will also include the ability to change the sound environment to your preferred surround sound, allowing you to create an immersive audio experience.
Overall, it is a handy audio management tool, so you should try it out on your Windows computer.
Noteworthy Features
It has a well-designed interface
It allows you to create a sound environment
It allows you to configure audio settings for the speaker and microphone
It can be used to adjust audio resolution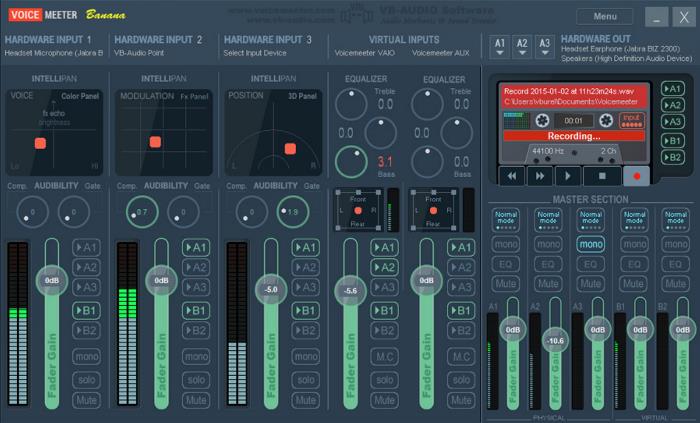 One of the top programs for managing audio on Windows computers is Voicemeeter Banana, an advanced audio mixer. It is a donationware, meaning you are not required to pay for it but may do so if you choose.
It allows you to connect with VoIP and other audio apps by providing virtual audio input and output with 8 channels each. As long as you set the virtual input to default, all audio input will be transferred directly to the Voicemeeter app for enhancement, making the tool pretty easy to use.
For individuals who use microphones and want to optimize the quality of their audio input, Voicemeeter Banana is the ideal option. Whether you use Zoom or Meet for conferences on a Windows 10 computer, this sound equalizer can help compensate for your microphone's inadequacies and ensure that your sound is of the best possible quality.
It generally has one of the best audio management options for advanced users and a UI resembling a real-life equalizer.
Noteworthy Features
It is a donationware
It is a virtual audio mixer
It uses the concept of Audio Object, which allows you to apply an effect to specific audio sources
It has a Micro Button option for quick access to your frequently used functions
It has a customizable interface
An audio editing program called WavePad Audio can be used for regular audio editing on your Windows PC as well as for adjusting effects on your audio files to enhance them.
The noise reduction feature, which may be used to reduce background noise from audio files, is one of this tool's most important features.
Working on it is made simpler by its interactive user interface. Also, WavePad Audio allows you to work on any audio because it is compatible with various audio formats.
More significantly, the software supports the use of plugins for added features. Moreover, it has a batch processing option that enables the processing of numerous audio files all at once.
Noteworthy Features 
It has several preloaded effects such as amplify, reverb, normalize, and others
Supports several audio formats
It allows the use of plugins
You can batch-process audio files
Wrap Up
Even if your Windows 10 computer has a high-end audio system, you will probably still need an equalizer in order to adjust sound effects and improve the audio quality on it. For this reason, we've listed the top 10 audio equalizers for Windows 10 that you may use to enhance your computer's input/output sound. In the comments box below, let us know which of our suggestions you favor more.
Frequently Asked Question
Is there a sound equalizer in Windows 10?
Well, we may not call it a sound equalizer per se, but Windows 10, just like other versions of Windows, has a built-in function with which you can enhance audio output on your computer. While this is a basic tool, it may still meet some users' needs. Regardless, if you want to use a well-featured sound equalizer on your Windows 10 computer, this article has reviewed the ten best options for you to check out.
How do I access Windows 10 built-in audio equalizer?
If you want to access the Windows 10 built-in tool for audio equalization, follow the steps below:
Press Windows + R to open the Run command box on your computer.
Type control panel in the box, and hit Enter.
On the Control Panel window, navigate to Sound and tap on it.
Now, right-click your default speaker and select Properties.
Switch to the Enhancement tab on the resulting windows, where you can edit your sound output.
Does sound equalizer make sound better?
Yes, sound equalizers make sound better by making it possible for you to adjust the frequency balance of audio output. Besides, it also allows you to remove deficiencies from sound and overall enhance audio quality.
Can I adjust the bass and treble in Windows 10?
Yes, you can most definitely adjust bass and treble in Windows 10 with the built-in Windows or one of the best Windows 10 sound equalizers we have covered in this article.