Looking to download Microsoft Word 2021 for free? Then you will find the ways to do that here. If you are unsure where to begin, then this article will help you steer in the right direction.
We will first provide you with links to download Word 2021 for free from third-party, and then through the official source with the latest version. After that, we will learn to install Word on the computer.
Since Word is part of the Microsoft Office suite, you will have to download the entire ISO file and then selectively install Word 2021 while leaving out other programs.
If you have other software from the pack installed, then they will be automatically skipped
Microsoft Word 2021
Microsoft Word is the go-to application for most professionals, students, or anyone who is looking to craft or edit documents. It offers a wide range of new formatting options over Word 2019 and the right collaboration tools to get things done faster.
It is available for Windows 10 or later, and macOS catalina or later. While it has support from Microsoft till 2026, the company is actively pushing users to get Microsoft 365 (the successor of Office 2021).
Microsoft doesn't let you directly download Word 2021 from their official website. There are added steps that can be time-consuming for many.
So if you want to instantly download Word 2021 for free, then you can use the following links and install them right away.
Microsoft Word 2021 Free Download for Windows 11, 10 64-Bit/32-Bit
Microsoft Word 2021 Free Download 64-Bit/32-bit (via Office 2021 Download from Third-Party Sites)
The easiest way to download Microsoft Word 2021 is through The Internet Archive, the library of the web having copy of every notable software.
They let you download the Word 2021 ISO for free with high speed.
Here are the links to Download Office 2021 to get Word 2021.
You will get ISO files which can be mounted to install Word 2021 through the right-click option. Then you can install it like a regular program through the virtual drive

Download Microsoft Word 2021 for Mac
You can also download Microsoft Word 2021 for Mac from the App store. You should have bought of a copy of Microsoft Office 2021. The same login credentials associated with that purchase will be needed to use it on macOS.
It requires macOS 10.15 to run without any problems.
Microsoft Word 2021 Free Download 64-Bit/32-bit (via Office 2021 Download from Microsoft Page)
Microsoft has removed Office 2021 from the main pages but you can still download it from the Microsoft 365 admin apps page. Here you will create a custom installation package that can be installed using the Microsoft Deployment tool with the help of the command prompt.
1. Head to Microsoft 365 Apps admin center and click create under hte Create a new Configuration.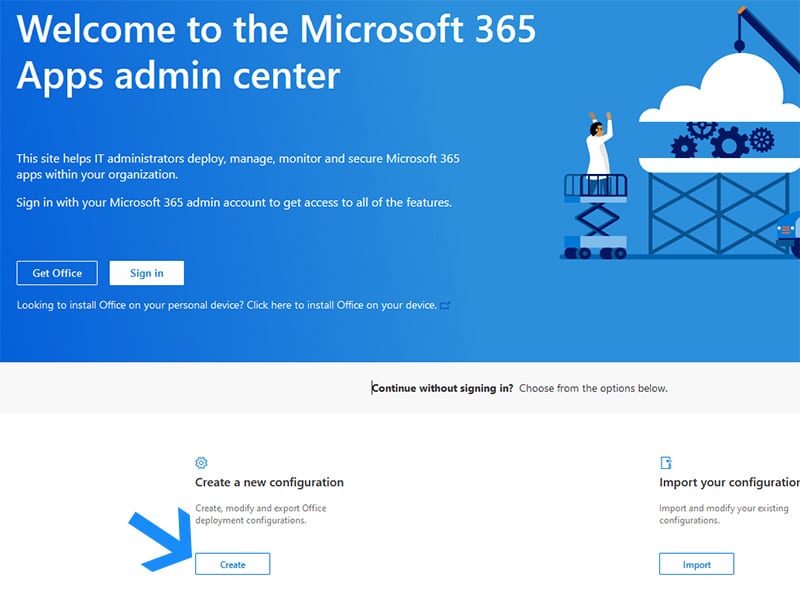 2. Fill the following information from the options in the Product Release section.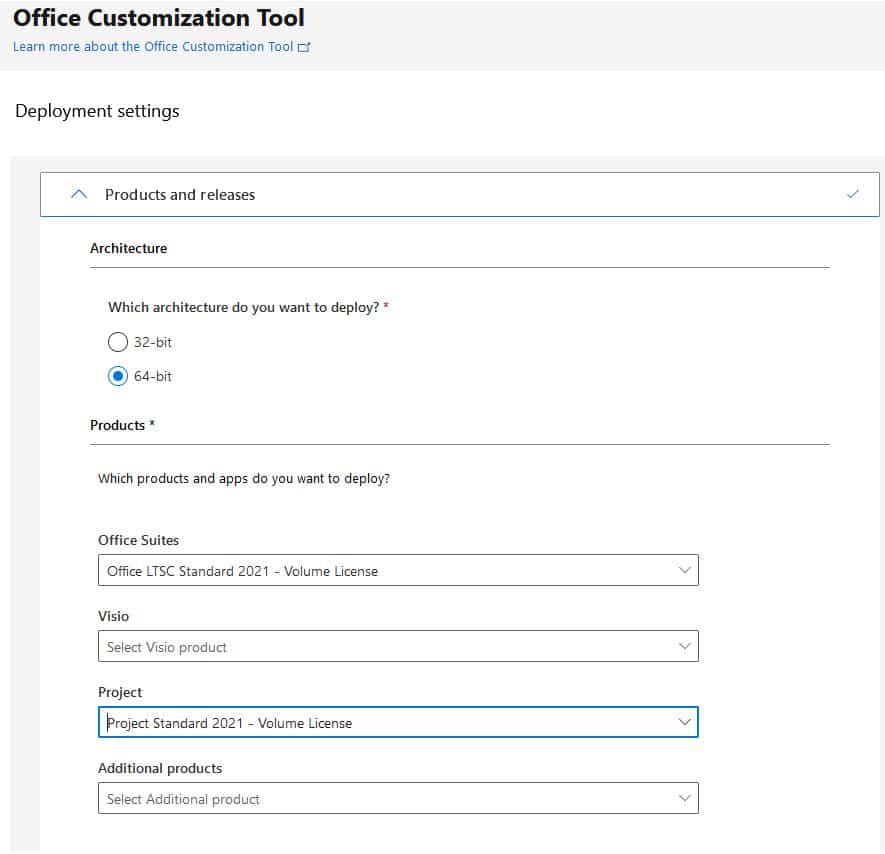 Which architecture do you want to deploy? – 64bit or 32bit, depending upon your operating system configuration.
Office Suites – Office LTSC 2021 – Volume License
Visio – None
Additional Products – None or Language Pack
3. Scroll down to Update Channel sub-section in Product releases and select the options given in the image and then tick Word. Untick all others to only download Word 2021.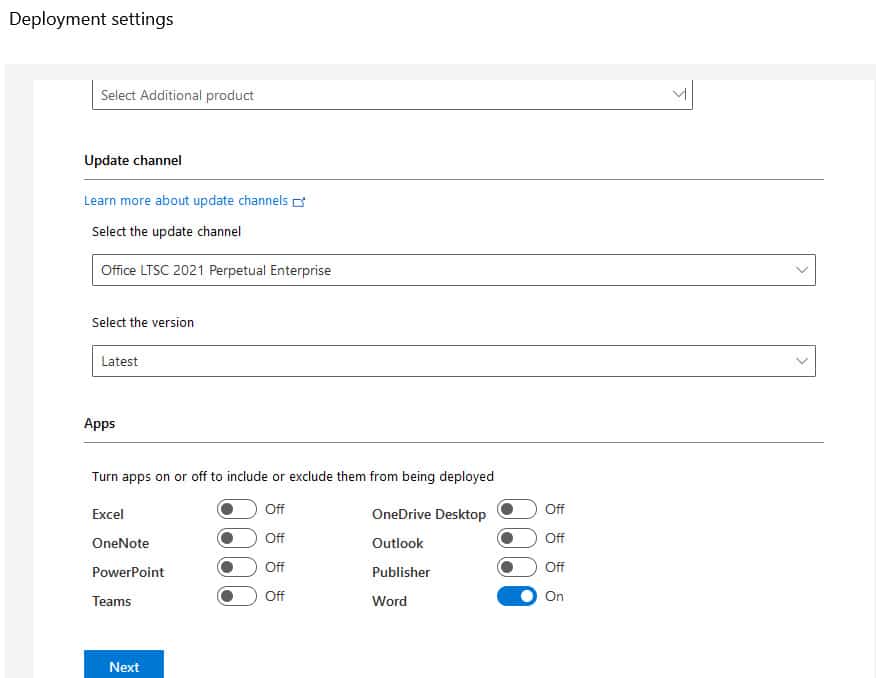 4. Next up, we will select the the langauge for MS Word by going to the Language section and then click Export to finish the process.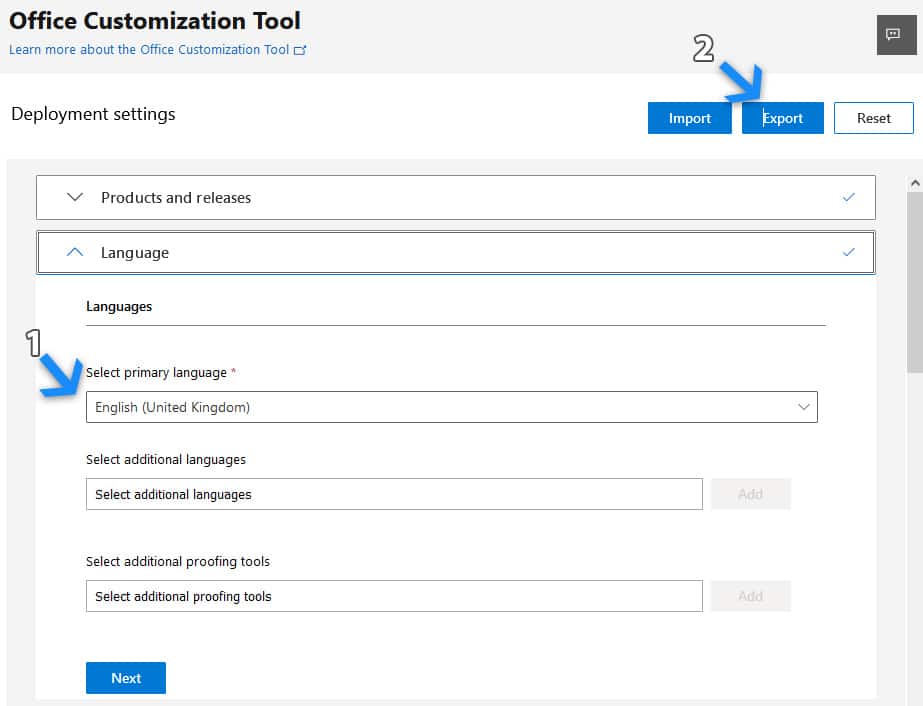 5. A prompt will appear where you have to select Office Open XML Formats and then click OK.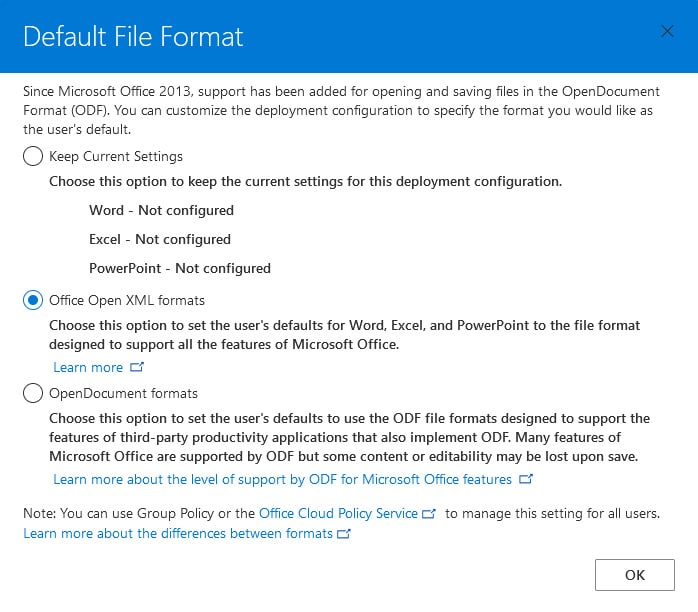 6. Accept to terms in the license agreement, then give a name to your XML file and it can be anything.
After that, click Export to download the file to download and install Word 2021.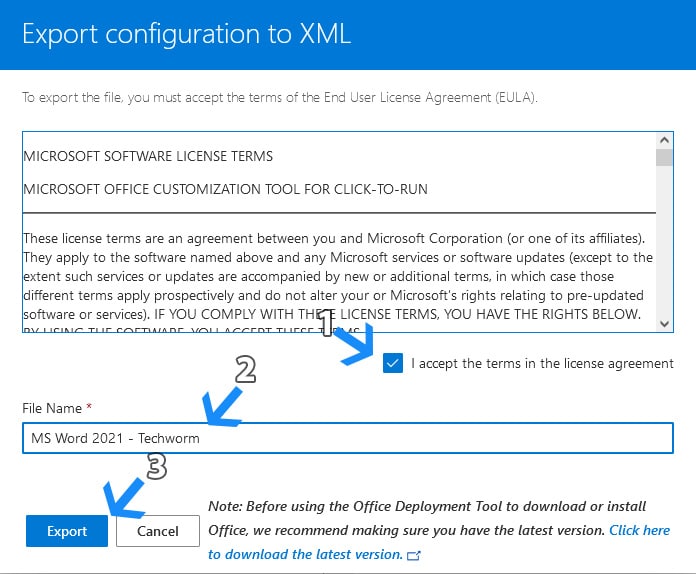 7. The file will be downloaded in your browser.

8. Create a new folder and move it there. We named the folder MS Word 2021 download for the keeping it clean and easy to identify.

9. Now download the Office Deployment Tool from here.

10. Launch the tool installation and accept the terms followed by clicking Continue.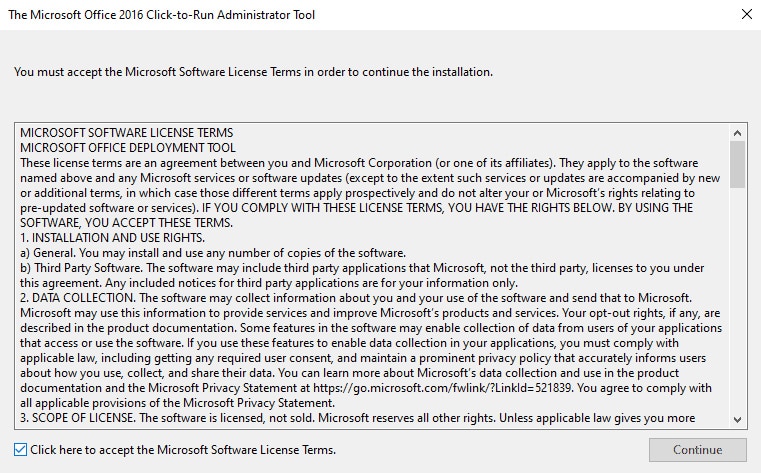 11. Then extract the files in the folder you created.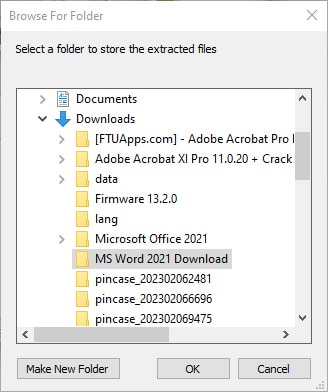 12. Go to the MS Word 2021 download folder and delete the four files we have shown in the screenshot.

15. Then copy the folder's path from the address bar through the right-click.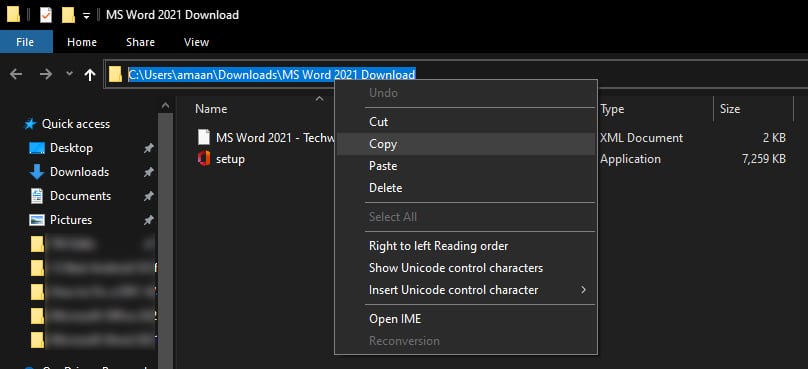 14. Now head to Start Menu and open Command Prompt with administrator privileges.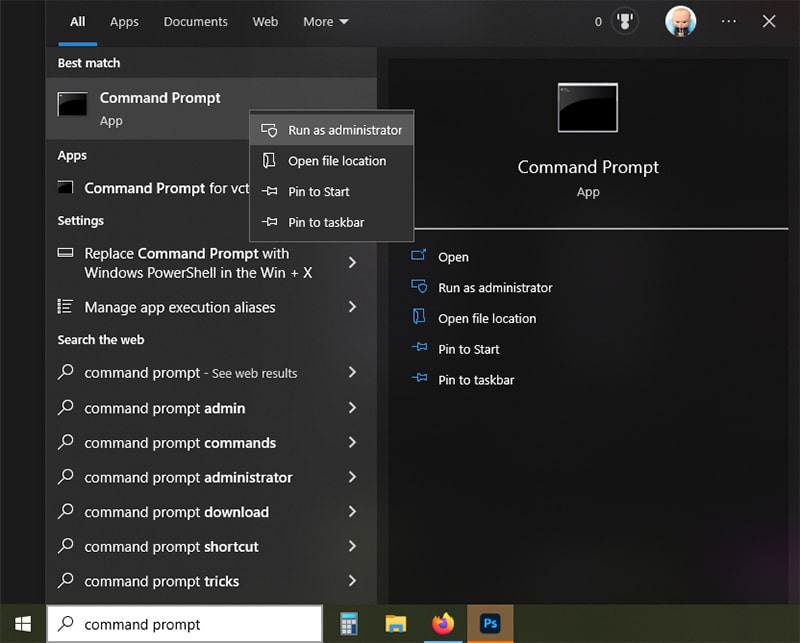 15. Type the following to change the command prompts path to your extracted folder and then press ENTER.
cd C:\Users\amaan\OneDrive\Desktop\Microsoft Word 2021 Free Download
Note – Replace the BOLD part with your folder path.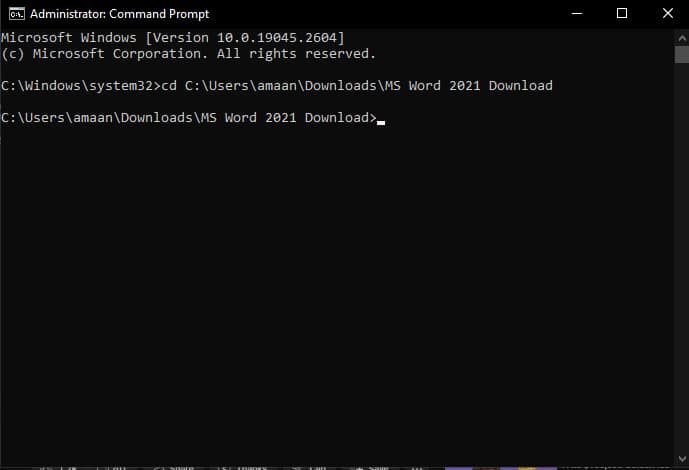 16. Now type in the name of the file which you gave in the Step #6 and then put.XML next to it. Press ENTER to start downloading Word 2021.
setup /configure MS Word 2021 – Techworm.xml
Note – Replace the BOLD part with the name you gave in the Step #6.
17. Your Microsoft Word 2021 will download from the Microsoft servers and get installed after that. The download will depend upon your internet speed.
---
Microsoft Word 2021 System Requirements
Operating system: Windows 10 or 11, Windows Server 2022 or 2022
Processor: Dual-core processor or faster
RAM: 4GB for the entire package – Under 1.5 GB for Word
Disk space: 4GB of free drive space
Graphics : DirectX 9 or later
NET features: .NET 3.5, 4.6 or higher
New Features of Word 2021
Microsoft has shipped a lot of exciting and useful features with Word 2021. Here are the few of the best things to make their way to the word processing tool.
Collaboration improvements: Word now allows for real-time collaboration, where multiple users can work on the same document simultaneously, and you can see changes and comments in real-time.
Real-time Co-authoring: Co-authoring allows you and your colleagues to work together on the same document, where all the changes made by each person are visible to everyone in a matter of seconds. Real-time changes are available to Microsoft 365 subscribers.
Updated Draw tab: The updated draw tab has quick-access Point Eraser, Ruler, and Lasso with the ink. Quickly change the color of inks from the tab without needing to go through the options.
Purchase Microsoft Word 2021 (Via Office 2021 Package)

Purchasing Microsoft Office is a good idea if you want to recieve timely updates and pririoty support. It is better than downloading Word 2021 from a third-party that claim to provide  fully activated Word 2021.
It offers classic versions of PowerPoint, Excel and Word 2021 for a one-time purchase. However, if you want to need it for a couple of months, then Microsoft 365 would be a cheaper option.
Frequently Asked Questions
How can I download Microsoft Word 2021 for free ?
You can download Microsoft Word 2021 for free using the Internet archive links given above.
Another way is through the deployment tool whose tutorial we discussed above, which is a compartively time-taking process. It offers a limited trial, after which you will need to enter MS Office 2021 key to continue.
How to activate Office 2021 for free?
No, it is not possible to activate Office 2021 for free through legal means. Activating Office 2021 without a valid license is considered software piracy, which is both illegal and unethical.
There are websites and third-party tools that claim to offer free activation of Office 2021, but using such methods not only violates the terms of use of the software but also exposes your computer to security risks—threats such as malware and viruses that can harm your system and compromise your personal information.
The only legitimate way to activate Office 2021 is by purchasing a genuine license key from Microsoft or an authorized reseller.
Over to You
So this is how you can download Microsoft Word 2021 for free through the official method and third party source.
You should download Word 2021 ISO from the link gave away. It will offer you the Office suite but you can choose only to install Word and leave rest of them.