The Internet has to be one of the greatest inventions of mankind. However, as a parent have you ever wondered about the problems that your kids may face on the internet? 
Unfortunately, the internet can be quite disturbing and problematic for growing ups and can cause both mental and physical health issues. 
Wondershare FamiSafe is one of the most feature-packed and reliable parental control apps that can help you protect your kids online.
In this article, we have shared a detailed review of FamiSafe explaining how it's one of the most important parenting apps that's worth checking out.
---
How Toxic Internet Content Harms Children?
As mentioned earlier, the internet has completely revolutionized the way we consume information and gain education.  
The Internet, while being useful, is filled with harmful things like social media anxiety, gaming addiction, cyberbullying, Cyberstalking, and adult content. 
Sadly these things can have serious negative impacts on kids as they are not mature enough to understand what's right and what's wrong. Furthermore, the problems a child faces online can also impact day-to-day activities like education. 
If you have ever noticed your kid acting strange or if you have ever caught your kid consuming content inappropriate for their age, then it's definitely important to intervene and protect them. 
Using FamiSafe you can effortlessly block all of the aforementioned websites, apps, and content and restrict your kid from accessing inappropriate content online.
Continue reading as we have shared a detailed guide on, How To Block Harmful Websites With Famisafe? In the later section of this article.
---
What Should Parents Do?
Undoubtedly, parenting is one of the most difficult tasks, and modern-day computing devices like the iPad have made it even more difficult. 
Luckily, by using apps like Wondershare's FamiSafe you can safeguard your kids from the harmful world of the Internet. 
In addition to blocking harmful sites, the parental control app, Famisafe can also help parents control screen time, locate the real-time location, and detect inappropriate content on kids' devices.
In a nutshell, you can consider FamiSafe as a guardian of your kid in the online world.
---
In this section, we have highlighted the three best features of FamiSafe that help it stand out from the crowd of other parental supervision apps.
1. Explicit Content Detection & Restriction 
The first and one of the most important features of Famisafe is automatic Explicit Content Detection.
This feature comes in handy to instantly detect and block toxic messages and content on social media apps, including Snapchat, Twitter, Facebook, and other mainstream social media services.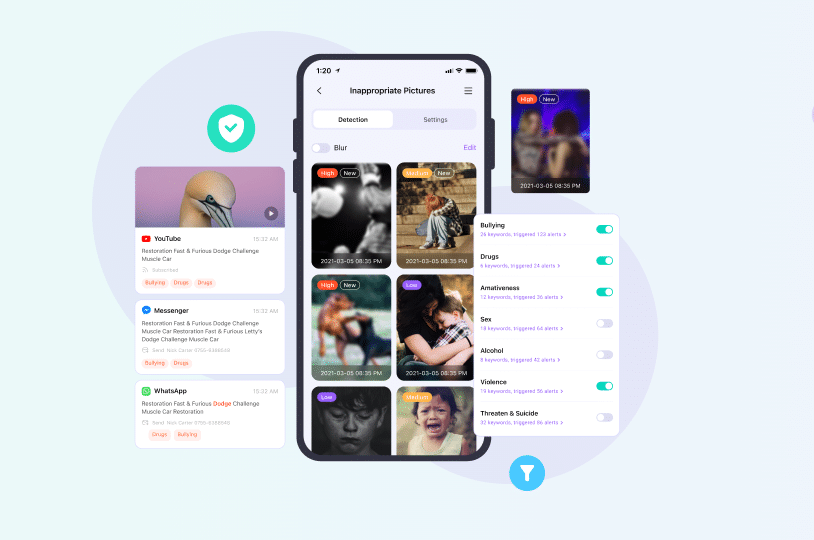 The feature can also detect harmful pictures on kids' phones and once detected you can either blur them or delete them. Parents can also enable safe search to filter any harmful search results from Google, Bing, or Yandex.
Overall, FamiSafe is an ideal app to create a barrier between inappropriate content and your kid.
---
2. Real-Time Location Tracking
In addition to online protection, FamiSafe also offers physical protection for your children as it offers real-time location tracking. If you have FamiSafe installed and set up you can keep a track of your kids' whereabouts.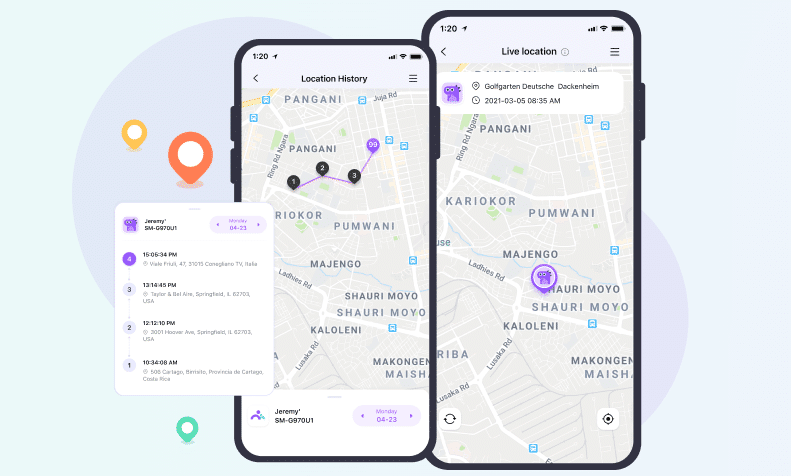 Furthermore, FamiSafe also tracks where your child or family member is and stores it in the location history. We truly hope that a situation to use the location history feature never occurs, but if there's something suspicious you will know where your child is.
Lastly, parents can also receive alerts when their kids get out of school or home.
---
3. Intuitive UI 
No matter how good or bad an app is if it's difficult to use it's not really that great. Luckily that's not the case with FamiSafe as it has a very well-developed and easy-to-navigate interface.
Additionally, setting up the program for the very first time is quite easy. On the homepage of Famisafe, you can check out the location of your child's phone coupled with how long they have been in that location.
Famisafe also tracks screen time and offers detailed information about which app was used the most and what sort of content was consumed by the kid.
If you notice that your kid is spending a considerable amount of time on a certain app you can manage your kids' screen time with downtime and app limits.
---
How To Block Harmful Websites With Famisafe? 
You can download FamiSafe on your iOS or Android smartphone from the App Store and Google Play Store respectively and once that's done follow these simple steps to block harmful websites with FamiSafe,
STEP 1: First go to the WebFilter menu in the FamiSafe app and turn on all the categories that you want blocked.
STEP 2: In the same menu, you can even set up exceptions to unblock educational content.
Now FamiSafe will block all the websites in the categories you selected and prevent your child from accessing them from their phone.
---
FamiSafe is a digital product and it's available globally. You can install it on any modern Android or iOS smartphone.
Talking about the pricing, Famisafe is available in monthly, quarterly, and yearly plans. The price of the FamiSafe monthly plan is $10.99 and you can use this monthly plan on up to 5 devices.
The quarterly plan of FamiSafe costs $20.99 per quarter and you can use up to 10 devices per account. Lastly, the yearly plan of FamiSafe is available for $60.99 and you can use up to 10 devices per account.
---
CONCLUSION
So this was all about the must-have app for every parent namely Wondershare Famisafe. If as a parent you have always wanted to protect your kids from the dangers of the internet such as adult content, harmful substances, and violent videos then do check out FamiSafe. 
In addition to protecting your kids from online dangers, FamiSafe also offers real-time location tracking for your kids. Thereby, the app is quite useful even in real-life scenarios. 
Lastly, you can even try FamiSafe for free before committing to a paid plan. Consequently, install the app on your smartphone and try it out.