Microsoft Office is the complete and ultimate office suite.
Whether you are a student, a professional, or someone with reports due, only Microsoft Office comes to mind.
You can use all the online document tools and alternatives but Microsoft Office 2016 feels home.
We have been using the Office suite for years and going online with Microsoft's cloud version is out of the picture.
You can download Microsoft 2016 for free and use it on your computer.
Microsoft has discontinued it but you can use the alternate download link for Office 2016.
And don't worry, we have checked all the Office 2016 ISO files with antivirus. They are clear and safe to download.
Note: Microsoft Office has been discontinued and replaced by Microsoft 365.
Free Download Microsoft Office 2016
Here are the Microsoft Office 2016 ISO and IMG files that you can download directly to your computer.
Note – The Office 2016 download is failing for a lot of users when done in the browser. You can use download managers like Free Download Manager or IDM to download the file.
| | |
| --- | --- |
| Version | Microsoft Office 2016 Professional Plus x86 (32-bit) – 820 MB |
| Download Link | Download |
| Virus Check | Report (clean) |
| | |
| --- | --- |
| Version | Microsoft 2016 Home and Student x86 and x64 Combo – 4.1 GB |
| Download Link | Download |
| Virus Check | Report (clean) |
How to install Microsoft Office 2016?
You can easily download Microsoft Office 2016 ISO using the above links. But then you have to install it in the following way.
1. Find the Office 2016 ISO file in your computer.
2. Right-click and click Mount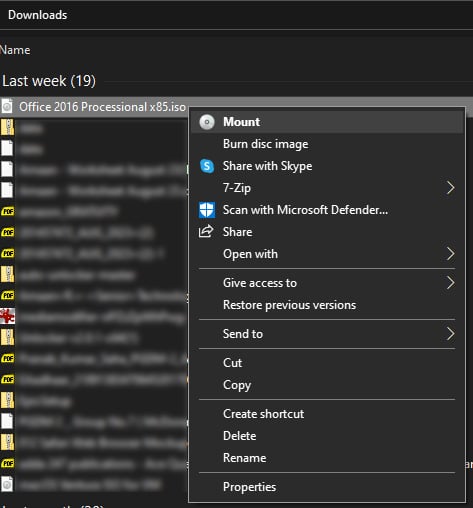 3. Now you will be directed to setup files. Launch the setup to start installing Microsoft Office 2016.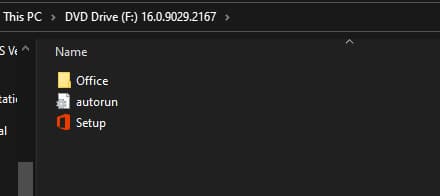 System Requirements For Office 2016
| | |
| --- | --- |
| Operating System | Windows 8.1 or later |
| Processor | A dual-core processor with 1.0 GHz speed. An i3 would be fine. |
| RAM | 1 GB for x32-bit, and 2 GB for x64-bit. |
| DirectX | DirectX 9 or later |
| Disk Space | 3 GB of minimum space for Office 2016 suite. |
List of all Office Suite Apps:
Microsoft Word
Microsoft Excel
Microsoft PowerPoint
Microsoft Outlook
Microsoft OneNote
Microsoft Access
Microsoft Publisher
Microsoft Office 2016 was released in various editions tailored to different user needs. The primary editions included Office Home & Student 2016, Office Home & Business 2016 (adding Outlook for small businesses), Office Professional 2016 (further adding Publisher and Access)
And then Office Professional Plus 2016 (for large enterprises with a broader suite of tools), and Office Standard 2016 (a business-focused edition with a limited set of apps).
It also brings a bouquet of features, so let us take a closer look at a few of them.
Tell Me: A new search tool available in Word, PowerPoint, Excel, and Outlook. It helps you find commands by simply typing what they want to do.
Smart Lookup: Right-click on a word or phrase in Word, PowerPoint, Excel, or Outlook to find relevant information from the web without leaving the document.
Ink Equation: Now you can insert any equation you want. Insert mathematical equations by handwriting them using a pen tool or mouse, or even a lightpen.
Upload to Doc.com: Take your docs online and you will never lose them again. Just go to File > Publish and you will get an option to take it online with Doc.com.
If this is your first time you will have to log in via a Microsoft account.
A Better Version History: View and revert to earlier versions of documents stored in SharePoint or OneDrive directly from the Office application, making it easier to track and manage changes.
Improved Sharing: The sharing experience is enhanced to make it easier to share Office documents. You can share documents directly from the Ribbon, control access permissions, and see who has access to a document.
---
Can I download Office 2016 for free?
Microsoft has stopped offering MS Office 2016. But you can download Office 2016 through the download links we have listed above.
Download and Install Office 2016 Now
You can easily get the download link for Microsoft Office 2016 from above. Then use the ISO file to install it like a regular setup.