Everyone is searching for a free version of Microsoft 365 but you won't find one.
There are many modded versions but they may harm your computer and are not legal to use.
The only way is through a free trial that will need you to enter the payment information.
Microsoft offers free online versions of their office apps, but many of the advanced features, templates, formatting choices, and file compatibility are exclusive to paid subscribers.
But don't worry as we have found a way to Microsoft 365 Download for free and in a legal manner.
All you need is a free Microsoft account(or create one), a working mobile capable of receiving SMS and twenty minutes of your time.
We will create a Microsoft developer account and get a free Microsoft 365 subscription through that.
The steps are laid down below and easy to follow so you won't get lost on the way.
Microsoft 365 Download for Free
System Requirements for Microsoft 365
Before you install Microsoft 365, verify that your computer meets the necessary system requirements. Insufficient specifications could result in app problems or system crashes.
| | |
| --- | --- |
| Operation System | Windows 7, 8.1, 10, and 11. |
| Processor | 2-core 1.6 GhZ or faster |
| Memory | 4 GB (x64), 2 GB(x86 or 32-bit) |
| Hard Disk Space | 4 GB |
We will follow the easiest way to get Microsoft 365 Download for Free. It provides you with a 90-day license without requiring payment information.
The other one needs you to put down the payment information before granting a month-long trial license. So we will go with first method which is free to download Microsoft 365 without a debit or credit card.
For this method, you will need an active mobile number that can receive SMS since we will get an OTP on it.
1. Head to Microsoft 365 Developer page.
2. Click Join Now to join the Microsoft Developer program.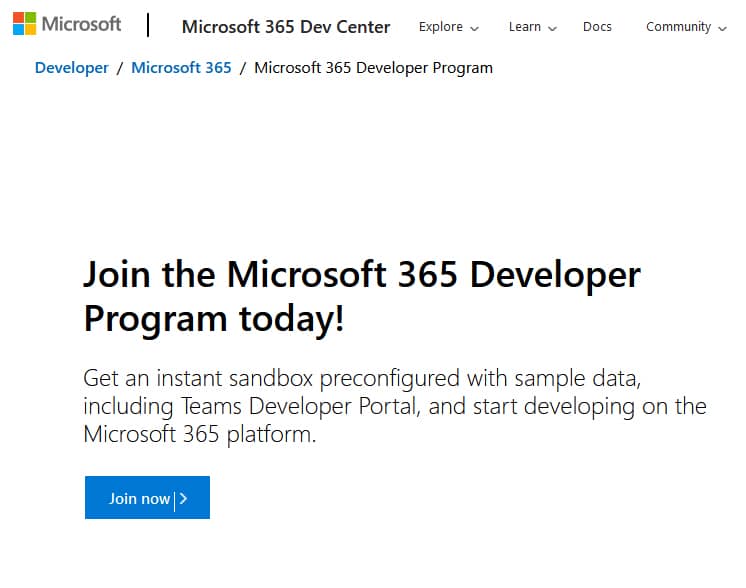 3. Fill in your company name, which can be anything, along with your country.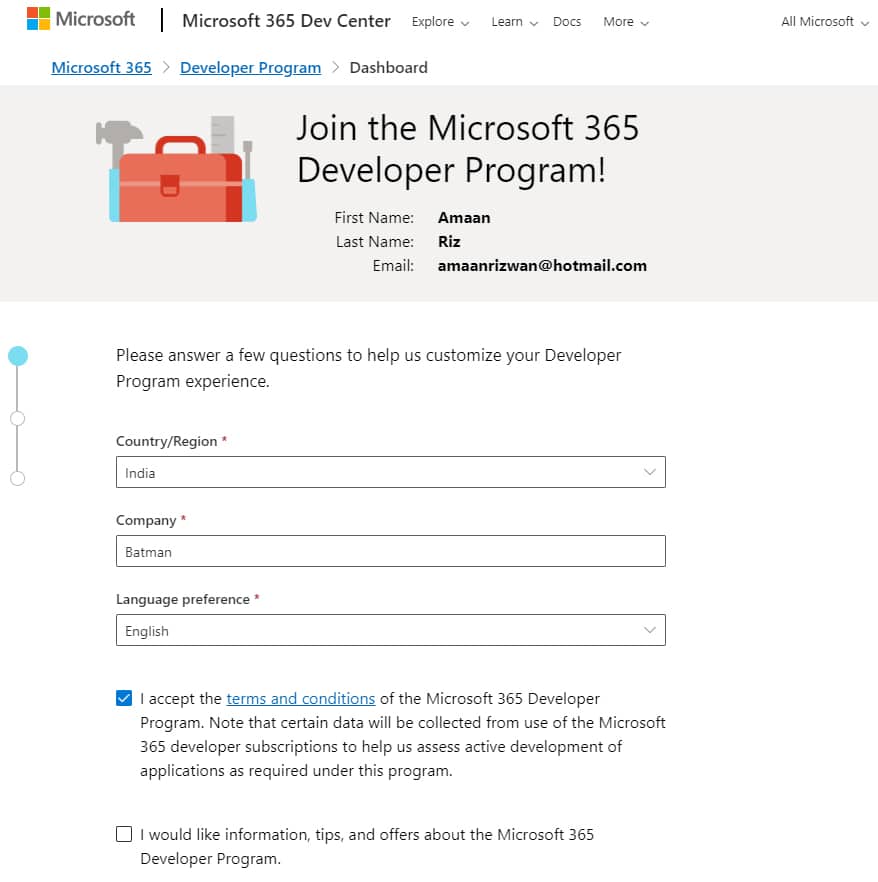 3. Then scroll down, agree to terms and conditions by checking the box, and then click Next.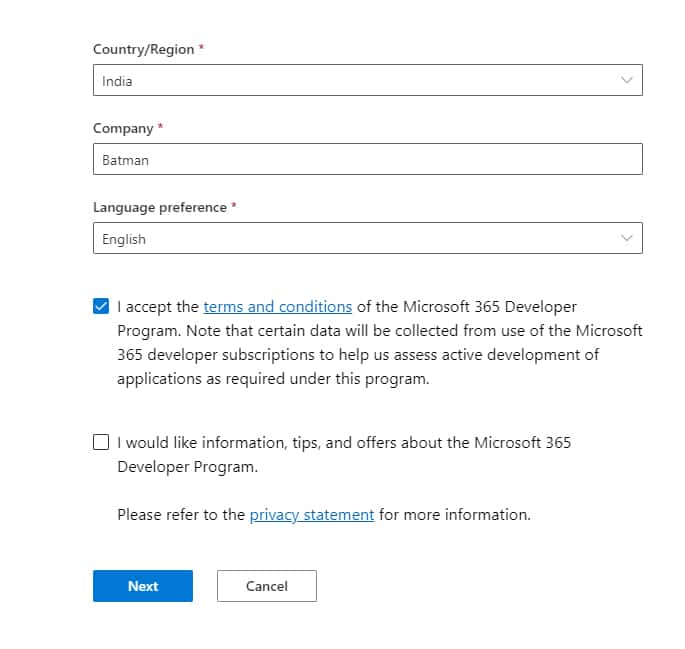 4. Now select Personal Projects and then click Next.
5. Select Microsoft Teams here and then click save to move forward.
6. A new page will open where you have to click Set up E5 subscription.
Note – Sometimes you will get an error for Sandbox so you can try in half an hour or so.
7. Tick Configurable sandbox and then click Next.
8. On this page, select your region, enter a username, and create a domain name. And then create a strong password along with it.
Note – Make sure to remember the username that appears in the grey area, denoted by A. This will be needed to log into your Microsoft 365 free subscription.
9. Now enter your active mobile number and click send to receive the OTP code which you will need to enter here.
10. Then Microsoft takes a couple of seconds to set up your developer account and you get Microsoft 365 Download for Free.
11. And now click Go to subscription on the subscription page.
12. Close the welcome page for Microsoft 365.
13. Look to the top-right and select Microsoft 365 apps from the Install Apps button.
14. Launch the setup after it gets downloaded in your browser.
15. Then, it will download Microsoft 365 for free on your PC. The download time will depend upon your internet speed and it will take a couple of minutes.
Then it will be installed along with it so you won't have to about worry about the installation.
16. Now you will get a completion message. Click Close and then open any of the Microsoft 365 apps.
18. Open any of the apps from office 365 like Word, PowerPoint, etc., and then head to the Account section. You will be asked to log in and then you will see your free Microsoft 365 license.
How to Uninstall Microsoft 365?
If you are not liking Microsoft 365 for some reason then you can uninstall it in the following manner.
1. Head to Add or Remove Programs from the Start menu search.
2. Search for Microsoft 365 and uninstall it through the button.
Now Microsoft 365 will be uninstalled in a couple of seconds.
---
Microsoft 365 in a Nutshell
Microsoft 365 is the official Microsoft Office 2023 which includes tools like Microsoft Word, PowerPoint, Excel, and OneNote.
Word
Functionality: Beyond basic word processing, Word offers features such as mail merge, document referencing tools (for tables of contents, footnotes, etc.), and advanced formatting options.
Collaboration: Multiple users can co-author documents in real time, with changes and comments visible to all collaborators.
Templates: You can choose from a wide variety of pre-designed templates, available for various document types, from reports to resumes.
Excel
Data Analysis Tools: Excel has functions like "What-If Analysis", data validation, and forecasting tools.
Advanced Features: Macros and VBA scripting offers you automation and custom functions. Excel Tables and Data Models help with structured data storage and relational data capabilities.
Data Visualization: There are extensive charting options, conditional formatting, and pivot charts to represent data visually.
PowerPoint
Design Ideas: It automatically suggests slide layouts and designs based on the content inserted.
Animations and Transitions: You can apply various effects to slide elements and between slides to enhance presentations.
Presenter Tools: Features like Presenter View and Slide Zoom provide more control during presentations.
Access:
Database Templates: You get a variety of pre-made templates for tasks like contact management or inventory tracking.
Form and Report Tools: Easily create user-friendly data input forms and generate detailed reports.
Query Design: Allows for custom queries to filter, sort, or perform actions on data.
Outlook
Connected Apps: You get integration with calendars, tasks, and contacts to streamline daily tasks.
Security Features: Advanced threat protection, phishing filters, and encryption options to keep email communications secure.
Focused Inbox: It filters out low-priority emails, ensuring important communications aren't missed.
---
Frequently Asked Questions
Is Microsoft 365 free?
No, Microsoft 365 is not free. Microsoft 365 is a subscription-based service that offers a suite of productivity tools and services.
You can get started with a free month-long trial but it requires you to put down your payment information.
Can I download Microsoft 365 for free?
You can download Microsoft 365 for free through the method we mentioned above.
It involves you creating a Microsoft developer account that gives you a free subscription.
Are there mobile apps for Microsoft 365?
Microsoft has launched a unified mobile app for both Android and iPhone, which combines Word, Excel, PowerPoint, and additional features.
However, if you would rather have individual apps for each tool, standalone downloads for Word, Excel, PowerPoint, and Outlook are still available.
---
Microsoft 365 Download for free
Contrary to what you read online, this is the only legal way to download Microsoft 365 for free to use on PC and Mac.
The one-month trial is easier to get but it gets over pretty quickly and you need to enter your payment information to access it.
The method we have mentioned is free and only requires an active mobile number with SMS incoming functionality.