Think of a situation where you have forgotten all about your very old friends birthday. After two three days, you call up your friend or receive a call from him/her. Imagine if you can see all the greetings he/she has received on their Facebook, Twitter, LinkedIn, Foursquare etc. and you get to know that you had forgotten a important day in your friends life.
The above thing happens in reality and it would be great to know what the opposite party at the end of the line has been up to recently. It would be exciting to know if they have planned a hangout somewhere or have a special Facebook session so you can join in. If not join, you can stalk the caller and know all about his/her recent activities with this fantastic App for Android smart phones.
Published by Contactive, Contactive – Free Caller ID is a FREE App which emulates the native Google API and integrates all social networks into its dialler. Without sounding geeky, it means that the dialler is connected to Facebook, Twitter, Google Plus, Foursquare etc. and so when you receive a call on this App you get to know whatever the person at the opposite end of the line has been up to.
Contactive has a very simple UI and is very easy to set up. You download the App from Google Play and sign in with your Facebook credentials. If you want, you can signup for Contactive ID itself (this would be better actually). Once you have sign up, you will be presented with a screen with all the social networks Contactive supports right now (see image below)
You can select anything and everything you want depending on your social networking skills but more the merrier. The App will then ask your permissions for accessing your data. Once you grant the permissions, it will automatically start accumulating all relevant data like birthdays, anniversaries etc. of your contacts.
Once you are done, you are done. Now check the interface and you did be surprised at what you have been missing.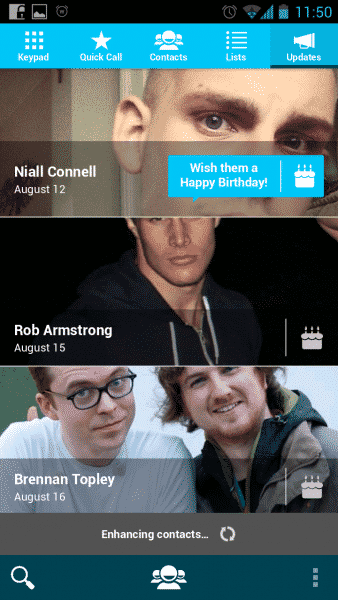 The Keypad at the top of the UI gives you easy to use dialling pad with last called, received numbers etc. Next to it is a real beauty of a feature. Called Quick Call this feature gives you quickly accessing your most recent calls and your favourite contacts to make calling them more convenient and easy.
Contactive also has the ever so necessary buttons like call, message and email at the end of the default caller id page. This and the Quick Call feature are the best of the lot on this App. You can be interconnected with your friends (or foes) a lot better with this App on board your Android smart phone or tablet.
To download this really useful and free App kindly click this link. You can also visit the developers website here for further information. Do check out the video below to know the features on Contactive – Free Caller ID for Android