Syrian Electronic Army hacked official twitter account of Time Magazine and time Person of the year poll.
The tweet fired from time twitter account after hacking the account stated , 
'Syrian Electronic Army' was here via @Official_SEA16.. Next time write a better word about the Syrian president #SEA
Soon after the tweet was posted, within 10 minute it was deleted by the admin managing twitter account of time. a screenshot of the tweet can be seen from the image above.
In a tweet fired by Syrian Electronic Army, they said they think Bashar Al-Assad should be Time's person of the year.
In next tweet they said they have stopped time person of the year Voting until, Time changes description of President Al-Assad on the website.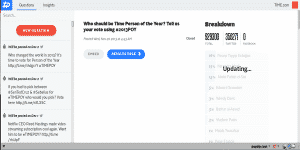 It is still not known how Syrian Electronic Army managed to hack twitter account and the poll, But experts believe most probably they compromised their email account used to manage twitter and poll by phishing attack.
we will keep our visitors updated with any further information.