Hackers going with the Online handle "Nigerian Cyber Army" hacked and defaced the Official website of Ministry of Police Affairs of Nigeria (https://www.policeaffairs.gov.ng/).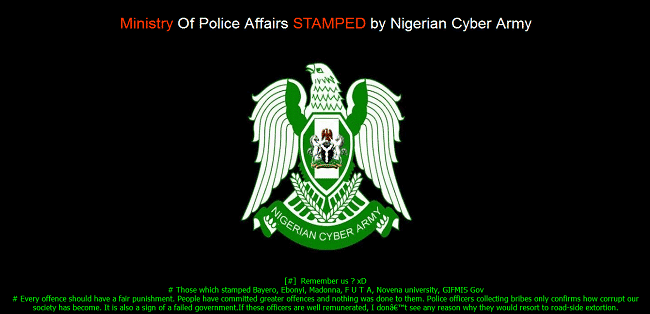 The website was hacked yesterday morning and is currently offline. In a message on the deface page hacker blamed the police officials and Government to be corrupt, 


[#]  Remember us ? xD # Those which stamped Bayero, Ebonyi, Madonna, F U T A, Novena university, GIFMIS Gov 
# Every offence should have a fair punishment. People have committed greater offences and nothing was done to them. Police officers collecting bribes only confirms how corrupt our society has become. It is also a sign of a failed government.If these officers are well remunerated, I don't see any reason why they would resort to road-side extortion.  
Though the website is currently offline, but you can still see a webcached Version of the defacement from the Mirror provided below:
https://www.zone-h.org/mirror/id/21649540
https://dark-h.org/deface/id/3736