Just few Minutes ago, The pro Syrian Hacker "Syrian Electronic Army" Announced that they hacked Domain Management Brand "Mark Monitor" and were on their way to get the Social Media giant "Facebook".

Though Facebook was lucky this time and Syrian Electronic Army was not able to hijack it, but they were able to change the Registrant Information of Facebook.com a tweet from Official Syrian Electronic Army Announced
Happy Birthday Mark! https://t.co/yWBwvXPGRZ owned by #SEA https://t.co/gk8nGxATLt pic.twitter.com/eAeGp1TvBF
— SyrianElectronicArmy (@Official_SEA16) February 5, 2014
One of the Members from SEA, confirmed us that they were Minutes away from Changing the DNS details of Facebook and Redirect it to some other place, but before that The Domain Registrant "Mark Monitor disabled their Portal.
Luckily we were also able to see the WHOIS change made by the Syrian Electronic Army, and it was still not fixed at the time of writing the Article.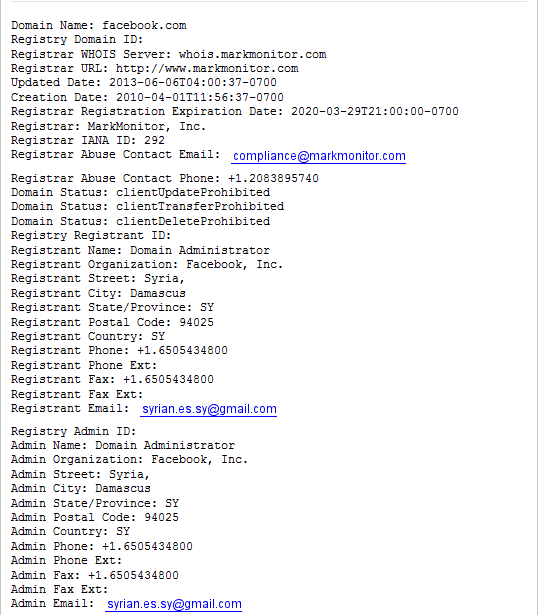 In next few tweets Syrian Electronic Army also confirmed that they were able to hack into the admin panel of Mark Monitor,
MarkMonitor Administration Panel. #SEA pic.twitter.com/7zDbUxHbYJ
— SyrianElectronicArmy (@Official_SEA16) February 6, 2014
Mark Monitor Manages the Domain of many of the world's biggest Companies, and develops software intended to protect corporate brands from Internet counterfeiting, fraud, piracy and cybersquatting.

Just Four days Back SEA was able to hijack ebay and paypal U.K Domain, Though SEA Member told us that they were able to hack Mark Monitor today only and it was Only ebay's Account which was hacked in the previous attack, it looks Suspicious and it is possible that they were having access to the Mark Monitor's admin panel from a week or more.
A Exclusive Screenshot provided By Syrian Electronic Army shows they were having access to Yahoo's domain too.


While Mark Monitor promises to provide Security to Big Companies, they probably should think about their own security. it could be possible that Syrian Electronic Army have a backdoor installed in their system, and have access to their emails.

Update: While the portal is closed by Mark Monitor, SEA still have access to Admin panel, and are tweeting The Screenshot of companies, which are managed by Mark Monitor.



Hi @Google 🙂 #SEA pic.twitter.com/f9vOJgRhpJ
— SyrianElectronicArmy (@Official_SEA16) February 6, 2014
Hi @Amazon 🙂 #SEA pic.twitter.com/lOhXe3chLB
— SyrianElectronicArmy (@Official_SEA16) February 6, 2014