In what was the biggest blooper in her career, Leah McGrath Goodman had reported that she had found Satoshi Nakamoto, the founder of Bitcoin. It seems that she had made a humongous mistake by taking a certain Mr.Dorian Satoshi Nakamoto to be Satoshi Nakamoto, the creator of Bitcoins.
Dorian Satoshi Nakamoto, the man wrongly identified by Newsweek as the creator of Bitcoin, issued a statement today saying the "false report" has harmed his job prospects and created unwarranted stress for himself and his family.
"I did not create, invent or otherwise work on Bitcoin. I unconditionally deny the Newsweek report," read Dorian Nakamoto's statement which has been released in full on Twitter by Felix Salmon of Reuters.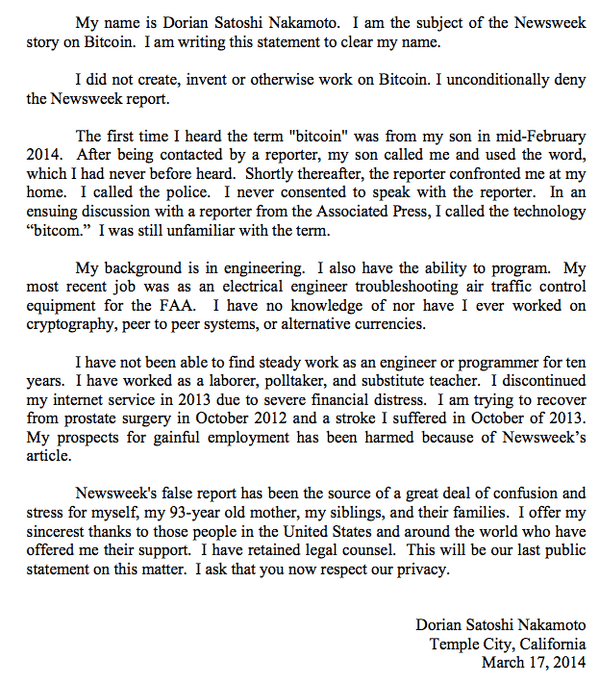 The world most popular cryptocurrency, Bitcoin was introduced in 2009 by a person called Satoshi Nakamoto. He is believed to be in his late thirties and staying is Japan. The rumours also suggest that the actual Satoshi Nakamoto was pretty rebellious programmer who wanted to take on the world currencies by horns and that is the reason for his launching Bitcoin.

Leah's claim was rubbished everywhere including on Reddit. And they were proven to be absolutely right. This Nakamoto obviously had not heard about Bitcoin till 2014 as per his statement. How this blooper will affect Leah Goodman's journalistic prospects is anybody's guess but a newspaper of standing of Newsweek should have little more careful when it came to claiming finding Satoshi.