A hacker group going by the handle of
Lizard Squad
today claimed that they had brought down the Sony's PlayStation Network and many other gaming servers.  The gamers are complaining about not being able to log in to the servers.
As per gaming website ShackNews, Blizzard's Battle.net servers, Riot's League of Legends, Grinding Gear Games' Path of Exile, and PlayStation Network are among those under attack by a group of hackers calling themselves Lizard Squad.  Though the claims have not been verified, it is actually true that users cant log on to the PlayStation Network.  Blizzard was massively hit with most of its gaming servers that including that of Hearthstone, Diablo 3, World of Warcraft and others were reported down.
Sony, yet another large company, but they aren't spending the waves of cash they obtain on their customers' PSN service. End the greed.
— Lizard Squad (@LizardSquad) August 24, 2014
As is the case now a days several users took to the social media to vent their frustration.  Users were seen complaining about not being able to log into the network.
There is no official word from Sony or the PlayStation Network regarding this outage. Interestingly PlayStation Network was to go in for a scheduled maintenance beginning Monday morning. It may be a case of the engineers misreading the internal maintenance memo and taking down the server for maintenance. As of now the PlayStaion Network has recovered somewhat from the outage even though some are still reporting about not being able to log in.
Routine PSN maintenance Monday 8/25, 9:40am-4:50pm Pacific time: https://t.co/VfsIaF7eAV Log in prior to retain online play/app access
— Ask PlayStation (@AskPlayStation) August 21, 2014
Another interesting fact is that some users reported that they could log in through PS3 but not through PS4 or computers.
On a Sunday afternoon playstation network down! #playstationnetwork
— Michael Tabamo (@MtTabamo) August 24, 2014
Playstation Network (PSN) down in South Africa https://t.co/uC1gV4vjBn @PlayStationSA #PSN #SouthAfrica #Gaming #Tech #playstationnetwork
— Digital Street SA (@DigitalStreetZA) August 24, 2014
#playstationnetwork is down. First time since I've owned mine. I'm not sure how I feel.
— Sarah (@seztacular) August 24, 2014
The one morning I get up early to play B4 and PSN is down! #playstationnetwork
— Steve Tourigny (@stevetrules) August 24, 2014
Update : The shares of Sony dropped when this news hit the stock markets.  Apparently the traders didnt take kindly to the DDoS news.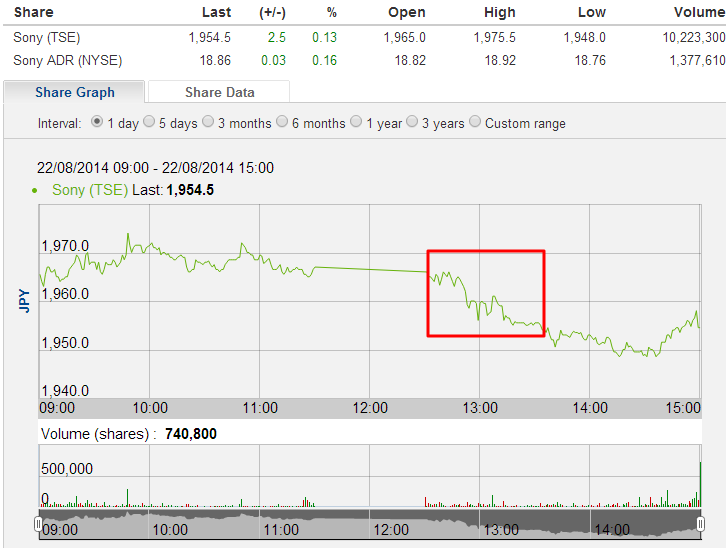 As thousands of PSN afficionados are plastering all social networking sites and tech forums with not so good comments,
James Smedely
, President of Sony 
Online Entertainment has confirmed that PSN is indeed down not confirmed the cause but Sony Online Entertainment has been restored after suffering a DDOS outage.
Services will be gradually restored. For some it's up now. For others the route they take may be flooded so they can't log in yet.
— John Smedley (@j_smedley) August 24, 2014
I'm only speaking about SOE. Not sure on PSN
— John Smedley (@j_smedley) August 24, 2014
Update: Senior Social Media Manager of Playstation Network, Sid Suman has finally Confirmed that PSN was hit by a large scale DDOS attack.
"Like other major networks around the world, the PlayStation Network and Sony Entertainment Network have been impacted by an attempt to overwhelm our network with artificially high traffic."
He added that no personal information were accessed and the PSN Engineers are working to resolve the network error as soon as possible.
Update: (Bomb Threat) Lizard Squad Tweeted to American Airlines on Sunday that they have heard that explosives were on board a flight carrying Sony Online Entertainment President John Smedley.
.@AmericanAir We have been receiving reports that @j_smedley's plane #362 from DFW to SAN has explosives on-board, please look into this.
— Lizard Squad (@LizardSquad) August 24, 2014
San Diego airport spokesperson confirmed that as the plane was being re-routed, the Transportation Security Administration told airport officials that the FBI was investigating a tweet about possible explosives on the plane. Later Smedley said in a tweet that his plane was diverted.


Yes. My plane was diverted. Not going to discuss more than that. Justice will find these guys.
— John Smedley (@j_smedley) August 24, 2014