"The site ahead contains malware", this is how Google is welcoming the visitors who are trying to access bit.ly links via Google Chrome and Mozilla Firefox
One of the world's most popular URL Shortening service bit.ly was flagged as malicious by Google. Every shortened links when visited using Google chrome or Mozilla Firefox warns the visitor of Malware. Even the homepage of Bit.ly is marked as malicious by both Google Chrome and Mozilla Firefox.
URL Shortening services like bit.ly are commonly used by cyber criminals and spammers to spread malwares and spams. however this is not new but unfortunately for bit.ly, Google has gone on taken this harsh step which will deter users from visiting bit.ly sites.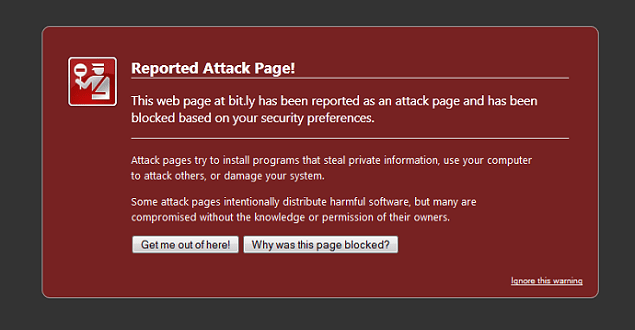 Most of the times the malware warning like these are removed after few hours when someone from the team of webmasters takes proper action to remove the links which caused the website to be flagged as malicious. but this seems difficult way for bit.ly webmasters, because bit.ly is really full of "malicious links."  The Google Advisory on Bit.ly says that out of the 91854 pages that ran bit.ly and were tested by Google, 969 pages were found to be having some sort of malware.  It also says that 4 bit.ly sites were found to be working as intermediateries for distribution of malware.
Of the 91854 pages we tested on the site over the past 90 days, 669 page(s) resulted in malicious software being downloaded and installed without user consent. The last time Google visited this site was on 2014-10-24, and the last time suspicious content was found on this site was on 2014-10-24.
Malicious software includes 200 trojan(s), 185 exploit(s), 152 scripting exploit(s). Successful infection resulted in an average of 3 new process(es) on the target machine.

Malicious software is hosted on 365 domain(s), including hotclip.mobi/, likoj.net/, denotablin.com/.

353 domain(s) appear to be functioning as intermediaries for distributing malware to visitors of this site, including trackcash.org/, javaistlus.com/, tracksite.us/.

This site was hosted on 4 network(s) including AS30060 (VERISIGN-ILG1), AS14618 (AMAZON-AES), AS15169 (GOOGLE).
The entire advisory by Google is given in the screenshot below :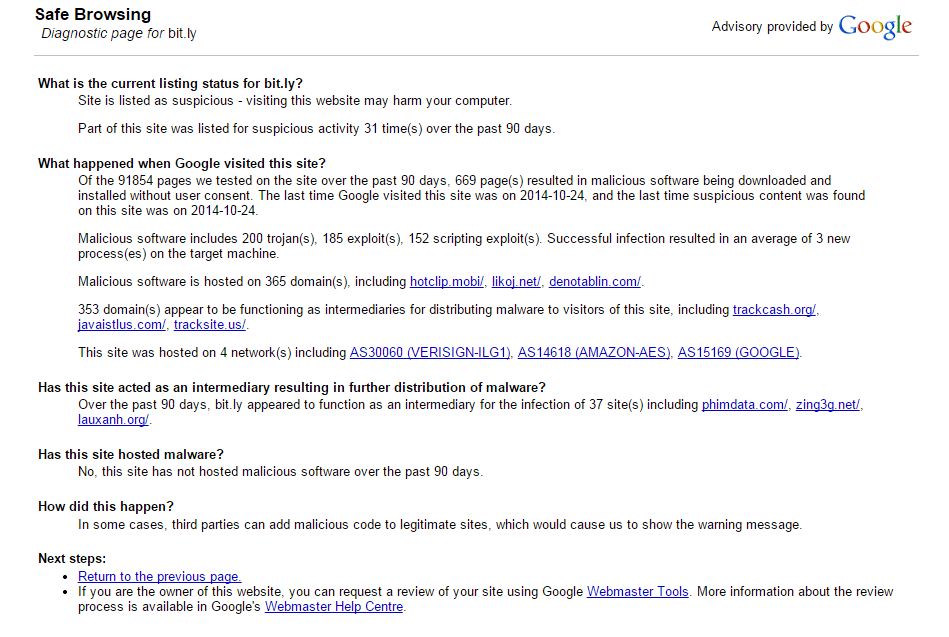 However if it is very important for you to visit the link, you can still open the link, follow the steps:
On Google chrome, Open the link—> on the warning page —> click on "details" —> click "visit this unsafe site".
On Mozilla Firefox, Open the link —> On the warning page —> Click on "Ignore this warning"