FBI Offering $1 Million Reward for Two Romanian Cyber Criminals
The Federal Bureau of Investigation,  the premier investigating agency of United States has put up a wanted notice for two Romanian cyber criminals.  FBI  is offering a bounty of up to $1 million for information about two Romanian fugitives who are alleged said to be  involved in a massive cyber fraud scheme.
The two Romanian nationals, Nicolae Popescu and Dumitru Daniel Bosogioiu have made it to the FBI's Most Wanted Cyber Fugitive List after participating in a long-term cyber-fraud conspiracy that inflicted losses of over $3 million on US businesses.
"As alleged, while hiding behind international borders, Popescu and Bosogioiu engaged in a systematic cyber fraud scheme targeting primarily American consumers through U.S.-based websites," the FBI said. "Working in tandem, they jeopardized the personal security of online users who routinely conducted legitimate business on the internet."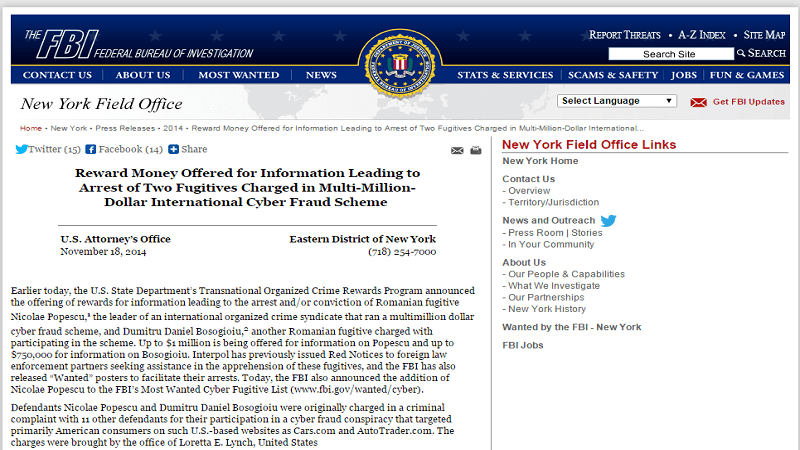 The Charges
Popescu and Bosogioiu are charged with a conspiracy of swindling many users, mostly United States citizens.  As pr FBI the duo and their 11 co-conspirators ran fake ads on sites such as eBay, Cars.com, AutoTrader.com and CycleTrader.com, pretending to sell cars from bogus auto dealerships through phony websites.
The duo with the help of their co- put up ads on eBay, Cars.com, AutoTrader.com, and CycleTrader.com with detailed advertisements for cars, motorcycles, boats, and other high-value items.  They priced the fake inventory in the range of $10,000 to $45,000 range.  FBI says that the cars, motorcycles, boats simply did not exist.
The co-conspirators who are not named in the charge, corresponded with the victim buyers by email, sending fraudulent certificates of title and other information designed to lure the victims into parting with their money. The defendants also pretended to sell cars from nonexistent auto dealerships in the United States and created phony websites for these fictitious dealerships. As part of the scheme, the defendants produced and used high-quality fake passports to be used as identification by co-conspirators in the United States to open American bank accounts. After the "sellers" reached an agreement with the victim buyers, they would often email them invoices purporting to be from Amazon Payments, PayPal, or other online payment services, with instructions to transfer the money to the American bank accounts used by the defendants. The defendants and their co-conspirators allegedly used counterfeit service marks in designing the invoices so that they would appear identical to communications from legitimate payment services. The illicit proceeds were then withdrawn from the U.S. bank accounts and sent to the defendants in Europe by wire transfer and other methods.
They also sent fake invoices claiming to be from Amazon Payments, PayPal or other online payment services, with instructions on how to transfer money to their bank accounts. After receiving the money the cyber criminals disappeared and in the process allegedly made around $3 million in ill gotten moolah.
FBI said that Popescu was the ring leader of the scamming cyber criminals and co-ordinated with the other conspirators for issuing of fake passports, fake invoices, running fake ads and finally collecting the money from the victims they managed to entice. Once apprehended the duo will be extradited to United States if found in some other country and will be prosecuted in the United States.
"As alleged, Popescu and his close associate Bosogioiu engaged in a pattern of pervasive criminal conduct, victimizing hard-working American consumers looking to purchase cars," the FBI said. "They believed international borders would allow them to act with impunity. They were wrong".