Sony threatens to take legal action against Twitter over leaked emails
Sony Pictures Entertainment has threatened to sue Twitter if the company doesn't suspend accounts containing links to hacked emails. Sony was the victim of a massive hack allegedly orchestrated by #GOP, Guardians of Peace who may have been backed by the elite cyber warriors from Bureau 121 of North Korea on 24th November, 2014.
The hackers have used variety of services including Twitter and Pastebin to leak sensitive information stolen from the Sony Pictures corporate network.  Twitter has been used in recent times to leak links of the email correspondence between Sony and its stakeholders like employees, stars in its films and others. Sony has taken a strong objection to the use of Twitter for posting links for such emails.  Earlier Sony had written to media houses to stop publishing information of the leaked materials from the hack attack.
Legal Notice
Sony's legal counsel, David Boies has shot of letter to the social networking site demanding that Twitter handles of those sharing such links be immediately banned or face legal action.  Boies, who was hired by Sony to clean up the hack mess in the aftermath of the attack, has shot of the letter Twitter's general counsel,  Vijaya Gadde. The letter says that if "stolen information continues to be disseminated by Twitter in any manner," Sony will "hold Twitter responsible for any damage or loss arising from such use or dissemination by Twitter." US website Motherboard has posted a letter sent from Boies to Twitter on its webste.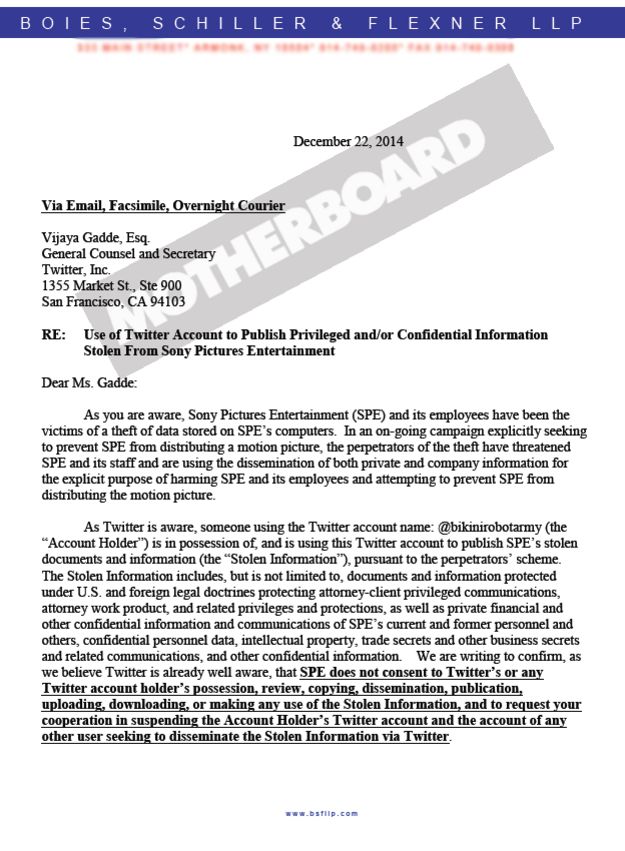 In this letter, Boies has singled out one Twitter user, Val Broeksmit, who tweets screenshots of Sony emails as @BikiniRobotArmy. It accuses that the handle @BikiniRobotArmy is in possession of  SPE's stolen documents which tantamounts to breach of SPE's privacy.
Sony's lawyer states that Twitter should "comply with all future requests with regard to any other account holder seeking to disseminate the Stolen Information via Twitter". The letter also asks the network to forward the copy of above letter to @BikiniRobotArmy user Val Broeksmit, advising him to stop publishing stolen information.
Finally it says, that "If Twitter does not comply with this request, and the Stolen Information continues to be disseminated by Twitter in any manner, SPE will have no choice but to hold Twitter responsible for any damage or loss arising from such use or dissemination by Twitter." which means that Sony can sue Twitter for such acts.
A spokesperson for Twitter confirmed that the letter sent by Boies is authentic but declined to specifically comment about the company's response. When asked whether the company would be deleting Broeksmit's tweets, the spokesperson noted that, right now, the tweets are still live on the site. In a separate statement, Twitter spokesperson told Motherboard reporter, that the social media network doesn't allow the posting of another person's private information, but that it does allow linking to such information.
"We review all reported content against our rules, which prohibit posting another person's private information. Please note that this only applies to content (text or images) posted within a tweet; we do not follow links to apply our rules to other sites. If a user or company (e.g., Sony) submits an actionable DMCA takedown request to us, we'll disclose that to Chilling Effects,"
It remains to be seen whether Sony's latest action of sending notices to all and sundry to 'cease and desist' from sharing/downloading/hosting leaked SPE documents ends up in clearing the mess created by the hack or snowballs into a great PR disaster for the company.