IS 'supporters' 'Cyber Caliphate' hack Malaysia Airlines website with help of Lizard Squad
The Malaysia Airlines (MAS) website was apparently hacked Monday morning by a group calling itself "Cyber Caliphate".  The home page of the website briefly showed a image of Malaysian Airlines  Airbus A380, with the words "404 – Plane Not Found" and claimed to be hacked by Cyber Caliphate with two Twitter accounts of @umgrobert and @umg_chris as their contacts.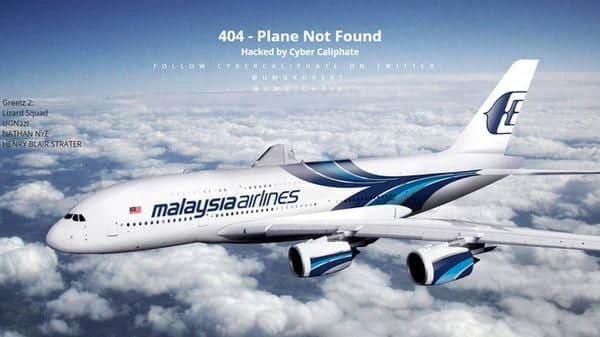 However the system admin of Malaysian Airlines seem to have restored the website but only for a brief moment.  Soon the hackers hacked the website again and replaced the earlier Airbus A380 image with the infamous Lizard Squad's image and mentioning the name of Lizard Squad.  Lizard Squad has also acknowledged that it was behind the hacking of Malaysian Airlines website.
Breaking @LizardMafia with help from @UMG_Chris & @UMGRobert hacked https://t.co/GtNowzyLw7 HOT #DramaAlert

— KEEM ? (@KEEMSTAR) January 26, 2015
Other names mentioned in the website are UGNazi, NATHAN NYE and HENRY BLAIR STRATER. Lizard Squad has also published the image of data stolen from the Malaysian Airlines on Imgur.
It has also tweeted that it will dump some of the stolen data online.  No reason has been given for hacking Malaysian Airlines website.
https://twitter.com/LizardMafia/status/559510964983197698
The Malaysian Airlines website was hacked in the morning and many mobile users trying to access the website have encountered Error 521, which means that the original web server refused the connection from domain provider CloudFlare.  However sometime later the website admin seemed to have restored back the website but as of 11.41am, Monday the website was hacked again and this time it was done a group called 'Lizard Squad – Official Cyber Caliphate'.
The is a developing story and we will keep you updated about the latest news in this regard. The url www.malaysiaairlines.com remains hacked at the time of writing this article with a loud blaring music in the background.