The Syrian Electronic Army hacks Twitter account of the French Newspaper Le Monde blaming that Le Monde and French government supported terrorism in Syria.
The pro- Bashar Al-Asad hackers Syrian Electronic Army earlier today hijacked the official Twitter account of French daily newspaper 'Le Monde' and posted several incriminating tweets blaming the Daily Newspaper of supporting terrorism in Syria alongside the french Government.
The hackers tweeted, the Syrian Electronic Army was here" #SEA #SYRIA, In French.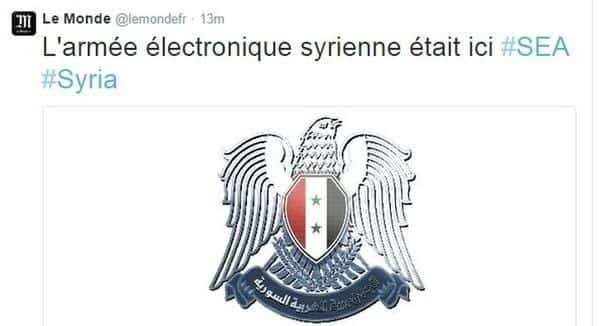 followed by several tweets
.@lemondefr Twitter account apparently hacked by Syrian Electronic Army pic.twitter.com/HJgNbnAiTD

— Jon Passantino (@passantino) January 21, 2015
The Twitter Account was temporarily suspended after the hack attack. however it is back online now and the tweets posted by the Syrian Electronic Army were deleted.
After gaining back the control, Le Monde tweeted that- After hacking into our account, our teams have now taken the hand. We apologize for any fraudulent posts on our behalf. (Google Translation)
Après le piratage de notre compte, nos équipes ont désormais repris la main. Nos excuses pour les messages frauduleux postés en notre nom.

— Le Monde (@lemondefr) January 21, 2015
Syrian Electronic Army later tweeted from their official Twitter account that, We have successfully hacked Le Monde and we will never fail to deliver our message of peace and anti-terrorism. blaming the newspaper and french government for supporting the terrorism in Syria.
The Syrian Electronic Army condemns terrorism in France, but @LeMondefr and French government supported terrorism in #Syria. #SEA

— SyrianElectronicArmy (@Official_SEA16) January 21, 2015