Google using its Street View cameras to help hunters search for the Loch Ness Monster
For thousands of years the experts and monster hunters have being trying to find the elusive Loch Ness monster without much success. Now the Internet search giant, Google is offering them some help. Google has uploaded visuals taken on and beneath the loch's surface to its Street View website.
It hopes that the visuals will aide the monster hunters in their adventures to finding Loch Ness monster. Upon visiting the Google Maps Loch Ness page the users will find panoramic view of the Urquhart Castle from the Loch Ness Lake.  When searching the loch, users of the site will find Google's yellow Pegman icon changes to a Nessie "peg-monster".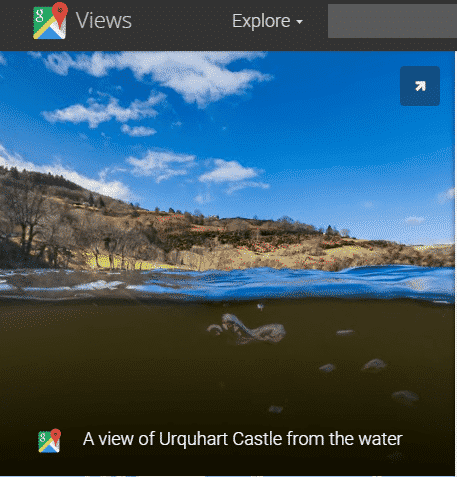 The Loch Ness monster is monster that reputedly inhabits the Loch Ness lake in the Scottish Highlands. The existence of Loch Ness monster called Nessie by the local inhabitants has been debated with claims and counterclaims of her existence. The most validated report of Nessie's visuals came from a British surgeon, Col. Wilson who published the faked photograph of Nessie. The photograph was published in the Daily Mail on 21 April 1934.
Col.Wilson refused to have his name associated with the photograph hence it become popular as "Surgeon's Photograph" all over the world. Col. Wilson claimed that he was looking at the loch when he saw the monster, so he grabbed his camera and snapped four photos. Only two exposures came out clear: the first one shows what was claimed to be a small head and back, while the second one shows a similar head in a diving position.
However it was the first one that hit the headlines and was later proved only to be toy submarine outfitted with a sea-serpent head but not until 1975. For whole 40 years the legend of Nessie grew and became popular on the basis of that image.
In addition to the Google Maps Loch Ness pages, Google has put Nessie-themed Google Doodle on its search page.