Developer ports the popular Flappy Bird game clone onto a hacked Apple watch
Apple showcased the next generation of the Apple Watch's operating system, called watchOS 2, at this year's Worldwide Developers Conference (WWDC).
Native apps are part and parcel to Apple Watch with the next iteration of watchOS 2 and the developers have more than a chance to create proper native games and apps for the Apple Watch.
For example, Flappy Bird is the perfect smartwatch game, which is fast and easy to control. It only a matter of time until someone hacked the world's most maddening game.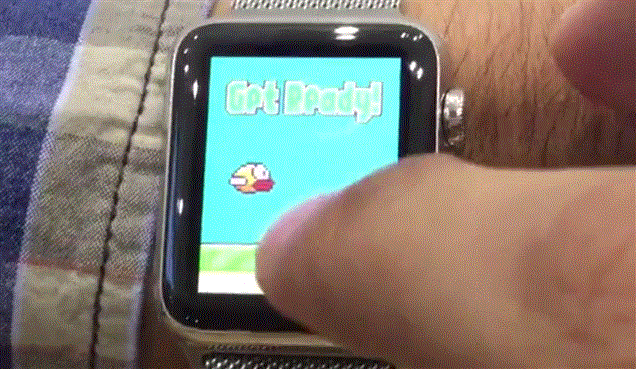 Well, looks like Developer Hamza Sood has managed to hack together a Flappy Bird clone for the Apple Watch. Developer Hamza Sood is no stranger to hacks, leaks and tweaks involving Apple products. It looks like he has worked out how to use more advanced frameworks, including UIKit and SpriteKit, to get "truly" native apps running on the wearable.
Aptly dubbed NanoFlappy, the game is created by using native SpriteKit rendering and features both Digital Crown support and touch screen control for moving the bird up and down to prevent obstacles. The game also supports sound output so that you can hear effects directly from the Apple Watch's tiny little speaker.
Hacked a Flappy Bird clone onto Apple Watch with native SpriteKit rendering, touch/crown control, SFX through speaker pic.twitter.com/U1cavXb7SN

— Hamza Sood (@hamzasood) June 16, 2015
The game by the looks of it loads fast and runs without any slowdown or perceptible lag. This is one of the advantages of running the native code directly on the Apple Watch hardware itself.
Of course, watchOS 2 will mark the start in native apps and games for developers, though they will still run out of process and won't have access to frameworks like SpriteKit, or deep Digital Crown support outside of a simple picker element.
Even though the game looks even difficult on the tiny screen, smartwatch Flappy Bird is a indication of something much better in the future, namely, real third-party apps for the Apple Watch.
Resource : Gizmodo