Facebook users in the UK can now hand over control of their FB profile to a friend or family member after their death
Thanks to a new feature called "legacy contacts", the Facebook users in the UK can appoint an "online executor" of their profile to make a decision as to what happens to it after they die. In other words, any of the 35 million UK Facebook users can now appoint a loved one or a friend to take care of their social media account after their death.
Facebook describes a legacy contact as "someone you choose to look after your account if it's memorialized."
With legal contacts feature, users over 18 years of age will be able to appoint one of their family members or Facebook friends as their heir who gets rights to administer the account after their death.
The online executor will be able to write one last post on user's behalf or "provide information about a memorial service," update the cover and profile photograph, and also add "old friends or family members who weren't yet on Facebook".
Users can also give additional permission to their online executor to download an archive of the posts, photos, and profile information they shared on Facebook. However, according to Facebook, the online executor will not have the rights to change privacy settings and existing friends, remove or edit previous posts, see private messages of the profile, or log in as the user who passed away. Nor will they be able to delete the account.
Vanessa Callison-Burch, Facebook's product manager said, "We try to make it clear that the legacy contact won't post as you. It's a caretaker – only acting on your behalf in very specific ways."
"Facebook is a place to share and connect with friends and family. For many of us, it's also a place to remember and honor those we've lost. When a person passes away, their account can become a memorial of their life, friendships, and experiences."
The online executor may be able to keep a check on your account, but any private messages will not be passed on.
"We respect the privacy of all those contacts. It didn't make sense to include those messages," Callison-Burch said.
Facebook, in the past, provided basic memorialized accounts for people who had passed away. However, these accounts would remain frozen, as they could not be accessed or updated by anyone.
Facebook users can nominate an online executor by going into their settings, selecting 'security' and then 'legacy contact' at the bottom of the page. As an alternative, people can instruct Facebook to permanently delete their account after their death.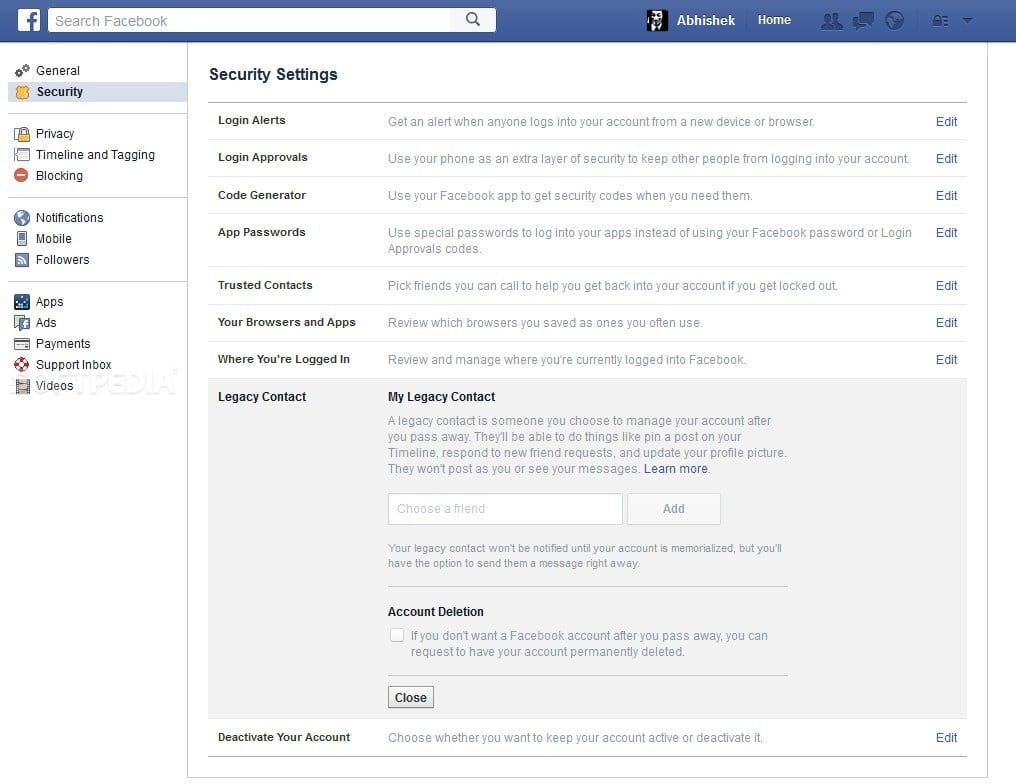 The legacy contacts feature was first launched in the US in February this year. At that time, it was teased on NBC's Today Show and US TV, with presenters joking that people's profiles would be updated as "dead". It was criticized by many people saying that the feature may confuse users who may think that their loved one is still alive and is responding to a friend request.
Facebook, which has 1.44 billion users worldwide, however, at that time had said that it was responding to hundreds of thousands of requests for this kind of feature. The network had received "hundreds of thousands" of requests since it began "memorializing" pages of those who had died in 2007.
It is trying to respect the wishes of the dead while also being sensitive to their families, like other social media companies.
"The legacy contact is chosen by the account holder, so it's somebody that they trust and who knows them really well, so they'll be able to decide who to add and or change the profile picture or pin a post," said Ms Callison-Burch.
A five step guide has been provided by Facebook to name loved ones as legacy contacts.
To name a relative or friend, just click the options button in the top right, select the security option and then type in someone's name.
Click Add and then the message button, which will send your appointed person an message, providing them the right to edit your page in the event of your death.
As of today, the feature is now live in the UK, which means that you can appoint your online executor today. If you want your account to be deleted upon your death, you can turn that switch on too – even though someone will still need to inform Facebook that you have moved on.