New patent reveals Apple working on a smart ring with a built-in display
Apple has designed a smart ring, which could be the next piece of wearable tech from the Apple Watch maker.
The patent application known as "Devices and methods for a ring computing device" published by the U.S. Patent and Trademark Office on Thursday, discloses that it carries the description of an advanced ring-style wearable that will depend on a number of inputs such as voice, motion and touch input in order for the user to control and interact wirelessly with other computing devices. This "Apple ring" would be packed with a rechargeable power source, such as a battery.
The patent in many ways reads more like an overview of an Apple Watch but in miniature form, or those that could be added to the Watch in the future. It explains that when worn on an index finger, one could conceivably operate the ring's touch sensitive surface with a thumb. However, to make things easier, the document also describes a mechanism similar to Apple Watch's Digital Crown. Another option of built-in accelerometer and gyroscope modules are provided to accept gesture input with enough precision to facilitate handwriting capture. A user might even wear two rings to control multiple aspects of a host UI.
In some iterations of the invention, Apple proposed design sports microphones for voice commands, much like Apple's new Siri Remote for Apple TV. It also has two force feedback motors to communicate various notifications and directional information. External devices such as a computer's mouse cursor, a camera's shutter or a vehicle's entertainment and climate control system can also be controlled by using the ring. It could be used as an external controller for gaming.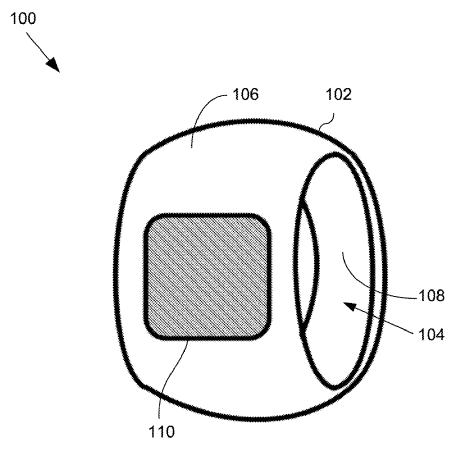 Though nothing has been specifically mentioned, the ring could save power by unloading voice processing to a remote device, a tactic that is adopted by Watch. In fact, Apple's application suggests using a keyword to trigger voice dictation, suspiciously similar to Watch's "Hey Siri" feature and an always-on iPhone 6s version powered by Apple's M9 motion coprocessor.
Further, Apple says users could draw characters on the ring's touchscreen, which would then be sent out to a paired external device, such as an iPhone. The addition of a biometric sensor for sensing biometric information of the user and/or a near-field-communication transmitter for transmitting data related to the user could also allow Apple's ring to be used in a similar manner as Touch ID for user authentication and Apple Pay mobile payment authorization. Other iterations of the product propose a built-in camera.
A wearable ring isn't necessarily out of the domain of other technology companies. One startup called Ringly, makes a line of smart jewelry and rings that light and vibrate to notify its wearer of incoming calls, messages and app alerts.
The description of the invention may not necessarily reflect how the final product will look like, as this is not a design patent. At this time, it is unknown when Apple plans to bring an Apple Ring to market, considering that this is a patent application.
Originally, Apple filed the patent application on April 1, 2015 and credits designers Marcos Regis Vescovi and Marcel van Os as the inventors. It relates to a separate unpublished application filing from 2014.