HGST introduces a second, quicker 10TB helium-filled drive
Hard drive technology is developing leaps and bounds this decade and simultaneously the prices are also decreasing. Western Digital subdivision HGST is looking to take this forward and announced Ultrastar He10, a cutting-edge drive that's filled with helium.
It is well known that HGST was working with helium for some time now. According to HGST, helium gas offers several advantages over traditional air-filled drives thanks to its lower density, with decreased power consumption and increased storage capacity.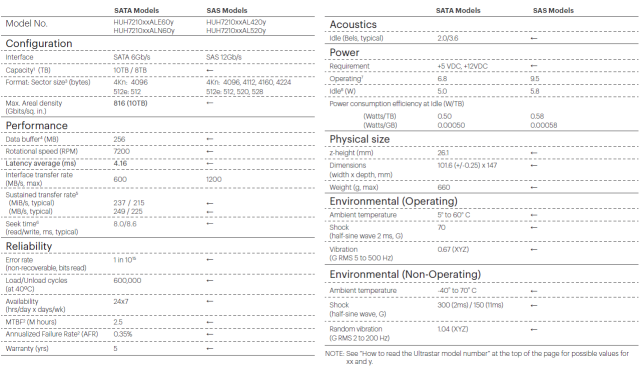 Western Digital's HGST division has released the world's first helium-filled 10TB hard drive for everyday use costing about $900 (£600).
The Ultrastar He10 has two important features :
It's hermetically sealed and filled with helium,
It has seven platters crammed into a standard-height 25.4mm (1-inch) hard drive.
Ultrastar He10 has seven perpendicular magnetic recording (PMR) platters are packed into the standard 1-inch height of the drive. Earlier hard drives used a technique called shingled magnetic recording (SMR). The disadvantage of SMR is that it reduces the speed at which data can be accessed as it overlaps portions of data tracks to increase density.
Ultrastar He10 uses PMR in the more traditional way and hits sustained transfer speeds of up to 249 megabytes for second. HGST will release both an 8TB and a 10TB version of the new Ultrastar, with SATA 6Gbps or serial-attached SCSI interfaces being released.
It is surprising that the world leader in hard drive, Seagate has been lagging in helium based drives. Both HGST and Seagate are working on HAMR drives, though Seagate has been more vocal about it, saying that it could have some HAMR drives on the market in 2016. HGST, with shingled recording and seven platters at its disposal, should have no problem hitting 15 or 20TB over the next year—but its path towards larger online drives, using PMR or HAMR, is unclear.
Though Western Digital has not divulged price point at which Ultrastar He10 will sell, it is bound to make a hole in the user's pocket. Given that its predecessor the He8 currently sells for around $550, the He10 is anticipated to launch at around $800 – $900.