Except for Apple, worldwide shipments of PCs see their sharpest drop ever
According to new PC shipping estimates from research firm Gartner, Apple is the only manufacturer that managed to gain growth in PC shipments that has seen a downfall in the year 2015. Also, for the first time, Apple broke into Gartner's list of top 5 worldwide PC vendors due to the decline in PC shipments from HP, Lenovo, Acer, Dell, and Asus.
According to principal analyst at Gartner, Mikako Kitagawa, the PC market is still in the middle of structural change which will reduce the PC installed base in the next few years.
"The fourth quarter of 2015 marked the fifth consecutive quarter of worldwide PC shipment decline," said Kitagawa.
"Holiday sales did not boost the overall PC shipments, hinting at changes to consumers' PC purchase behaviour. On the business side, Windows 10 generally received positive reviews, but as expected, Windows 10 migration was minor in the fourth quarter as many organisations were just starting their testing period."
Ms. Kitagawa added, "Holiday sales had a limited impact on PC sales in the U.S. market. Notebooks were off the top wish list of holiday gifts. Unlike 2014 holiday sales, there were not many holiday mega deals for laptops, especially in value segments. At the same time, consumers' interest shifted to other consumer electronics devices such as TV's and wearables. "
"In 2015, local currency devaluation also played a key role in the market conditions," said Kitagawa. "EMEA, Latin America and Japan faced a major impact from the devaluation, showing double-digit declines in 2015. In contrast, the U.S. and Asia/Pacific experienced minor declines of almost flat to low single-digit declines as the currency issue did not affect these regions."
Shipping 20.7 million Macs for a 7.2 percent share of the market, which is an increase of 5.8 percent from its performance in 2014, Apple took the No. 5 spot for 2015. As it did for the quarter, Apple overthrew Acer on the year as the Taiwanese vendor suffered a 15.3 percent decline.
With 57.1 million units shipped, Lenovo was in the top spot for 2015 with a good 19.8 percent share of the market. However, the company's growth slimmed to 3.1 percent, which is in line with overall industry headwinds.
HP was in the second position with 52.6 million PC shipments for 18.2 percent of the market, down 4.4 percent on the year. Dell and Asus rounded out the top five with 39.2 million and 21.2 million units shipped capturing a respective 13.6 percent and 7.3 percent share of the market. Dell was down to 3.3 percent in 2015, while Asus declined to 6.5 percent.
Gartner estimates Apple to have shipped 5.7 million Macs for a 7.5 percent share of the worldwide market for the final calendar quarter of 2015, up by 2.8 percent from the fourth quarter of 2014. With the performance, Apple replaced Acer for fifth place.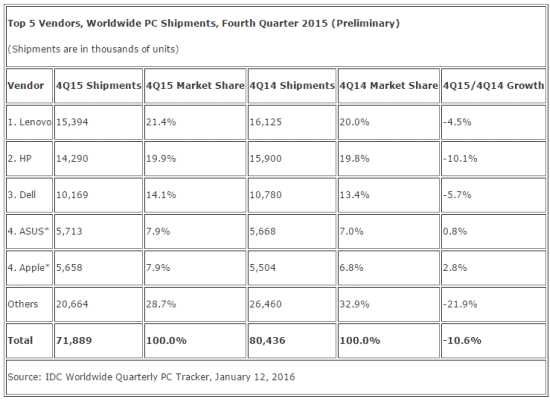 Maintaining its worldwide lead with 15.4 million units being shipped, Lenovo retained 20.3 percent of the worldwide market, down 4.2 percent year-over-year during the fourth quarter. HP shipped 14.2 million PCs for an 18.8 percent share of the market, down 8.1 percent from last year. Dell and Asus followed with 10.2 million and 6 million unit shipments, down 5.1 percent and 3.2 percent, respectively. Acer rounded out the top-six with 5.3 million unit shipments for a 7 percent share of the market, a huge 11.2 percent contraction year-over-year.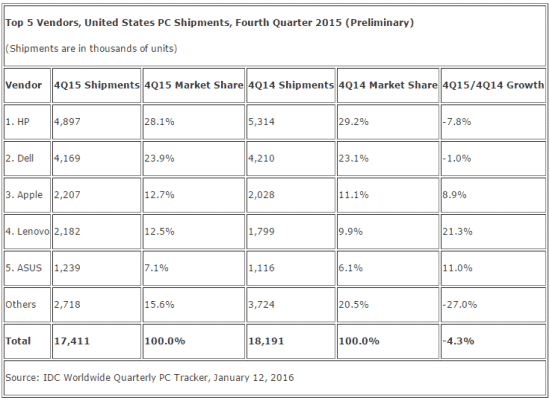 It's important to note that data from Data from Gartner is preliminary and the numbers can shift. Gartner has positioned Apple as the sole top vendor that saw positive worldwide growth in 2015, and the same trend could continue into 2016. Apple is expected to refresh many of its Macs during the year, introducing significant upgrades in the form of Skylake processors for most machines.
The success of Apple's MacBooks and iMacs shows there is still "strong demand for innovative, even premium-priced systems that put user experience first," Jay Chou, a manager at research firm IDC, said in a release.