Brain damaged violinist composes music for the first time in 27 years with mind-reading technology
A promising violinist Rosemary Johnson of the Welsh National Opera Orchestra suffered a devastating car accident 27 years ago, that left her in a coma for seven months. She suffered from severe brain damage that took away most of her ability to talk and move, which in turn robbed her of her ability to compose and play music.
But now, thanks to cutting-edge technology and a 10-year project from the University of Plymouth and the Royal Hospital for Neuro-disability, Johnson has made her first music in 27 years using her brainwaves and also have it played to her in real time by a professional string quartet.
The technology is called the Brain Computer Music Interfacing software, and it basically allows the user to select musical notes and phrases by focusing on desired colors on screen. The intensity of the user's mental focus can also change the volume and speed of the piece. Throughout the process, the user is wearing an electroencephalogram (EEG) cap with electrodes that can read electrical information from their brain.
"It was really very moving. The first time we tried with Rosemary we were in tears. We could feel the joy coming from her at being able to make music. It was perfect because she can read music very well and make a very informed choice," Eduardo Miranda from the Interdisciplinary Centre for Computer Music Research at Plymouth University told the Telegraph.
"The great achievement of this project is that it is possible to perform music without being able to actually move. She is essentially controlling another musician to play it for her. It's not yet possible to read thoughts but we can train people to use brain signals to control things."
Besides Johnson, three other musicians were also involved with the trial – Clive Wells, Richard Bennett and Steve Thomas. Each one of them have been able to compose music for one of the musicians in the Bergesen string quartet. The musicians are able to play the music live for the patients, as they slightly alter and add to the music in real time.
Mr. Thomas said through an automated voice machine: "I like music and I am very interested in the Brain Computer Music Interface. It's more interactive with people actually getting my instructions. It was great to hear the musician play the phrase I selected. I tried to select music that was harmonious with the others. It's very cool."
Johnson was only able to play a few chords on the piano with the help of her mother before using this brain-reading software. Now, she has regained the ability to communicate her compositions.
Mary, Johnson's mother said the project had given her daughter new hope. "Music is really her only motivation," she said. "I take her to the grand piano in the hospital and she can only really play a few chords, but that was the only time she shows any interest. She doesn't really enjoy anything else.
"But this has been so good for her. I can tell she has really enjoyed it. When she performed I went to the hospital and that is the first time I have heard her make music, other than the piano chords for a long, long time."
Julian O'Kelly, Research Fellow at the Royal Hospital for Neuro-disability added: "This is a great means of transcending disability to offer individuals a unique experience of creating music with each other, and interacting with skilled musicians to create original compositions.
"In the case of Rosemary, the project illustrated the great potential this innovation could have for participants who may have once been gifted musicians, but now lack the physical abilities to engage in music making.
"You could clearly see in her broad smile during the performance how much she enjoyed the experience."
The patient quartet is made of Johnson, Clive Wells, Richard Bennett and Steve Thomas and they call themselves The Paramusical Ensemble. These four musicians have already recorded a piece of music entitled Activating Memory, which will be heard for the first time at the Peninsula Arts Contemporary Music Festival in Plymouth later this month.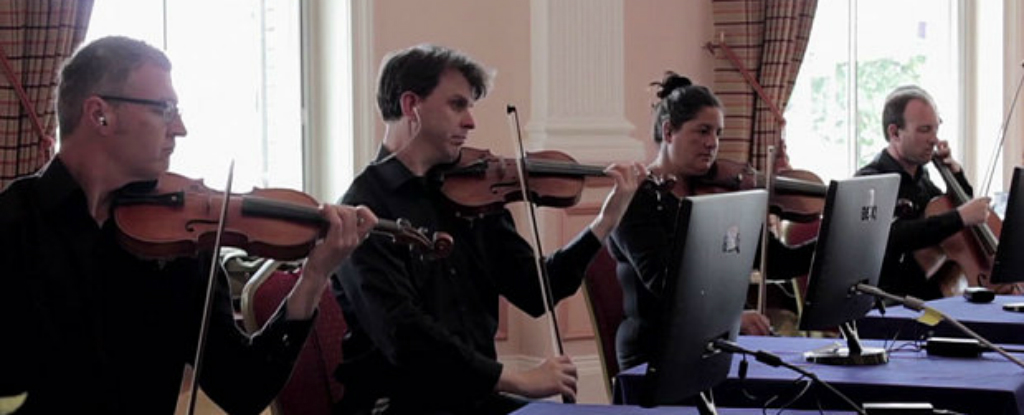 Joel Eaton, a PhD student at Plymouth University, told The Telegraph: "One of the key things about this system is that not only does it give a user the interaction and control of an instrument, it allows them to interact with each other."
"If this idea was developed, it could have ramifications in all areas of someone's life. Potentially I can see the ability for someone to express musically how they are feeling again without their ability to move their fingers, to communicate with words."