Dont get surprised if your PC just upgraded to Windows 10, Microsoft 'force update' making last ditch effort to forcibly move you to its latest operating system
Dont be surprised when you see the Windows update manager in your Windows 7/8.1 powered PC/laptop suddenly starts upgrading to Windows 10 without even asking you. News is that Microsoft is making last ditch attempt to make Windows 7/8.1 users upgrade to Windows 10.
It looks like with the July, 29 date for free Windows 10 update for Windows 7/8.1 users approaching fast and Microsoft is not finding any new takers for its latest OS iteration. Therefore the head honchos at Redmond have decided to launch one last aggressive push aimed at getting as many folks to update to Windows 10 as it possibly can, before the expiration of its free upgrade offer.
The 'force update' news was first reported by Computerworld, which found out that Microsoft has switched the offered Windows 10 download to a "Recommended" upgrade that will automatically install itself unless the user intervenes.
"As we shared in October, Windows 10 will be offered as a 'Recommended' update for Windows 7 and 8.1 customers whose Windows Update settings are configured to accept 'Recommended' updates," said a spokesperson for Microsoft in an email to Computerworld.
Another tech website, CNET also found similar 'force upgrade' happening. CNET reported that for some users of Windows 7 and 8, Windows is auto-scheduling a date and time to upgrade to Windows 10. It's much like how Windows forces regular updates on users, only in this case, you're not getting some security patches — you're being forcibly upgraded to an entirely new operating system.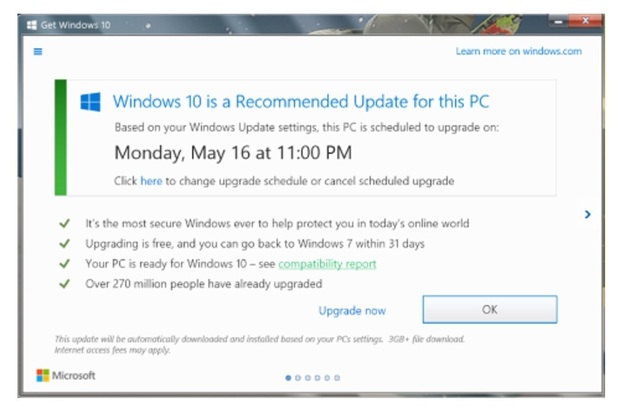 As you can see from the above image, Microsoft has not given any option to users to cancel the upgrade. Even if you click the (X) on the message, Microsoft will take it as a approval and start downloading Windows 10 against your wishes. "If you click on OK or on the red 'X', you're all set for the upgrade and there is nothing further to do," Microsoft states in a support document for the GSX app.
For those users who see the new upgrade schedule notice, the only way to reject the Windows 10 download is to click the link where it says "Click here to change the upgrade schedule or cancel schedule upgrade", then alter your upgrade settings so that nothing is automatically installed.
Also read: Here is how to stop your Windows 7/8.1 PC from automatically upgrading to Windows 10