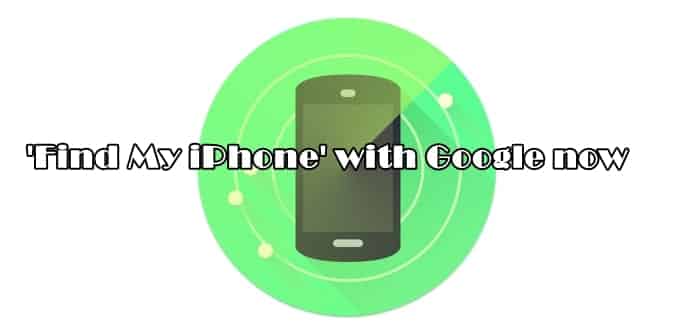 Google to help iPhone owners track
 lost Phones in addition to Android smartphones/tablets
Last year, Google had added the feature to locate your Android device by just typing in 'Find my phone' into Search. Now, effective June 1st, iPhone owners will to be able to begin their hunt for their misplaced devices using Google by searching the Web for it. The enhanced phone location features have been rolled out to iOS and Android.
The company launched the new feature in celebration of the My Account's first birthday. Google's My Account service allows you to manage your privacy and security settings relating to Google products.
"Find your phone" is one of the three new features Google is adding to the My Account service. All you need to do is login into Google's My Account section and the feature will let you locate, lock down or wipe your smartphone, call your missing device, leave a message and/or callback number, sign out of your accounts, or contact your carrier, etc.
Soon, when iPhone or Android users enter "I lost my phone" at Google.com, the search engine will respond with options that will allow them to ring the device, or locate it on a map. Currently, users can already get access to that functionality through Google's My Account feature, which serves as the connection for people to understand and access the information linked to their Google account.
Googling "I lost my phone" or "find my phone" will display a map showing an approximate location of where the gadget is, though it won't work unless your phone's GPS is on. Also, this service was previously available only through the Android Device Manager. In other words, it was not applicable to iPhones. Thankfully, the new phone-finder feature will work with both Android and iOS devices.
Google's phone location feature isn't capable of locking an iPhone or remotely erasing it unlike Apple's Find my iPhone. However, it may be a useful feature for someone who have misplaced his phone and just wants to figure out where it is.
People can also use the feature to prevent the device from accessing their Google account, which means a thief cannot get access to private information.
Google is also adding a voice option in the Google app for accessing My Account. Users can access the page by saying, "OK Google, show me my Google account," in the latest version of the app. Currently, this option is available in English but will be coming to other languages soon, according to Google.
Also, Google will soon start presenting a shortcut to My Account if a person searches their own name on Google.