This is How Livecoding.tv is Changing the Future of Computer Science Education
Ever wondered how it feels to be a part of a community that thrives on sharing knowledge in form of real world projects? If you haven't then you probably haven't visited the Livecoding.tv, a website fully dedicated to real-world projects developed by engineers all around the world.
Livecoding.tv is fully focused on real projects. There are over 21,000 projects being developed live. On Livecoding.tv students learn by watching broadcasters working on real projects, e.g. game development, mobile app or website development. In short, students gets to see the whole product development cycle from start to finish.
Nowadays, you can find students looking for a platform that can help them advance in their career. Computer science education is a big talk in the current economy. According to the study done by code.org, a majority of schools don't teach computer science. Moreover, there is always the need for talent in the IT industry, especially the top-tier talent.
Livecoding.tv completely understands the current state of computer science and IT industry and wants to improve collaboration among peers with the help of real-world projects.
So, you might ask? How do they aim to achieve this? Currently, they have come up with multiple ideas to help students helping them  to explore their talent and become job-ready. The biggest problem that students have is exposure to real-world projects, and this is where Livecoding.tv shines. Livecoding.tv also helps students in many others ways. Let's discuss them below.
Going through whole projects
Now, this might seem an overkill, but students can learn a lot watching someone go through a real-world project. Software development is more than just coding. It is about designing, brainstorming, creativity and other traits that necessarily transforms one to a coder or programmer. Livecoding.tv houses more than 21,000 projects and that can be a great starting point for a student. They can go through a project from start to end, understanding things that they could never have done themselves. For example, a student can go through Java projects by doing a simple search.
Experienced Broadcasters
Learning from experienced broadcaster can be a unique experience for the students. The experienced broadcaster while working on projects provides valuable commentary that can help students learn new concepts and understand software development better. They are also prompt in answering the questions of the viewers and always provide insights on what they are working on. For example, Stephen Wolfram, provides valuable tutorials on Wolfram technology and explains everything in detail.
Guides about 266+ technologies
Livecoding.tv offers a diversified approach when it comes to providing content. There are currently 266+ technologies covered by the platform, and it does provide value to anyone who is looking to learn more than just one programming languages. Simple guides are created for each of the technology, be it a programming language or a framework. A particular guide contains all the information you will ever need for a programming language including history, books, video series, conferences, cheat sheet, tools, and much more. You can check out the JavaScript and Ruby guide to get an idea.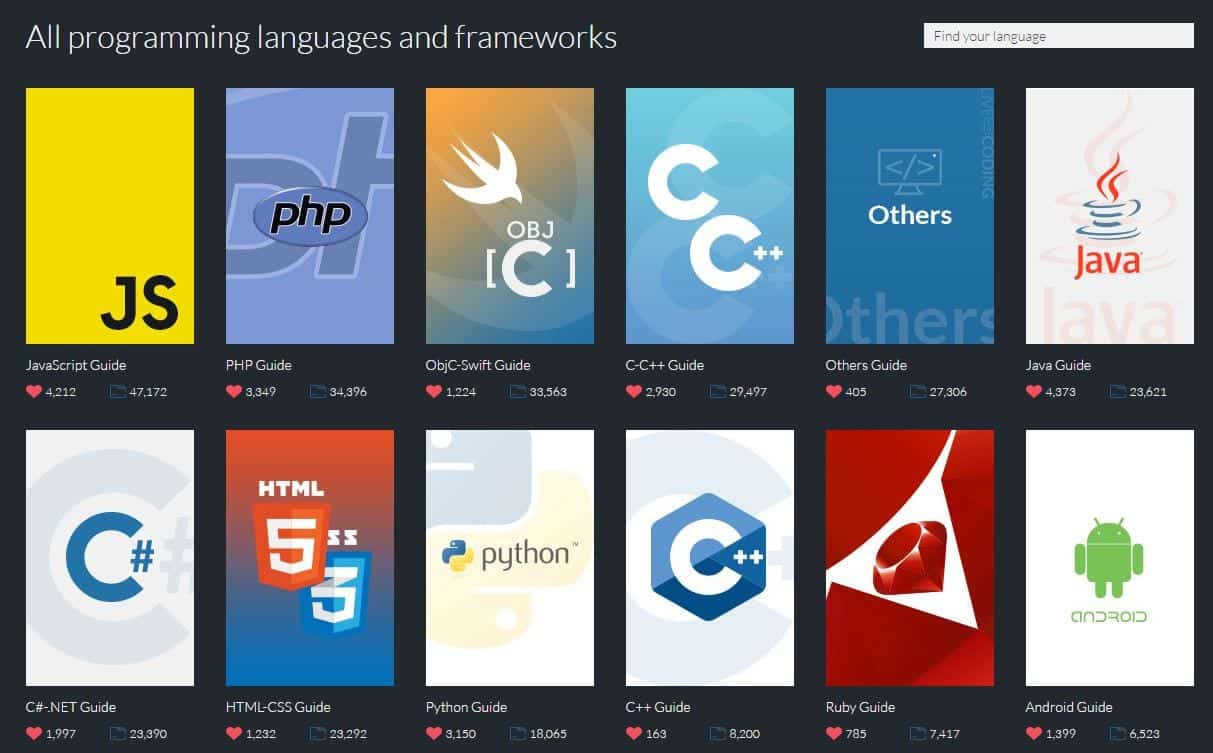 Finding coding buddies and engineers
If you have worked on a project alone, you already know the grind of solving problems. It can be boring, painfully slow and not motivating when you are stuck. That's why you need a coding buddy to hang out with you. Livecoding.tv provides a viable solution to the problem that most coders go through, i.e., finding a coding buddy. The tool, Broadcaster Discovery, enables anyone to find for coding buddies or engineers according to programming language, country, and skill level. You can also add popularity criteria in the search to get better results.
Find valuable projects for different programming language
On Livecoding.tv, content discovery is easy with project discovery tool. With project discovery, you can search projects for different programming languages such as PHP, Ruby, JavaScript,etc.  You can also search for projects that utilize frameworks such as Django, Ruby on Rails, etc. With so many projects at disposal, students can now work their way through multiple technologies and watch anything they want.
Hire an experienced coder for 1:1 private lessons
There is no substitute from learning from an experienced coder. The idea of 1:1 private lessons is an established one, where the mentor provides valuable guidance to the mentee or the student in this case. The student can pay the experienced coder on hourly basis.
Broadcasters make money on Livecoding.tv
Broadcasters who are regular on Livecoding.tv can now earn through different mediums such as regular Ads, channel sponsorship, 1:1 private lessons and much more. The approach is taken to ensure that everyone is benefited. With an interest to share their knowledge, broadcaster can also invest their time to make money and improve the future of computer science education. You can read more about "making money on Livecoding.tv" here.
Let's go through some of the testimonials from the livecoding.tv students who have learned a lot.
"When I started learning, the biggest struggle that I had is to use my theoretical knowledge. Then, I stumbled upon Livecoding.tv where I found Matumaros broadcasting a project in the language that I learnt. I followed him and learned so much from his streams, and now I can work on my own projects with confidence." — Fuel.
"Making progress has always been hard for me when it comes to my personal projects. I needed a community to thrive and Livecoding.tv come to rescue. I started broadcasting, and now I have few followers who not only take interest in my project, but also contribute by providing feedback to my project." — Jsdir
"When it comes to complex projects, I see one pattern, people delete a lot of code. And, this is what I came to know while watching real-world projects being developed on Livecoding.tv. Not only this, I came to know what it takes to work on a real-world project." — Arnoud
Conclusion
Computer science is important just like any other subject. It is now time to establish its importance and enable anyone to learn real-world skills. Livecoding.tv aims to provide the opportunity to students. So, what do you think about the website and the value that it provides to current students and established coders? Let us know in the comment section below.