Read what CEO Sundar Pichai wrote to a seven-year-old girl seeking a job at Google
How often do you get a personal response for a job application from the CEO of that company? Hardly many times, right?
Well, in case of this 7-year-old girl, who apparently after having an influential career talk with her father applied in the Google careers page, got a personal response on the same from the CEO of the company, Sundar Pichai.
It all started when Chloe Bridgewater is in love with her Kindle Fire tablet and loves "bag chairs, go-karts and slides", figured out that sending a job application was the logical thing to do.
In the letter to the "Google Boss" Pichai, she said that she would like to work at the company when she is older as she loves computers and is an excellent student.
Within a week Pichai responded to Chloe's letter and thanked her for getting in touch and gave her advice. In the reply, he said: "Thank you so much for your letter. I'm glad that you like computers and robots, and hope you will continue to learn about technology.
"I think if you keep working hard and following your dreams, you can accomplish everything you set your mind to – from working at Google to swimming in the Olympics. I look forward to receiving your job application when you are finished with school."
It was apparently a huge confidence boost for Chloe, who, according to her father Andy Bridgewater, had been "knocked down" by a car years ago. She made her dad clear that her commitment towards actually joining Google has increased tenfold, with requests to "go on TV and talk to the media and use that to find some way in to the Silicon Valley-based search company".
Chloe's fascination with Google began recently, Andy tells Business Insider, when she asked him where his ideal place to work would be. Currently, Andy works in sales for a refrigeration system parts manufacturer.
"And I said, 'oh, Google would be a nice place to work," owing to their world-famous perks and all of the cutting-edge work they do, he says. And so, when Chloe decided she wanted to work there too, her father encouraged her to apply and "get the ball rolling," he says.
Take a look at the letter, shared in a viral LinkedIn post by Chloe's father Andy earlier this week. The veracity of the letter has been verified by Business Insider: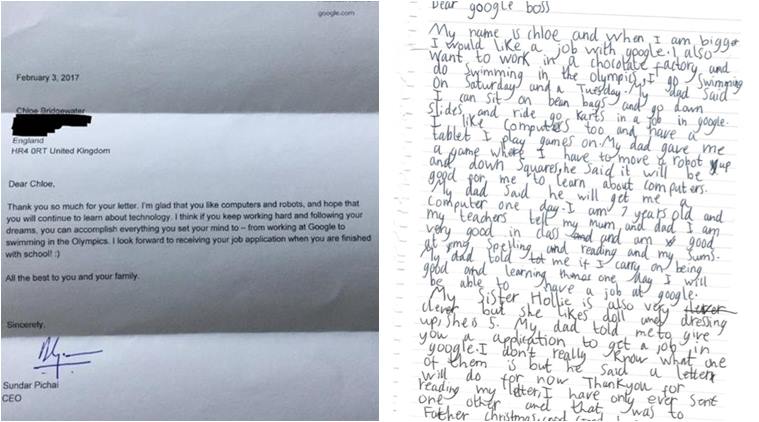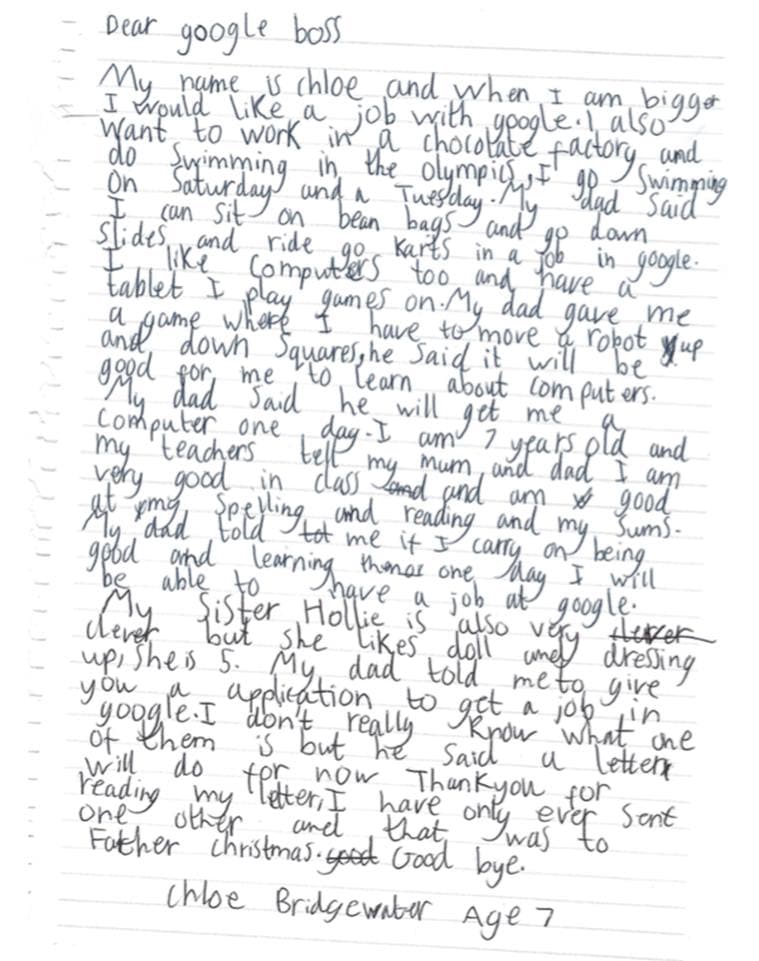 Source: Business Insider