Plarium's new MMO strategy humdinger: Throne: Kingdom At War – A Battle To Conquer
Plarium, an Israel-based mobile, social, and web-based game developer, popularly known for its massively multiplayer online games, has always seen that it provides the best gaming experience possible for its online users since it was founded in 2009.
A massively multiplayer online game (MMOG or MMO) is an online game which is capable of supporting large numbers of players, typically from hundreds to thousands, simultaneously in the same instance (or world). MMOs usually feature a huge, persistent open world, although some games differ. These games can be found for most network-capable platforms, including the personal computer, video game console, or smartphones and other mobile devices.
Plarium's new offering Throne: Kingdom at War
This time too, Plarium has offered an exciting experience through its new game, Throne: Kingdom at War released in August 2016. This game is set in a fictional medieval world where combatants are laying claim to the throne of the Kingdom of Armania, where the reigning monarch King Gerhard has passed away.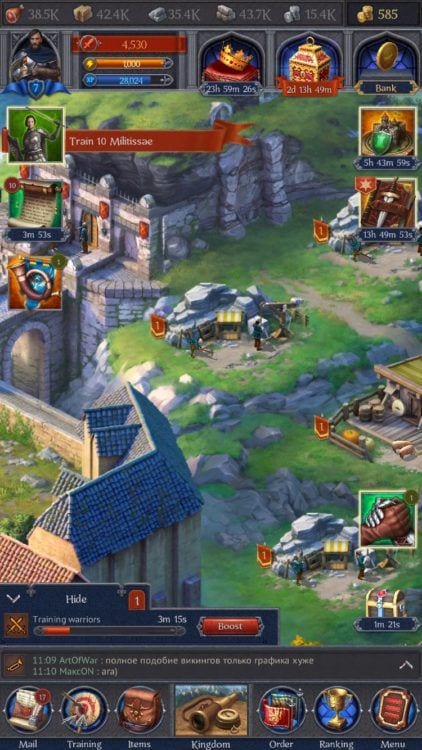 Throne: Kingdom at War Game Play
Players are required to create militaries, build towns, resource buildings, and go to war as one of those fighting for the right to be king. Players don the role of warlord and city builder and are constantly required to be ready for battle or to defend what they have built. Armies consist of faithful knights, fearless spearmen, cavalry, siege units, scouts, and other medieval style characters that keep the players engaged in both the player-versus-environment and player-versus-player experience.
The layout of the game, with high-grade graphics and sound, has a pleasant medieval kind of theme, which offers lots of various options that allows the players to get a hold of the game. In fact, those options continue to remain till the end of time or until the players stop enjoying being pushed around.
To begin with, the players need to construct new buildings such as a barracks or an academy by collecting and spending multiple resources, including food, lumber, iron and stone. These resources are automatically generated by buildings like farms and mines, and the players can upgrade these buildings or train more troops, as they play on more and more. If the players want to earn extra resources, they can send their troops to capture or attack computer and player-controlled bases on the world map. Players can also spend their resources on "Studies," or research upgrades that can improve their towns, armies and more
The game gives players the opportunity to fight battles with those around the world in order to expand or defend their kingdom in a dynamic and strategic fashion by making use of concepts such as strategy, planning, and discipline. As a result, the game dictates a level of anticipation for different situations and tests one's ability to effectively manage the collection of resources, development of military powers, and capacity to conquer new lands while defending their own.
Depending on the player's personal playing style, one can join an already existing Order or create their own, and carry out the charge against the opponents. The players should also participate in quests and accomplish errands to get more points and resources. They can take part in global tournaments that can help them increase or decrease their combat and wealth, and the right to collect tribute in Silver. They can also select whether they want to play PvP or PvE gameplay.
While fighting is particularly enjoyable, the game is also educational in terms of planning, as it offers exciting battles that require strategic instincts to come out victorious.
Conclusion
Looks like the Throne: Kingdom at War is also a success in terms of fun and entertainment like the previous games offered by Plarium. Throne: Kingdom at War is free to play and is available on the iTunes App Store and Google Play. In January 2017, Throne: Kingdom at War had user ratings of 4 stars on iTunes and 4.5 stars on Google Play.
Some of the popular browser games offered by Plarium are: Vikings: War of Clans, Sparta: War of Empires, Stormfall: Age of War, Pirates: Tides of Fortune, Soldiers Inc., Total Domination, Nords: Heroes of the North. Plarium also offers mobile games like Vikings: War of Clans, Stormfall: Rise of Balur, Total Domination: Reborn, Soldiers Inc: Mobile Warfare, and now Throne: Kingdom at War.
In November 2012, Plarium released Stormfall: Age of War, one of the fastest growing social games on Facebook. In 2013, Facebook recognized Soldiers, Inc. as one of the top social games of the year.