Nvidia RTX 2000 Series is 6 times more powerful than the GTX 10 series
The most awaited Nvidia RTX2000 series is here with us. Yesterday at Gamescom Nvidia launched its 6 times more powerful Geforce RTX 2080 GPU. (Nvidia Graphics card)
This Graphics card has its all-new turing architecture which eventually defeats its popular predecessor GTX 1080. Here RTX refers to real-time ray tracing which promises to deliver cinema-quality light and shadow reflections to gaming.
The secret behind Nvidia graphics card this is on-board deep learning processor which essentially give developers a switch to control ray tracing effects. Looks like Nvidia has become the first to crack this photo-realistic lighting effect.
Nvidia has also announced its two more GPU's RTX 2070 and RTX 2080 Ti (Nvidia graphics card). The preorders have already been started but the actual availability of cards is from September 20. RTX2080 is initially designed for overclocking and RTX 2070 will offer more ray-tracing performance than Nvidia's Titan XP card.
According to Jensen Huang (Nvidia CEO), they have introduced a new computing model which will be a monster in terms of performance. Huang showed off a number of demonstrations of existing cards and new rendering techniques with the RTX series which seems to be very much convincing to the audience.
But we have to look for the real world performance. Nvidia is promising real-time ray tracing in games such as Shadow Of The Tomb Raider. And also performance gains in lighting and other effects in Battlefield V and Metro Exodus. Nvidia is promising that even more games will get ray-tracing support.
The company has also revealed more 21 RTX supported games such as legendary PUBG, Hitman 2, Fortnite, Final Fantasy XV and much more.
Specs of RTX2080, RTX2080 TI and RTX2070 (Nvidia graphics card )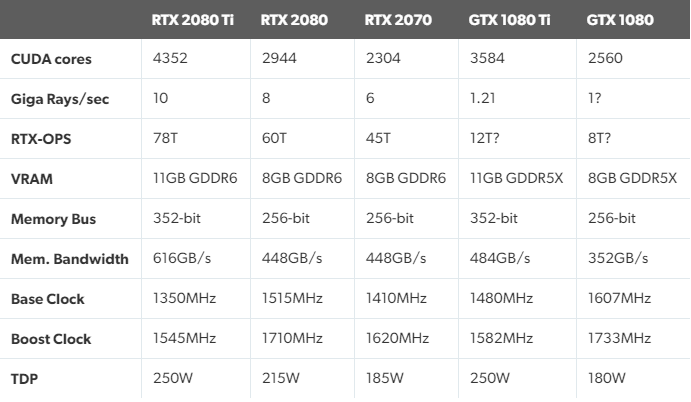 Of course, this spec sheet doesn't tell the whole story, and Nvidia's Turing presentation contained some other interesting nuggets as well. RTX graphics cards will also come with a USB Type-C VirtualLink port which will allow VR headsets to connect using a single cable, rather than the USB and HDMI.
Nvidia is also working with Microsoft to push ray-tracing, all thanks to the company's new DirectX Raytracing (DXR) API in Windows 10 to complement Nvidia's RTX work.
RTX 2070 cards will start at $499, with RTX 2080 at $699, and the RTX 2080 Ti starting at $999. Nvidia is also offering some founders edition with these graphics cards.
The GeForce RTX 2070 Founders Edition will be priced at $599, with the RTX 2080 Founders Edition at $799, and the RTX 2080 Ti Founders Edition at $1,199.
So these were the prices related to Newly launched Nvidia graphics card. For further information stay connected with us.