Football enthusiasts are all over the world and billions of people love to play and watch major football tournaments.
While you can always watch live football matches on television by cable and satellite tv or by using cord-cutting services like Hulu, Fubo tv, Sling TV, etc. You may be looking to find good websites to stream soccer online.
Fifa world cup 2022 has started in Qatar and you may be looking to watch today's football match online.
Well, if you have been looking for some reliable sites to watch football matches online, then you are reading the right article.
ALSO READ: 10 Best Free Sports Streaming Sites
So these are some of the best free football streaming sites that are worth checking out to watch today's match of Fifa 2022.
---
Best Free Football Streaming Sites 
1. ESPN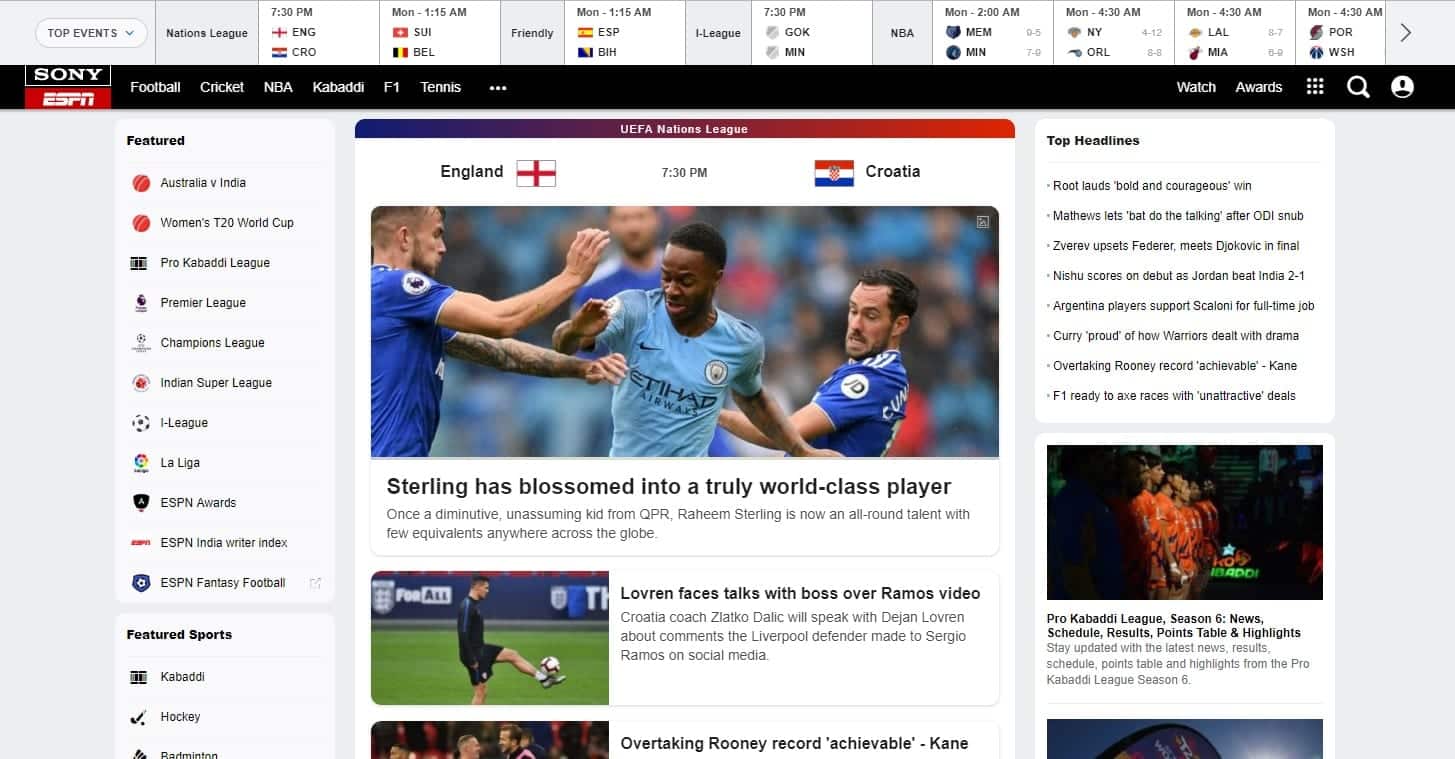 The first and one of the most reliable football streaming website on the list is ESPN. A majority of content on ESPN is available in either FHD or HD quality and apart from watching football, you can also stream many other major sports.
Similar to SonyLIV, ESPN also displays live score updates and tournament timings.
As for downsides, ESPN is only available for US residents. Furthermore, some games require a valid cable or satellite subscription.
---
2. Facebook Watch
Yes, you read it right Facebook can also be used as a free football streaming site. That said, it's not possible to find and watch every single football event on Facebook watch.
So as to watch a particular football event simply search it on Facebook. Now select the videos section and selecting the Live filter you can even watch live football events.
Facebook has a very well-developed video player that optimizes the quality of videos based on your internet speed. In addition to that, Facebook also suggests relatable videos that may definitely impress any football enthusiasts.
Many leagues such as La Liga, Bundesliga amongst others, have started streaming live football matches on their official page.
---
3. Stream2Watch
Stream2Watch is another reliable site for live football streaming. You can easily stream every major football match on Stream2Watch. In addition to streaming, Stream2Watch also provides a detailed schedule about upcoming football matches.
The chat feature allows users to interact with other viewers as the match proceeds.
The video quality and streaming speeds on Stream2Watch are not the most reliable but they definitely get the job done. Lastly apart from soccer, you can also enjoy other sports like Basketball, Cricket, Golf, Hockey, and much more.
---
4. Laola1
Laola1 is one among some of the best sports streaming sites that has a very well-developed UI. Using Laola1 you can easily watch many major football events. Consider it as one of the best free football streaming websites to follow all the matches.
Apart from live streams Laola1 also displays score updates and schedules for different sports events. Since Laola1 is based in Austria, a majority of content is dedicated for Austrian viewers.
Similar to other websites on the list Laola1 can also be used to watch many other sports like Football, Ice Hockey, Motorsports, Table Tennis, Handball, and much more. Overall, Laola1 is a reliable football streaming site.
---
5. Reddit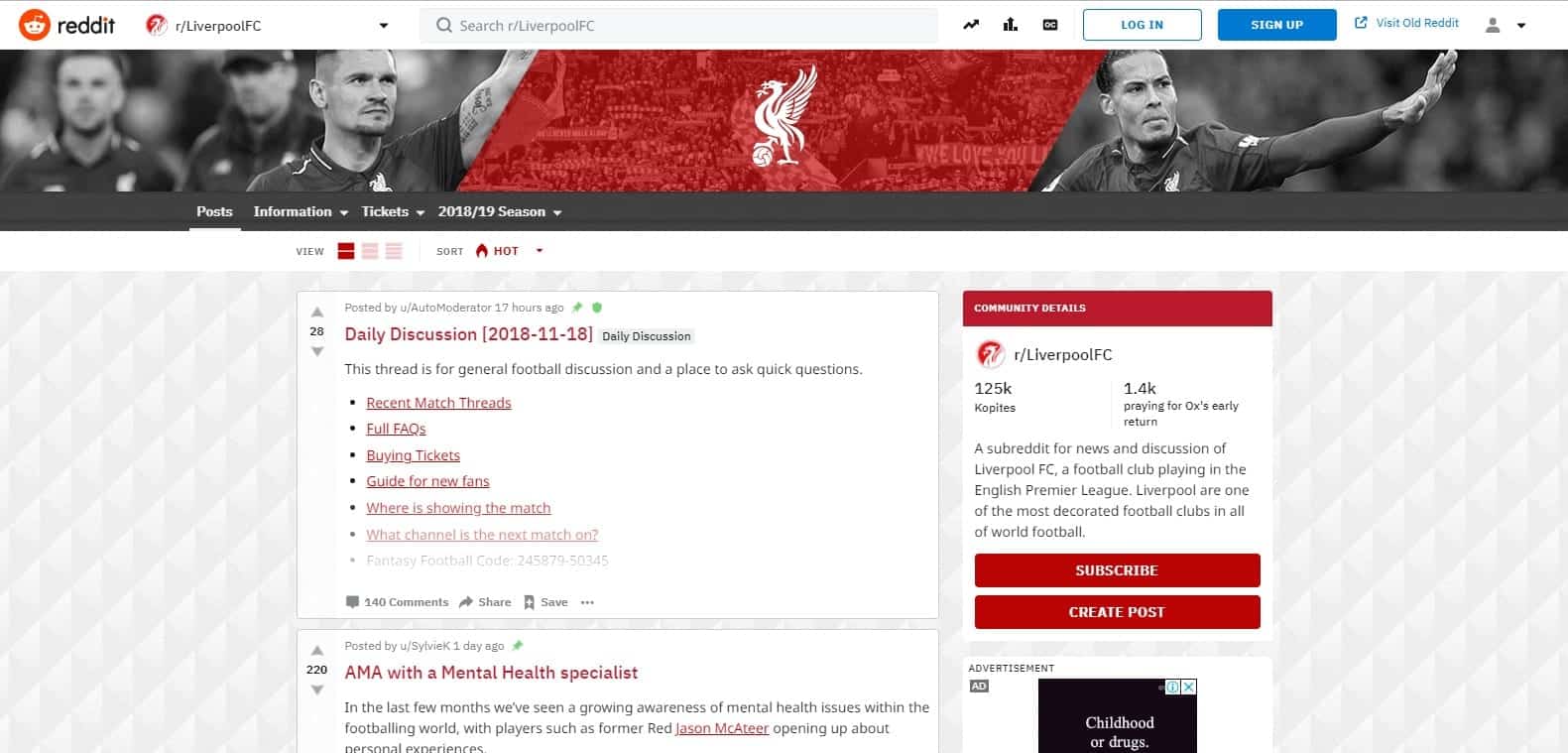 Yup, Reddit can also be used as a reliable football streaming site. The front page of internet doesn't host live sports stream, but you can definitely find unofficial links provided by like-minded football enthusiasts to stream football events.
You can easily join your favorite team's subreddit and stay updated about the upcoming matches and news.
Similar to Facebook, it's not possible to find links to every major football event on Reddit. Furthermore, not every link on the platform is reliable and some may even end up being an annoying advertisement.
---
6. VIP League
The next reliable football streaming site on the list is VIP League. Well, VIP League is possibly the only football streaming site that is available in around seven languages.
It is worth noting, that you have to create a free account so as to watch free football streams.
VIP League has a very well-developed video-player that optimizes the video quality based on your internet speed. As for downsides, advertisements on VIP League may annoy many users. Overall, VIP League is an impressive website for watching live football streaming.
---
7. Yahoo Sports
If live football score updates are what you want, then Yahoo Sports will definitely impress you. Well, Yahoo Sports is not actually a sports streaming site but it can be used to stay updated about many different sports. Yahoo Sports also has its native Android and iOS applications.
Once you create a free account, Yahoo Sports offers personalized content based on your interests. The detailed articles and videos on Yahoo Sports help users to stay updated about the latest happenings in the world of football.
---
8. Fox Sports
The last best football streaming site on the list is Fox Sports. There's a dedicated section for football on Fox Star. Similar to Yahoo Sports, using Fox Sports you can read detailed sports news based articles. Furthermore, Fox Sports also offers a detailed description and match schedule for every match week.
Overall, Fox Sports is a reliable site for football enthusiasts and both streaming speeds and the quality of videos are impressive as well.
---
9. SonyLIV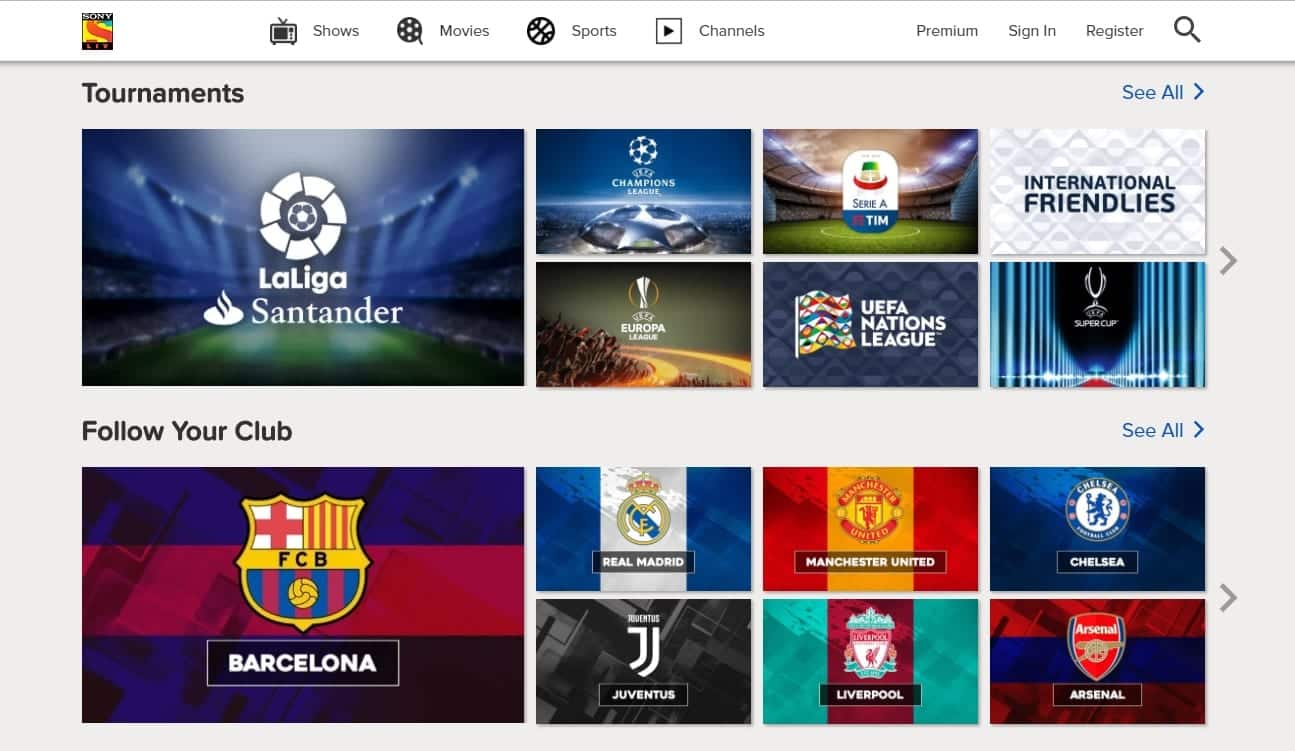 This well-developed sports streaming site can be used to watch both live football events and highlights.
After signing up for SonyLIV you can even follow your favorite football club. Furthermore, if you get the paid subscription the service offers personalized content.
In addition to football streaming, SonyLIV also has a dedicated section for sports event updates and news. Apart from football, you can also watch other major sports like live cricket, Tennis, Basketball, and WWE on SonyLIV.
---
10. Hotstar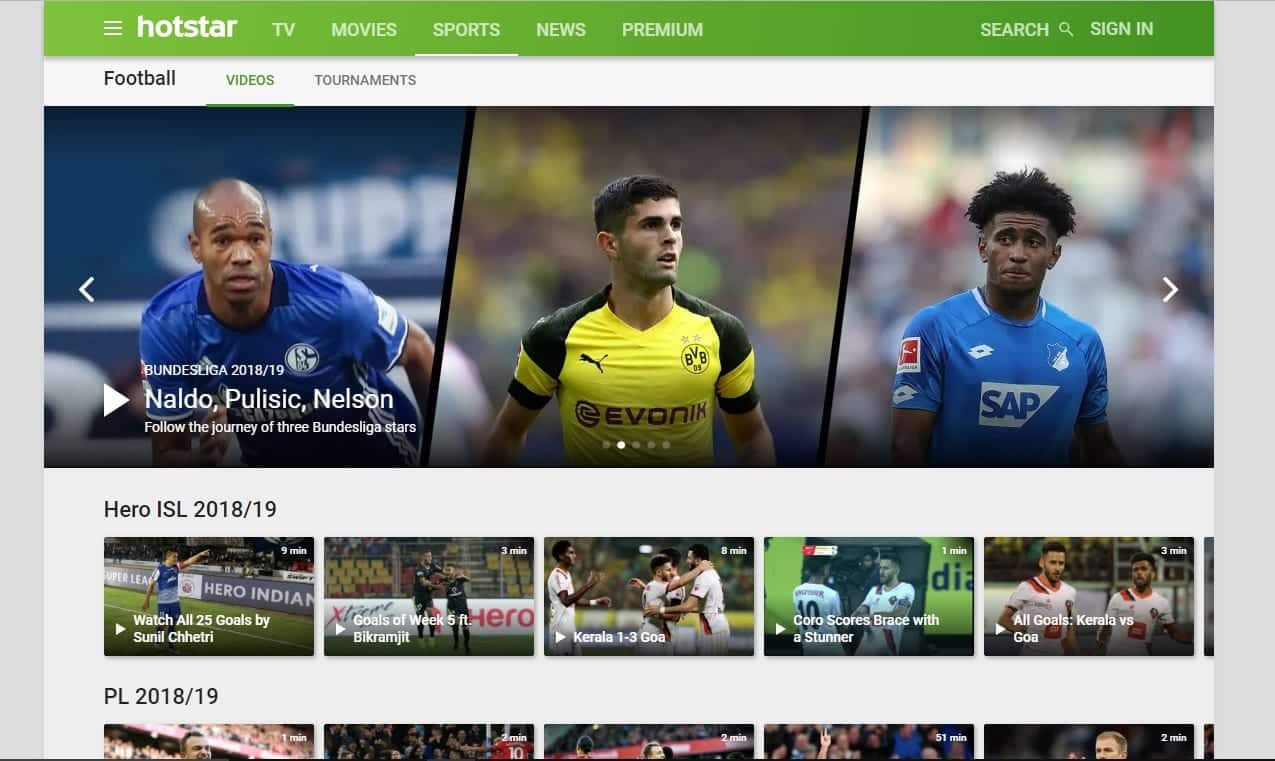 Hotstar is another reliable free live football streaming site that has a very well-developed video player. Well, there's no need of signing up for the service and you can straightway watch football live streams and replays of your favorite tournaments.
HotStar is very prominent in the Indian region.
Also Read- Hotstar For PC
Hotstar also has it's native Android and iOS applications using which you can watch football events on the go. As for downsides, the free account on HotStar delays the live stream by a few minutes.
---
Also read- Best VipBox Alternatives
Top 10 Football Tournaments
FIFA World Cup
UEFA Champions League
UEFA European Championship
Copa America
Copa Libertadores
UEFA Europa League
Africa Cup of Nations
FA Cup
Confederations Cup
Copa del Rey
Football Streaming Sites FAQs
Are there any free football streaming sites?
ESPN provides free football streaming for several games, additionally, there are several sites online that you can use to watch football for free.
What are the best sites for streaming live football?
ESPN, Facebook Watch, Stream2Watch, and Laola1 are some of the best sites for streaming live football.
CONCLUSION
So these were some of the best football streaming sites. You can easily watch your favorite football event or tournament and even check live score updates using these websites.
Do share any other reliable football streaming site in the comments section below.