Microsoft has always been known for its wide variety of useful software applications all across the globe. There are software that changed the working scenario to some extent and Microsoft's Visio is just one of them.
It's basically a software which lets you create diagrams and flowchart to represent the information.
But obviously, it comes with a cost (around $200).
So here in this article, we have provided you with the 12 Best free Microsoft Visio Alternatives 2018 version.
What is Microsoft Visio?
As we mentioned above it's a diagramming and vector graphics application particularly used for graphical representation of the information.
Many industry professionals use it to deliver highly complex information in the easiest manner possible.
It's a very popular tool which is available in two editions:
Standard
Professional
Though Standard and Professional share same user interface, but professional has some additional templates and layouts which makes it more superior than the standard one.
Some pros and cons of Microsoft Visio
Pros
Highly Capable – Microsoft Visio is a highly capable software that can go beyond the possibilities of diagramming. It has the ability to use macros with layers to switch views within a single diagram.
Excellent for creating flowcharts and diagram – Being offered by Microsoft itself, makes it an excellent choice for creating flowchart and diagrams.
Provides several Functions  – Visio allows you to do several different types of functions. Such as electrical drawings within the data center environment, process flow visualization and much more.
Offers many other features – Microsoft Visio is a very mature software application that offers tons of features that others just can't.
Cons
Expensive – Probably the biggest drawback of Microsoft Visio is that it's dangerously expensive for personal use. Otherwise, for the intended use, we see no real problem with this software.
Top 12 free Microsoft Visio Alternatives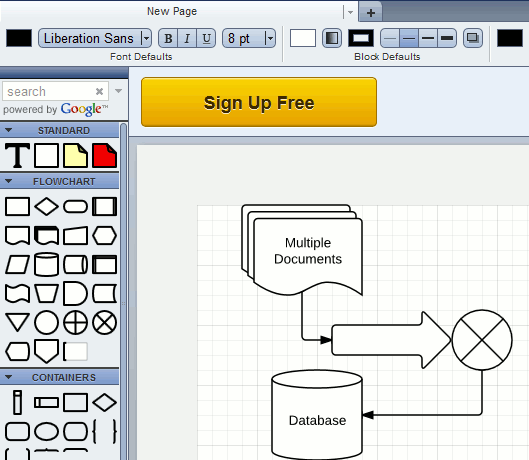 Lucidchart can be the scary name for you but it has a lot of potential in it. It's a free and the most perfect choice for those who are looking for the free web-based Visio alternative.
It provides a drag-and-drop feature which lets you draw any kind of diagram and not only that you can even build your own diagrams in collaboration with your team.
Another amazing feature of Lucidchart is that it lets you import and export Microsoft Visio VDX files very easily. So in our opinion, you must go for this.
All you need is to signup and get started.
The second on our list is Gliffy. It can be categorized in both free and paid flavors.
It's a very Robust diagramming app that integrates well with services like Google Drive, Confluence and JIRA to allow you to collaborate on your UMLs, flowcharts and other diagramming projects seamlessly.
So Gliffy is an excellent choice for those who feel extremely comfortable with diagramming and flowchart software.
The next on this list is yEd Graph Editor. It's the most user-friendly diagramming software out there and used by millions of people.
It basically covers everything from flowcharts to family trees and more technical diagrams like network infrastructures and process models.
The best feature of this app is that it allows you to automatically set the layout, to suit whatever kind of data you're entering in there.
Not only that you can even save your chart in a JPEG, XML or HTML file format, making it easier to upload on websites or sending to clients.
ASCIIFLOW is the simplest option available online. If you are just looking for an instantly accessible diagramming tool then ASCIIFlow Infinity is just perfect for you.
The ASCII format is clear, and you can use familiar Windows shortcuts (Ctrl + C, Ctrl + Z and so on) to quickly chop and change your diagrams.
You can forget about having a vast range of shapes at your disposal or using this to map out complex engineering projects, but for quickly conveying ideas in diagram form, this is about as efficient as you can get.
You can also even change the format of the boxes from ASCII to Lines to make things a little bit clearer, and sync it all with Google Drive.
As you can very well judge by the name GraphViz is a very popular tool and nearly thirty-year-old.
It may feel difficult at the initial stage but over time, with some practice, anyone can master it and save its crucial hours of life.
It has a good amount of formats you can export your graph to and a number of layouts such as hierarchical, radial, multiscale and more.
It's particularly useful if you aren't too particular about pretty colors but are more concerned about entering huge amounts of data.
So if you want something reliable then you must go for it.
This tool is considered as the biggest rival of Microsoft Visio, mainly because it has everything to offer that Visio offers.
It is also known as the closest and biggest open-source competitor of Microsoft Visio.
It's an all-purpose drawing, diagramming and charting tool.
The most loved feature of this tool is the grouping feature. In which, you can group various object together to perform actions all at once.
In addition to other formats, you can also even export your diagrams as SWF Flash files.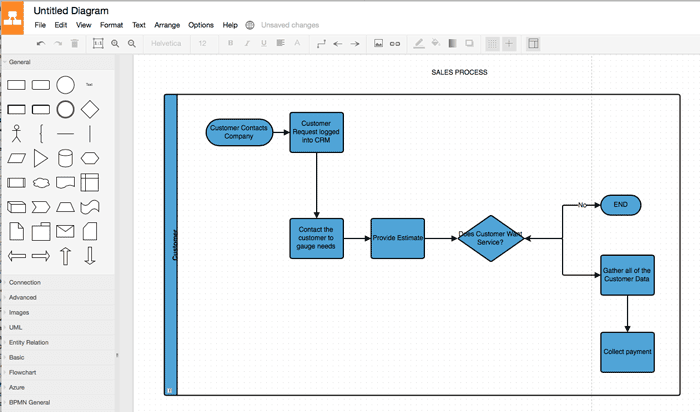 Draw.io owns a very responsive interface and runs on the web browser. It is packed with the tools in the column on the left and the drawing in the column on the right as you can see in the image above.
The best part is You don't need to sign up for an account to use Draw.io. Just simply visit the website and start drawing.
Later you can save your work on Google drive to share with others if you want.
If you connect Draw.io to your Google account, it has very functional real-time collaboration, letting you work on projects simultaneously with others.
Pencil Project is an open source alternative of Microsoft Visio. It's a very popular tool and also used by millions of people around the globe.
It's actively maintained by a Development Community and their goal for Pencil Project is to make diagramming as easy as possible and also usable for everyone.
It's also regularly updated with new stencils, templates and other features which lets you export your work to multiple formats, and has integration with OpenClipart.org.
The best part about Pencil Project is that You can also install it as a Firefox extension so that you can easily create your diagrams while surfing the Internet.
Dia is another very popular open source program equivalent to Visio.
You can create UML diagrams, flowcharts, network processes and architectures, entity relationship diagrams, etc., easily with Dia.
One thing to notice is that the default file format created by Dia is .dia which can be later changed to other plenty of file formats.
Creately is another very amazing drawing tool similar like Gliffy. It's a web-based application and targets Visio's huge utility belt.
The design of this app makes it an ideal choice for business users.
Creately is not entirely free though and while there is a free web-based service to use around, there is also a paid service which provides more features. So keep this in mind.
Unfortunately, the free service of creately is going to be extremely limited in terms of documents and other changes so if you want to gain access to a lot of tools, then you will have to opt for the paid version.
Luckily, Creately is quite cheap for the paid version requiring a $5 fee per month or a $49 price for a 12-month period, which seems to be quite reasonable.
OpenOffice Draw is absolutely free and open source application. It's also a very popular rival of Microsoft Visio.
The app also uses a combination of shapes in order to create professional-looking flowcharts.
OpenOffice Draw application also features a similar user interface to Microsoft Visio, so you will feel right at home when you are attempting to use it for the very first time.
In addition to that, this app is going to be free for lifetime, so you need not to worry about spending any single penny for it.
However, it does not provide support for Chrome OS so if you're using a Chromebook, it is time to pick up a machine that is running a different operating system.
Last but definitely not the least we have on our list is Google Drawings. This software is the toughest competition for Microsoft's Visio, as it is made by another big Tech giant "Google".
Google has its dedicated office suite to tackle Microsoft's software and for Visio you have Google Drawings. Which is a huge worry for Microsoft in some manner.
Google Drawings is also available as a web application and as an offline Chrome app in the Web Store.
The best feature of Google drawings is that it is managed by Google itself which somehow ensures its updates and improvements.
Conclusion
So this was all regarding 10 Best free Microsoft Visio Alternatives 2018 version. If you find it helpful then do let us know in the comment section below, would love to hear that.
Stay tuned for more.