In less than a decade WhatsApp has become the world's most popular cross-platform messaging and VOIP service.
Facebook-owned WhatsApp has over 2 billion active users, and around billions of messages are sent daily using WhatsApp.
It is worth noting that WhatsApp is primarily a smartphone-based instant messaging and communication app. That said, WhatsApp can also be used on any Windows, macOS, and Linux PC using WhatsApp Web.
So here's everything you need to know about WhatsApp Web.
ALSO READ: How to create your own WhatsApp stickers on Android smartphones
Can I use WhatsApp on my PC?
Yes, you can use WhatsApp on your PC. All you need to do is open WhatsApp Web by going to the URL https://web.whatsapp.com/ on any web browser of your choice.
---
How To Set Up WhatsApp Web On Desktop
WhatsApp Web is not a standalone full-fledged web application. In reality, WhatsApp Web is a web client that mirrors messages from smartphones to your computer's display.
Consequently, to use WhatsApp Web a supported browser like Google Chrome or Opera coupled with a smartphone that has an active internet connection is required.
Lastly, ensure that the latest version of WhatsApp is installed on your smartphone.
Setting up WhatsApp Web is a fairly straightforward process.
Open Google Chrome or Opera and then visit WhatsApp Web
Next up open WhatsApp Web Scanner on your smartphone by tapping on the three-dot menu.
Scan the generated QR code using your phone's camera.
Once scanned the process is confirmed by haptic feedback on your smartphone. You will instantly see all of your conversations and messages on the display of your computer.
---
WhatsApp Web: Pros And Cons

Using WhatsApp Web, you can instantly share media files and documents directly from your computer. Furthermore, WhatsApp Web allows users to use a physical keyboard and get new messages and notifications directly on their PC.
As for downsides, you can't input emoji's directly from your physical keyboard. Moreover, WhatsApp doesn't allow users to use two computers or browsers simultaneously. Lastly, you can't share your live location using WhatsApp Web.
Also Read– Download Instagram For PC
---
WhatsApp Download For Windows PC And macOS
You can effortlessly download the official WhatsApp Desktop app for Windows PC and macOS from the Microsoft Store and the App Store respectively.
The dedicated WhatsApp app for Windows 10 offers a more seamless user experience and in comparison to WhatsApp Web, it's more responsive.
Download WhatsApp For Windows 10
Download WhatsApp For macOS Catalina
---
How To Use WhatsApp Web On iPad
Earlier the process of using WhatsApp Web on an iPad was quite tricky. However, with the advent of iPadOS, it has become somewhat simple now.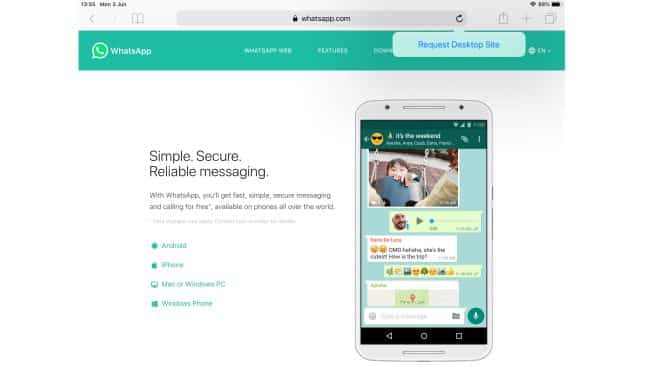 In order to use WhatsApp Web on an iPad, open the official WhatsApp Web website. If you are using Safari then hold the page refresh button to the right side of the URL bar at the top. After a few seconds, a pop-up saying request desktop site will emerge. Simply press it and use WhatsApp Web on an iPad.
Overall WhatsApp Web is the perfect web client for WhatsApp that offers many nifty features and allows users to always stay connected with WhatsApp.