WhatsApp is a mainstream messaging and communication app by Meta that's used by millions across the globe.
In addition to messaging, you can even use WhatsApp for high-quality voice & video calls, group messages, broadcasts, sharing status, and much more.
Primarily, made for Android and iOS smartphones you can even use WhatsApp on your Windows 11 or Windows 10 PC or Laptops.
You can either use WhatsApp web on a PC browser or can download the WhatsApp client for a desktop browser.
Here is how to Download WhatsApp On PC.
---
Download WhatsApp For PC
To Download WhatsApp For PC, simply follow these simple steps,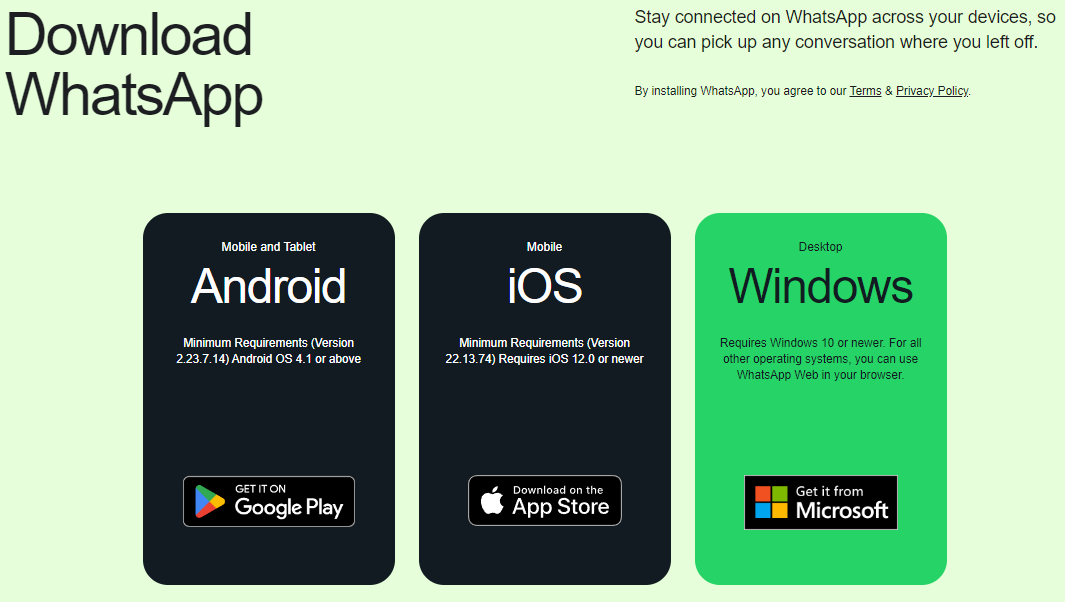 STEP 1: To download the official WhatsApp app for pc you can either visit the Official Whatsapp Website or directly download the app from the Microsoft Store.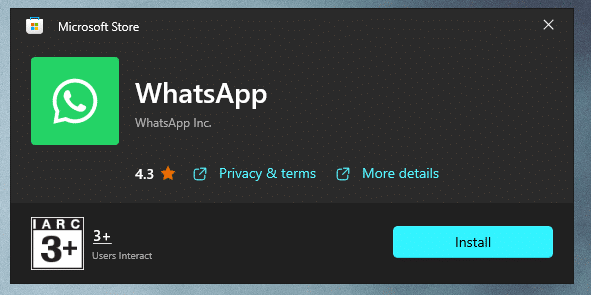 STEP 2: Once you see the Microsoft Store WhatsApp page simply press the Install button.
STEP 3: Next open the official WhatsApp app and press the Get Started button. You can now scan the QR code that's on the screen to log in to your WhatsApp account.
And that's pretty much it, you will now have a fully functioning WhatsApp application installed on your Windows PC.
Direct download WhatsApp for PC
Here is a link to directly download the Whatsapp pc app exe from the link provided below.
Version- 2.2332.9.0
Developer- WhatsApp LLC
Size- 111.37 MB
OS- Windows (Windows 7 or higher)
Language- English
Key Features of WhatsApp PC
Message privately
Ability to make Video/Audio calls
---
How To Make Voice And Video Calls On WhatsApp For PC?
Unlike the older versions of WhatsApp For PC or WhatsApp web, the latest WhatsApp PC App allows users to make voice and video calls.
To do so, ensure that your PC has a microphone for voice calls and a webcam for video calls.

Once that's done, you can now select any contact in your chat list and press the voice call or video call button. Instantly your call will initiate.
---
WhatsApp For PC Download FAQs
How Do I Download WhatsApp For PC?
To Download WhatsApp For PC you have to download the official whatsapp.exe file.
Once downloaded simply install it like any other program.
You can also find the official Whatsapp computer app on the Microsoft Store.
Lastly, log in to WhatsApp For PC App using your Android or iOS smartphone.
Is Installing WhatsApp Free Download?
Yes, installing WhatsApp PC is completely free and you can easily download the WhatsApp For PC app from the Microsoft Store.
Does WhatsApp Support Windows 7?
Yes, you can download, install, and run the official WhatsApp app on Windows 7, Windows 8, Windows 8.1, Windows 10, and Windows 11.
---
CONCLUSION 
So this was a simple and easy-to-follow tutorial on How To Download Whatsapp For Windows PC.